Quinnipiac women's basketball: senior spotlight
The Quinnipiac women's basketball team (15-14 overall, 12-8 MAAC) had its ups and downs this season. One positive was the production from all three of the team's seniors. Being called upon by head coach Tricia Fabbri to play larger minutes with five of their most dominant players from the year prior having graduated, these three stepped up in their new role.
It's unfortunate that they didn't get a chance to compete for their fourth MAAC championship and another chance at a run in the NCAA tournament, but it can't be denied that three MAAC championships are still pretty impressive. It's time to breakdown each of the three seniors comparing their prior statistics and how they have improved in their senior season.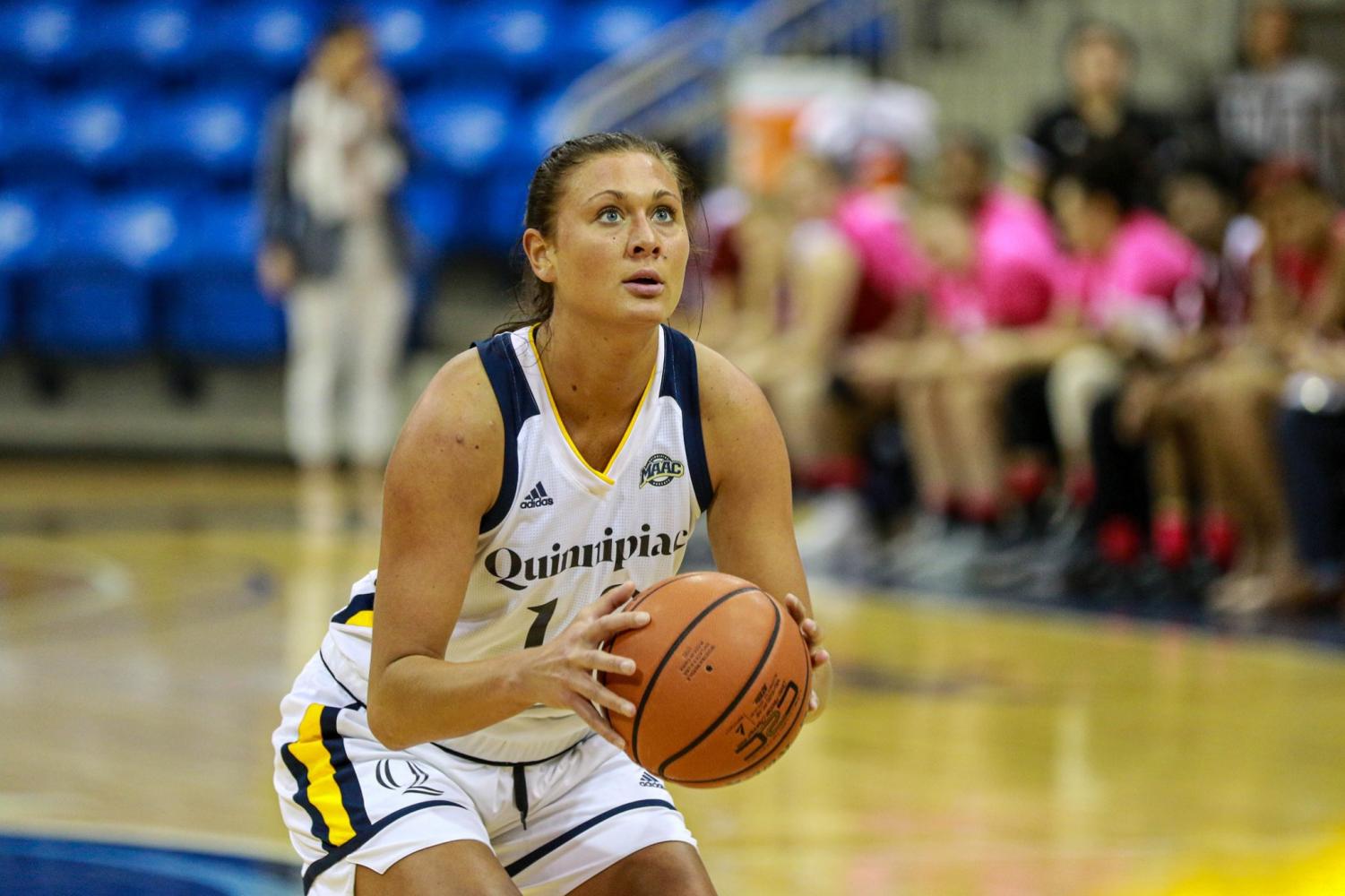 Jaden Ward
While Ward may have the lowest production to the other two seniors by the numbers, she definitely impressed with the development of her game. She started off the season slow, but finished the end of MAAC play nicely. In the team's last six games of the season, Ward averaged at least 50% from the field, with two of those featuring double-digit scoring performances.
Her best game in that span was against Saint Peter's, where she scored 13 points while shooting 4-5 from the field and 5-6 from the free-throw line. Outside of her offense, she had strong contributions on the boards with nine rebounds, and on the defensive end, she had three blocks and three steals. Ward's performance was good enough to gain her first start in the team's next game against Marist when Mikala Morris went down with an injury. Ward continued to show success, scoring seven points along with grabbing six rebounds and four steals in that game.
Not only did her scoring and rebounding numbers increase from 3.0 PPG and 1.8 RPG in the previous season to 5.2 PPG and 4.7 RPG this season, but her play improved game-by-game. Her drives to the rim were explosive, as she was able to use a quick first step to get by her defender with a clear lane at the rim or to draw a foul and shoot free throws. If the defense gave her space, she could knock down a mid-range jumper to make her opponents guard her a little more tightly.
Ward has proved this season why she is worthy of a "Most Improved Player of the Year" award for the Quinnipiac women's basketball team. The growth in her level of play was special to watch, and credit is definitely due to her work ethic to get better throughout the year. It would have been interesting to see if Ward would have continued this high level of play if the MAAC Tournament had not been canceled.

Paige Warfel
It is no secret to anyone that Warfel is tough to handle on the glass. Leading the MAAC with 11.1 RPG this season, this is an average that she doubled from her 5.2 RPG last season. Almost every time Quinnipiac missed a shot, Warfel was the first one to grab the loose ball and give her team a second chance. Sometimes she would even look to be a little selfish, where she would grab a rebound off her own miss, and keep putting her shot back up until she made the basket or was fouled. Quinnipiac seemed content with Warfel doing this as well as being the team's best free-throw shooter this season at about 77% from the free-throw line. This made her the most reliable option for the team to gain points from the free-throw line.
Warfel has a solid offensive game as well. She averaged 8.3 PPG, an improvement from her 5.5 PPG the prior season. One of her better performances was against Canisius, the team's last game of the season. Along with her season-high 19 rebounds, she scored 15 points, shooting 5-8 from the field and 5-6 from the free-throw line. She is a solid finisher down low, but she also has great touch from the mid-range. She can shoot the three, and with a make or two, she has a great pump-fake that can catch her defender jumping and go right by them for either a pull-up mid-range jumper or a strong drive to the basket.
It is going to be hard for Quinnipiac to replace the rebounding production that Warfel was able to provide. Not only did she give the Bobcats extra chances to score on offense, but she prevented other teams from getting second-chance opportunities of their own. It will be interesting to see if returning forwards such as Morris or Cur'Tiera Haywood take on this role, or if Fabbri has already recruited someone that will step in and fill the role next season.
Taylor Herd
Herd definitely has the strongest all-time resume in her four years with the Quinnipiac women's basketball program. The most notable accomplishment being her MAAC sixth player of the year award in her junior year.
This year, she took on a new role as a full-time starter for the team, and with that new role was honored as a member of the All-MAAC third team. She was still doing what she does best at this new spot with her scoring and shooting. She was second on the team in scoring average with 9.9 PPG, third in three-point percentage with just over 38%, and second in free-throw percentage with about 72%.
Herd's specialty comes from her movement off the ball for an easy layup or open three-point shot. With the ball in her hands, she has a smooth pull-up jumper from the three and the mid-range on the fastbreak that she can use to catch a defender that is sagging off of her in transition. Herd's best game this season was on the road against Niagara, where she scored 22 points shooting 8-11 from the field, 2-4 from the three, and a perfect 4-4 from the free-throw line.
Herd is also a smart defender. She knows how to deny passing lanes along with properly reading and reacting to where the ball is going. Her best example of this was on her own senior day against Niagara, where she had four steals, giving Quinnipiac more opportunities to get on the fastbreak looking to score an easy basket.
Outside of her success on the court, Herd was awarded the Hartford HealthCare Connecticut Courage Award. She was given this award for overcoming two ACL tears in high school to still play college basketball at a high level for Quinnipiac.
Herd's all-time resume will definitely be remembered for quite some time. Her three-point shooting ability will be missed, but there are other players coming back next year who could fill the role as a catch-and-shoot type player like Haywood, Chiara Bacchini and Sajada Bonner.
These seniors have truly made a strong legacy through the Quinnipiac women's basketball team. It will be interesting to see what is in store for the incoming seniors on the roster for the 2020-2021 season. Shaq Edwards, Bacchini and Vanessa Udoji are the next three seniors that will attempt to fill the former seniors' shoes. Edwards definitely impressed with her scoring ability and speed in her first full year with the program. Bacchini and Udoji have battled with injuries throughout their careers, but when out on the court they have shown production. The anticipation is already starting to build for what these seniors and the rest of the Bobcats could achieve next season.
Great day to be a Bobcat, says @QUCoachFabbri!@QU_WBB celebrated its three seniors Saturday afternoon.@EricMKerr has the story ⬇️https://t.co/hCtmKXTZmb pic.twitter.com/2mSGLEXz2z

— Q30 Sports (@Q30Sports) February 16, 2020