Women's Basketball Faces Tougher Task in Road to Fourth Straight MAAC Title
It's been eight years since the Quinnipiac women's basketball team has failed to reach its conference championship game.
That year – 2012 – Gangnam Style was the hit song of the summer, the newest iPhone was the 5, and Quinnipiac was still a member of the NEC.
For years, the Bobcats were a shoe-in to at least make it to the final day of the tournament. In the seven conference championships that they've played in since 2012, five of them have resulted in wins and trips to the NCAA Tournament. Of those five, just two of them have been decided by single digits (2017 v. Rider, 2018 v. Marist), and two more were decided by thirty or more points (2013 v. St. Francis, 2019 v. Marist). Running into Tricia Fabbri and her Bobcats in single-elimination tournament play was an effective death sentence for your season. Thanks for playing. Try again next year.
This year, though, things are a bit different.
The Bobcats knew full well that they were in for a rough start. Losing all five starters will cripple even the best programs, UConn and Mississippi State included. The departures of Jen Fay, Aryn McClure, Edel Thornton, Paula Strautmane and Brittany Martin allowed a new wave of Bobcats to enter the
spotlight – Taylor Herd, Paige Warfel, and Jaden Ward, to name a few. The already-three-time conference champions who spent their whole careers playing roles were now the ones that Fabbri was asking to lead the lines.
And at first, things went about as you would expect. The team's opening conference game was a 75-71 loss to bottom-dwellers Iona at home, snapping a 52-game conference winning streak. One week later, the Bobcats traveled to Lawrenceville to play Rider – one of the top teams in the MAAC – and lost by 16.
As expected, the team got better as conference play continued. Nine conference wins in its last fifteen games pushed the Bobcats into a first round bye – an impressive feat on its own, and even more special when you consider the roster turnover from last year to this one.
"When we first saw Manhattan at our place on Jan. 11, we were 4-8 and 1-2," Fabbri said. "Now, we're in a tie for third with a 12-8 record. We're ready to go."
If there's one advantage that Quinnipiac has over every other team in the conference, it's the thing that it's been notorious for since it moved to the MAAC – a winning pedigree. And Fabbri knows it.
"This team – those players – are the only ones that know what it feels like to win a championship."
It isn't going to be easy for the Bobcats if they're going to win a fourth straight MAAC tournament. It won't even be easy to reappear in a conference championship game for an eighth straight year. This is the first time in what feels like forever that the Bobcats aren't runaway favorites to win the conference.
But that's not to say that the other teams in the MAAC have forgotten about how untouchable Quinnipiac has been in recent memory.
"Every team wants to beat us still. The target is still on our back – we are the three-time defending MAAC champion," said Warfel.
No, the Bobcats aren't one of the two or three favorites to win the tournament. That title belongs to Rider and Marist, who, ironically, were Quinnipiac's two most recent conference championship opponents. If the Bobcats get past No. 4 Manhattan, No. 1 Rider awaits, with MAAC Player of the Year Stella Johnson leading the way. But that doesn't worry Fabbri, Warfel, Herd, or any other Bobcat.
Because, as Fabbri said, there isn't a single player in the MAAC outside of the Quinnipiac locker room that knows what it feels like to win a conference tournament.
She intends to keep it that way, even if it may not be as simple as in years past.
About the Writer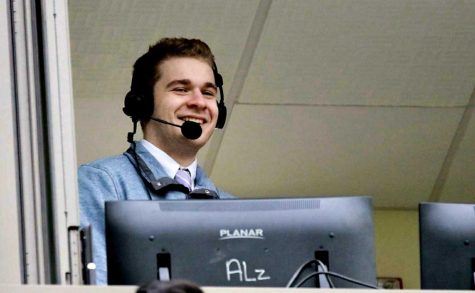 Will Fowler, Chairman
Will Fowler is a senior journalism major from Sparta, New Jersey and the chairman of the Quinnipiac Bobcats Sports Network. In his time with QBSN, Will has served as play-by-play announcer, color commentator, writer and multimedia producer for a number of Quinnipiac teams. Through QBSN, Will has had the chance to cover games at the Carrier Dome, the Times Union Center and the Nassau Coliseum, and he was at Boardwalk Hall in Atlantic City when the MAAC basketball tournaments were canceled due to COVID-19. Will can be found on Twitter at @WillFowler5.