Coutu-Godbout headlines four Quinnipiac NWHL signees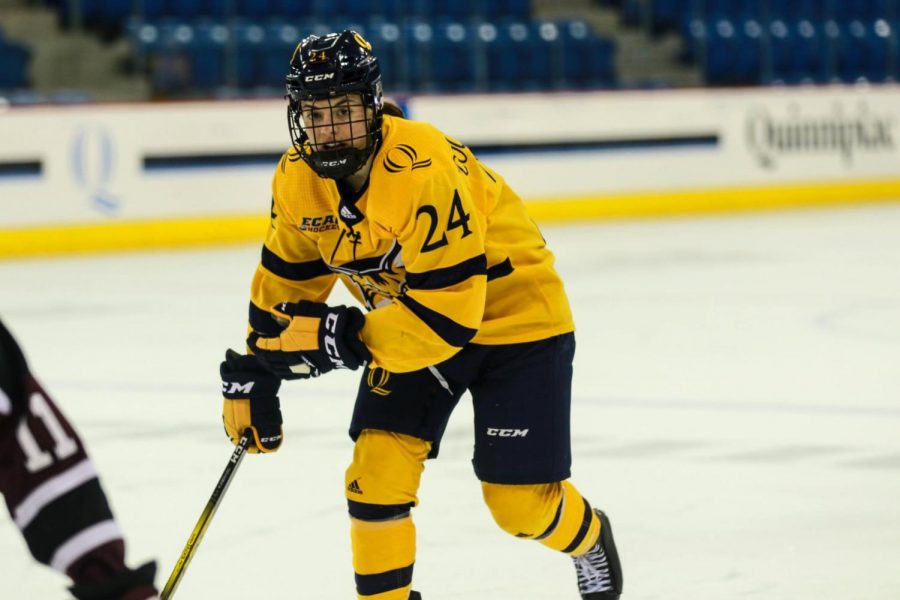 Four Quinnipiac women's hockey alumni are heading to Toronto to play professionally. Emma Greco ('17) and Shiann Darkangelo ('15) were among the first five signees for the National Women's Hockey League's new Toronto team.
Greco and Darkangelo are joined by recent graduate Sarah-Eve Coutu-Godbout ('20) and program legend Kelly Babstock ('14). The four join Elena Orlando ('14) as the only former Bobcats in the NWHL.
Coutu-Godbout makes the immediate jump to the professional ranks following a senior season in which she led the Bobcats with 16 goals. She finished her four-year Quinnipiac career with 34 goals and 28 assists. Her 62 points places her in the top-15 in program history.
"Sarah-Eve brings a passion and proven ability to create offense and score goals," Quinnipiac head coach Cass Turner said. "She's currently at the top of her game and will be a great asset to Toronto."
Babstock enters her fifth season in the NWHL. She has enjoyed a solid professional career thus far, accumulating 60 points in 65 games during her first four seasons.
Six years removed from her graduation, Babstock remains the all-time leader in goals, assists and points in Quinnipiac program history. The two-time NWHL all-star will surely be seen as a leader for her new expansion team.
Darkangelo and Greco are no strangers to the city of Toronto. The two were teammates on the Toronto Furies of the Canadian Women's Hockey League during the 2018-19 season. Following the discontinuation of the league, both Darkangelo and Greco participated in the Dream Gap Tour, a series of showcase events put on by the Professional Women's Hockey Player's Association.
The NWHL will be entering its sixth season of operation in 2020-21. The Toronto team will become the sixth team in the league, joining the expansion Minnesota Whitecaps and the original four franchises: Boston Pride, Buffalo Beauts, Connecticut Whale and Metropolitan Riveters. The league remains the only professional women's hockey league in North America.