Predicting the best Bobcats lineups for 3-on-3 overtime & shootouts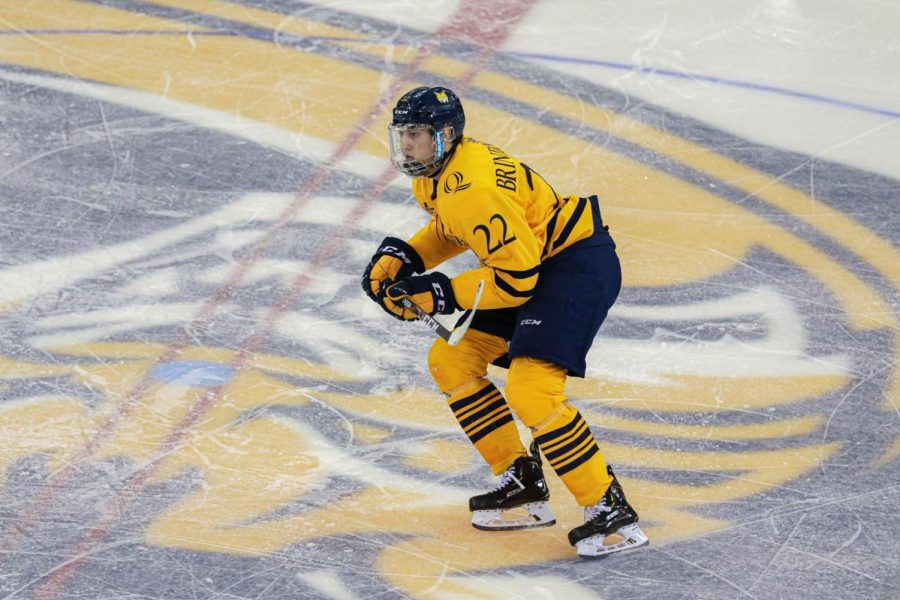 College hockey games that are tied after 60 minutes of play will look a little different in the 2020-21 season and beyond. The NCAA Playing Rules Oversight Panel has approved a new rule change that will change how overtime works in NCAA hockey.
Instead of playing five minutes of full strength, 5-on-5 hockey until a goal is scored or time expires (which resulted in a tie), NCAA hockey games will now go to a 3-on-3 format for five overtime minutes.
Several professional leagues, including the NHL, AHL and ECHL have adopted 3-on-3 overtime within the last decade, to great success. Decreasing the number of skaters on the ice from five to three creates more space for offense, with the hope of reducing ties and shootouts.
Seventeen Quinnipiac games have gone to overtime over the last four seasons, with 10 ending in ties (59 percent). Of those 10 ties, seven were against ECAC Hockey opponents. Under the new rules, those conference games tied after 65 minutes of play will now have the option to go to a shootout (although non-conference games will still end in a draw if tied after 65 minutes).
This new rule creates more interesting lineup decisions for head coach Rand Pecknold. 3-on-3 presents an interesting challenge for a coach, who has to balance speed and offensive aggression with defensively accountable players. With a few months still to go before NCAA hockey kicks off again, let's take a look at some potential lineup combinations for the Bobcats in 3-on-3 overtime and the shootout:
3-on-3 Overtime:
Unit 1: Odeen Tufto-Ethan de Jong-Peter DiLiberatore
The newly-appointed 47th captain in Bobcats history, Tufto will almost certainly lead Quinnipiac's top 3-on-3 unit. He leads the team with 90 assists and 121 points over the last three seasons, and has the speed, hockey IQ and puck skills to thrive with more space.
Ethan de Jong would be a good partner to pair with Tufto up front. The rising junior is a plus skater, plays a strong two-way game, and can do a little bit of everything. His ability to finish, create and grind along the boards has complemented Tufto well over the last two years at even strength, and should continue in a 3-on-3 scenario.
DiLiberatore is the player on the Bobcats roster who could benefit from 3-on-3 overtime more than any other. His offensive game is predicated on his excellent skating agility, acceleration and speed, as well as his puck control. With more room to operate, DiLiberatore will fly high in a 3-on-3 situation, like a collegiate version of Erik Karlsson or Shayne Gostisbehere.
Unit 2: William Fällström-Wyatt Bongiovanni-Zach Metsa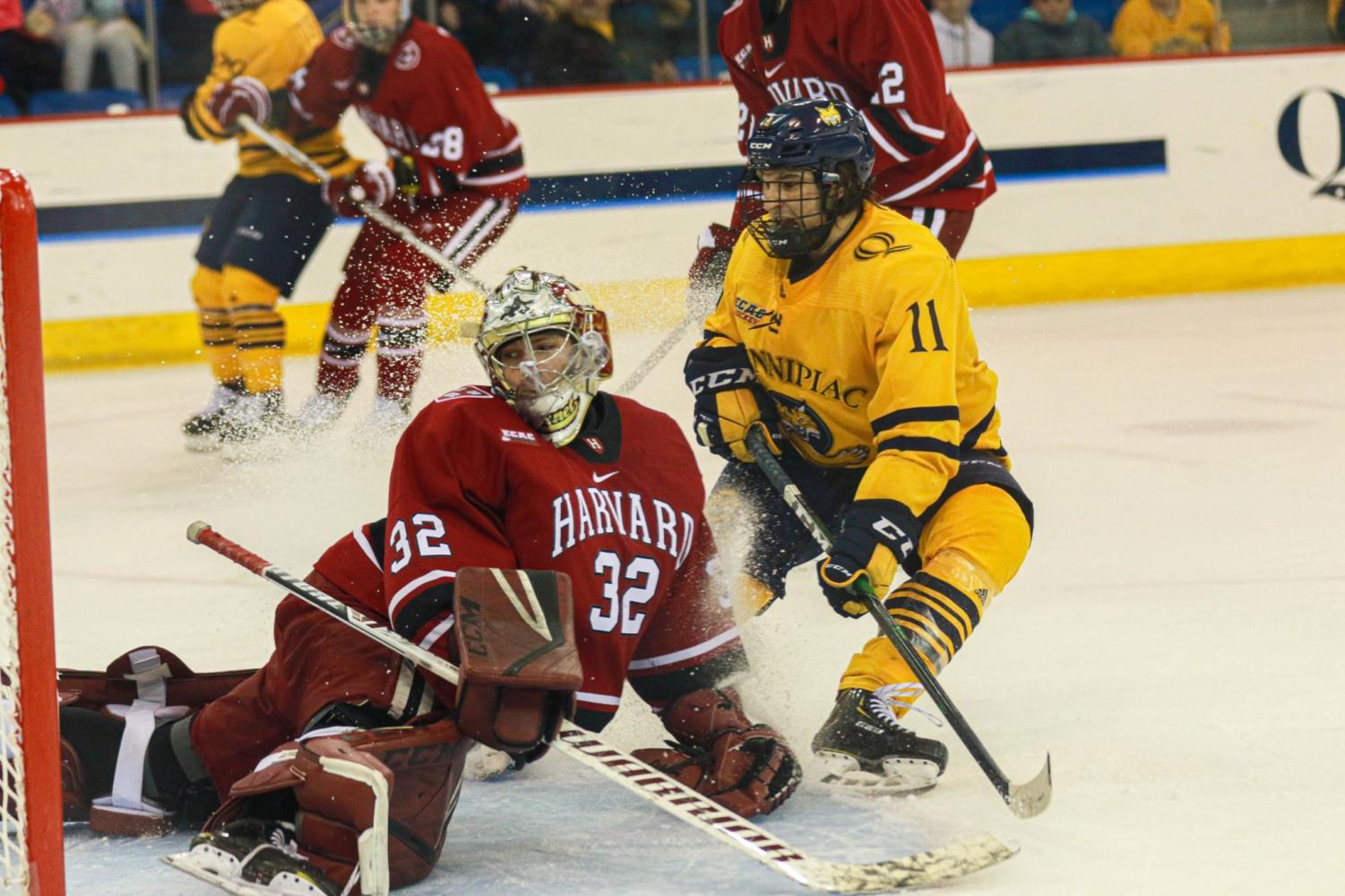 I can hear you already – what about Wyatt? Yes, Bongiovanni is the Bobcats' top goal scorer, but splitting him from Tufto in overtime could provide scoring punch on two units, rather than just one super-squad. Still, Bongiovanni would thrive on this unit, able to use his size and strength to get into finishing position.
Every sniper needs a setup man, and that's where Fällström comes in. He was second only to Tufto on the team last year with 16 assists, and is also the club's best defensive forward. With Bongiovanni and defenseman Metsa more offensively-inclined, Fällström will be able to use his vision to figure out when to create and when to drop back on defense.
Metsa took a major step forward last year both offensively and defensively, and is slated for an increase in minutes this year with the absence of the graduated Karlis Cukste. The second unit is his to anchor.
Unit 3: Skyler Brind'Amour-Ty Smilanic-Jayden Lee
Pecknold has quite a few options for his third unit, but this combination, while inexperienced, would be the most exciting choice. Brind'Amour was the club's most impressive rookie last year, and his puck moves in space need no introduction:
Skyler Brind'Amour everybody 🔥 pic.twitter.com/JWy9FTh4p4

— Jack Moore (@jacksmores) March 1, 2020
But who could go alongside Brind'Amour? Michael Lombardi and TJ Friedmann are safer options, but if Pecknold really wants to go for the kill, inserting incoming freshman Ty Smilanic into a 3-on-3 situation could be the move to make, at least on offense. One of the top prospects in the nation, he is coming to Quinnipiac with high expectations. If he can make an impact the way Brind'Amour did last year, maybe he'll be able to earn time in 3-on-3.
Defensively, I went with Lee for this spot, but it could either go to him or CJ McGee. Lee is more of a risk-taker while McGee is more balanced, so choosing between the two will depend on who Pecknold trusts more in overtime, or possibly the matchup. Either player would be a fit here.
Shootout:
Should any conference game go to a shootout, the Bobcats have options there, too. We haven't seen the Bobcats practice their shootout moves, but a lineup similar to the one below could work:
1. Peter DiLiberatore
2. Odeen Tufto
3. Skyler Brind'Amour
Extra Shooters: Wyatt Bongiovanni, Ethan de Jong, Ty Smilanic
★ ★ ★
It remains to be seen how the Bobcats will react to the new rule changes, but the team certainly has a lot of capable players who could contribute. After seeing too many college hockey games end in ties, here's to hoping that the new rules lead to more action, more excitement, and more finality on the ice.
About the Writer
Tom Krosnowski, Online Editor
Tom Krosnowski is a sports journalism graduate student from Allentown, NJ. He is in his second year as Online Editor for QBSN, and frequently works as a broadcaster. Tom has also interned at SportsNet New York (SNY) and News8 Connecticut (WTNH). You can follow Tom on Twitter @TKro42.