BREAKING: William Fällström leaves QU for Swedish pro league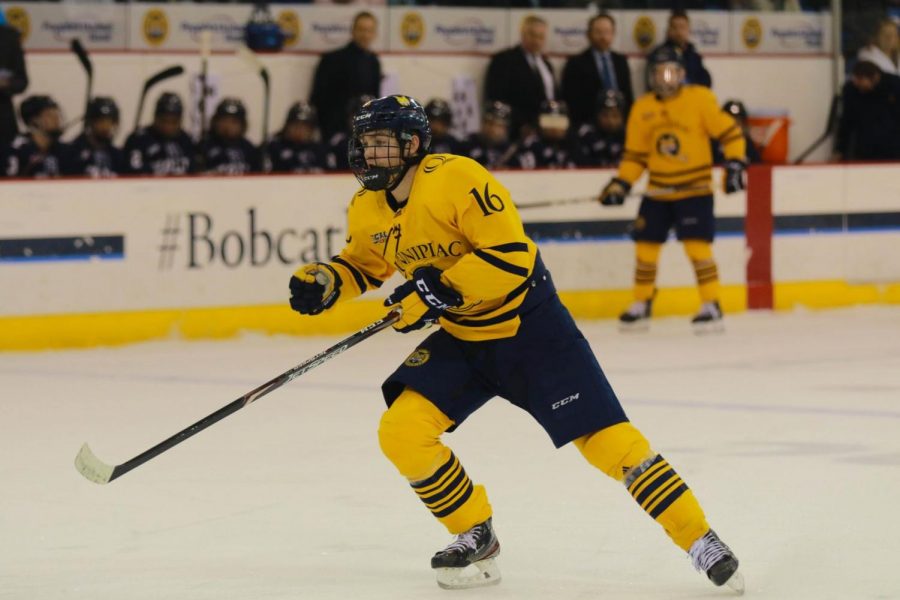 The Quinnipiac men's ice hockey team suffered a major loss today, as William Fällström opted not to return to Hamden for his junior season with the Bobcats.
The Swedish native made the decision to play in his home country for the 2020-2021 season, signing with Tingsyrds AIF of the HockeyAllsvenskan league. The team confirmed the signing this morning. With the signing, Fällström has officially turned pro.
Fällström had been a key piece to an already very successful class of 2022 for the Bobcats, providing great value to Rand Pecknold's squad as a responsible two-way center with a nice offensive skill set as well. Fällström played 77 games for the Bobcats, tallying nine goals and 29 assists for a total of 38 points.
While Fällström is a true playmaker with a great ability to set up his teammates, some of his best attributes as a player came in the faceoff circle and on the penalty kill. The centerman posted an impressive faceoff percentage of 61.3, good enough for third in the nation on a Quinnipiac team that boasted the nation's best faceoff percentage in all of Division 1 hockey. 
The loss of Fällström also provides an opportunity, as younger and less experienced players will need to step up to fill this void. Senior captain and member of the "100 point club" Odeen Tufto should be locked in as the first-line center for the 2020-2021 season, but the rest of the lineup presents chances for many to step up.
Skyler Brind'Amour had an impressive freshman campaign for the Bobcats, leading the way in freshman scoring for the Bobcats with a stat line of nine goals, four assists and 13 points. Wyatt Bongiovanni also played down the middle a bit in 2019-2020, but playing on Tufto's wing does give the Bobcats a formidable 1-2 offensive punch on the first line.
Another player to keep an eye on to fill Fällström's shoes as a top-six forward and center is incoming freshman Ty Smilanic, a highly-touted recruit out of the United States National Team Development Program. The program has produced some of the NHL's top talent in players like Jack Eichel, Auston Matthews, and many more. While still very young as an 18-year-old true freshman, Smilanic should have a strong chance to be an impact player right away.
Quinnipiac will certainly miss Fällström, but it is understandable why international athletes, not only at Quinnipiac but throughout all of collegiate sports, may be reluctant to return to their universities in times of pandemic and uncertainty. For the Bobcats, it is time for new and old faces alike to step up, as there will be unfinished business to tend to from the 2019-2020 season.