An Uncertain Future: Szawlowski hopes to return to QU after pandemic-shortened season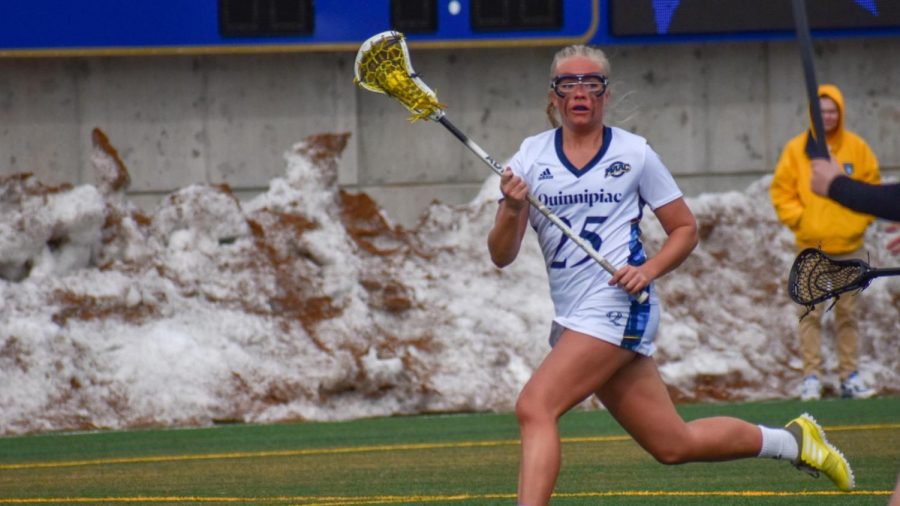 Like many collegiate athletes across America, Quinnipiac women's lacrosse attack Megan Szawlowski's promising senior season was abruptly cut short due to the COVID-19 pandemic.
Szawlowski, 22, transferred to Quinnipiac from Central Connecticut State University after her sophomore year and was an essential part of the Bobcats in her first season with the team. The Holyoke, Massachusetts, native was second on the team in goals and assists. In seven 2020 contests, Szawlowski led the Bobcats with 17 goals, 21 points, and 40 shots.
Then on March 12, 2020, MAAC Commissioner Rich Ensor canceled all spring sports, effective immediately. One day earlier, the Bobcats snatched a 16-11 win over Old Dominion in Norfolk, Virginia. Little did the Bobcats know it would be their season finale.
"We were in Virginia and this is kind of when things started to escalate," Szawlowski said. "We didn't really know what was happening. We heard of other schools shutting down. We played our game and everything was fine, we didn't know anything."
"When we were in the airport coming back we found out that school was going to be canceled, but we didn't know what it meant in terms of our season, and that next day – which was our off day – we found out that we were basically going to be done. There still were a lot of unanswered questions, but I think that everyone felt it on that day because we were told we probably weren't going to get anything back," Szawlowski said.
It's a tough pill to swallow considering how much work the team put into this season since last summer. The Bobcats were just starting to connect, winning three out of their last four games. But Szawlowski acknowledges that adversity is part of life.
"Life throws you curveballs all the time — it's how you react to it," Szawlowski said. "How else can we benefit from this in the best possible way despite how sad it is? I think we've done a pretty good job in responding and reacting."
The team is still communicating often, whether it's a team Zoom meeting or reaching out to each other individually to check up on their mental health. Szawlowski emphasizes that everyone on the team is always there for one another.
However, Szawlowski needs to be there for her family as well. She is one of five siblings. Sports runs deep in the Szawlowski family: her sisters, Courtney and Ashley, played lacrosse at UMass and her other sister, Bridget, played lacrosse at AIC. Her brother Michael also played football and lacrosse at AIC.
But now Szawlowski's siblings are essential workers at the forefront of this pandemic – both as police officers and doctors.
"I've been kind of running around trying to help them as much as I can," Szawlowski said. "Whether that's babysitting their kids or even going grocery shopping for them, just little things."
Szawlowski will graduate from Quinnipiac this spring – with or without an official commencement ceremony. Before the pandemic, she planned to get her masters in forensic psychology at AIC. However, she is now hoping to come back to Hamden next year and play her final eligible year in a Quinnipiac uniform.
If this is or isn't Szawlowski's Quinnipiac farewell, she will still always be grateful for her short time as a Bobcat.
"I would say it was definitely the best couple years of my life," Szawlowski said. "I met great people, made great relationships, connections in the job world, just friends I'll have for the rest of my life and memories I'll save forever. I'm really thankful for that and it taught me how to go through adversity as well."