Bigger Than Basketball: How Senior Captain Taylor Herd Handled the Canceled Season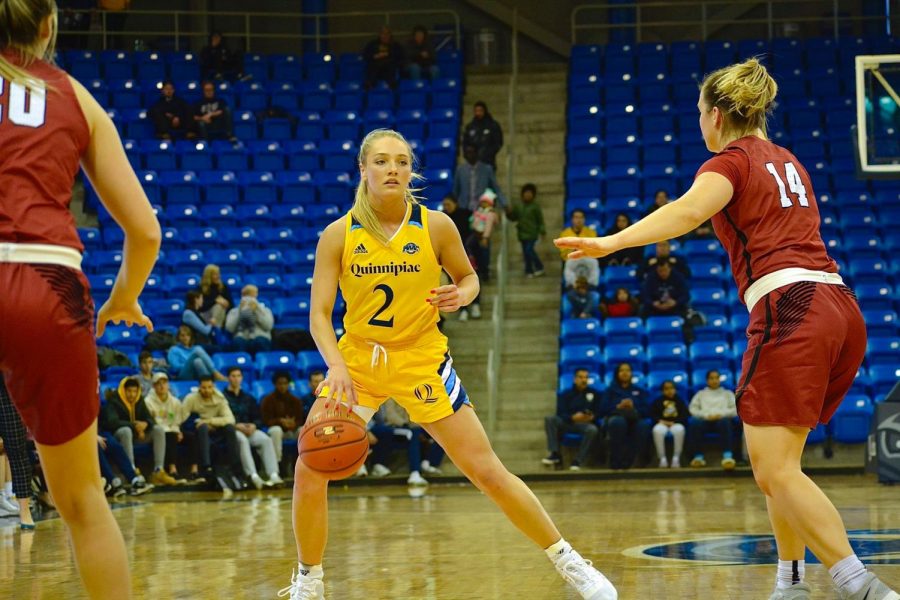 By now, we know the effect it has had.
But some of us may not know the various stories about the resilience of senior student athletes, none more valuable than the life lessons taught to senior guard Taylor Herd over these last few months following the cancellation of the MAAC tournament and NCAA season all together.
"I think it was a lot of initial shock and lot to process," Herd said. "Even beyond a basketball standpoint just everything going on in the world and how this is our new norm."
The 2019-20 season brought on a lot more responsibility for Herd, who saw five critical seniors graduate last year, and had her role expanded not only on the court but also from a leadership standpoint. However, nobody could have expected a task like this.
"It took me a while to process everything, and the fact that this was a result of not being able to finish the senior season with the MAAC tournament and also not having a senior spring as someone who wanted to expand her extracurricular activities."
With so many emotions to process at once, it may be hard to see the silver linings and life lessons through the hardship, especially when you're expecting to play then a couple hours later the season is over.
"There was a lot of anticipation leading up to the conversation and decision talking to coach," Herd said. "But, once they had told us to stay in the locker room at 2:15 we figured the tournament was called off. Coach coming and addressing us was the final stab, and as seniors we didn't expect that to be our last address from our coach," Herd said.
With news like that, there are many ways to go about it. Taylor Herd knew that as her responsibility grew throughout the season, there would be teammates looking to her for help despite whatever emotions she was feeling as well. At a certain point, it was time to get through the grief and find the positive life lessons in the situation.
"I learned that you have to celebrate the small victories along the way, you cannot wait until March to celebrate," Herd said. "I think that goes in life too, just celebrating the people and the opportunities that life hands you because nothing is set in stone or guaranteed. I was so grateful I appreciated the smaller victories along the way this season with my teammates."
For Herd, that obviously comes with experience. She knows that each season is a grind and no MAAC tournament run is easy, so even though there was no conclusion to this season she was able to enjoy the ride with her younger teammates since it was her last time doing the journey.
It is extremely admirable how Herd looked much deeper than basketball with this situation, since she was able to realize the deeper life lessons she could take away from this hardship, rather than solely being sad about it. Her role expanded so much this year both on and off the court, so it is a sense of closure in a season with almost no closure to have enjoyed the ride along the way. 
"I also am someone who appreciates growth," Herd said. "Looking at my four-year career I think I made a lot of growth not only as a player but as a person, and I am proud of that growth and that is something I can carry with me for the rest of my life. Looking at who as I was as a freshman as a player and person then now as a senior taking on a leadership role and transitioning from a three-year supporting role, it is a big difference that I am proud of."
Despite the difficulty of not seeing this season play out, it is clear that players like Taylor Herd, who had their careers ended so abruptly, are able to find life lessons to learn from these rare circumstances. With nothing to really relate to considering how unprecedented this is, it seems like one of the only positive outlook to have is to make it bigger than your respective sport and learn a life lesson about taking nothing for granted.