From Atlantic City to Australia in 96 Hours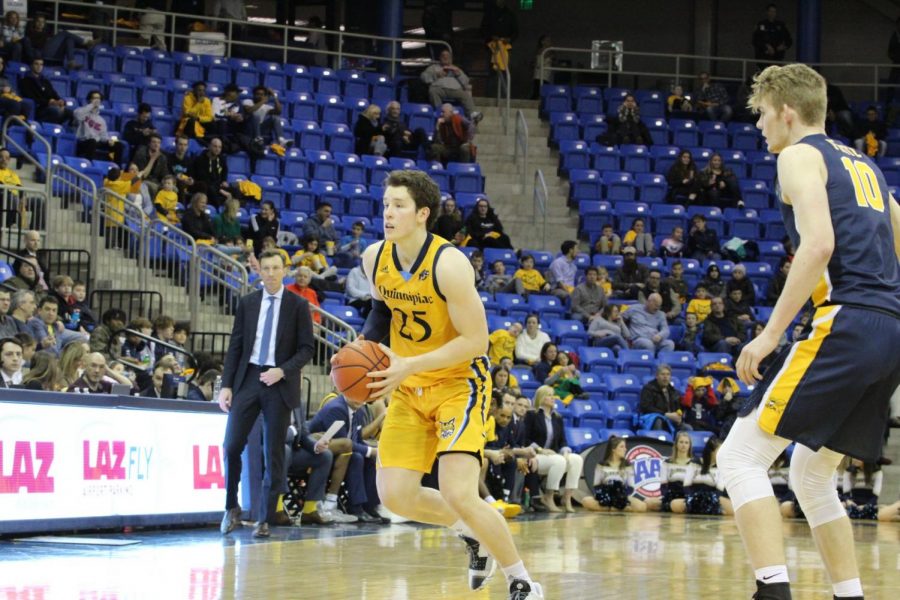 It was around noon on March 12, just an hour before a scheduled shootaround for the Quinnipiac men's basketball team. 
Instead of preparing to head onto the court, Quinnipiac staff members were pacing back and forth in the middle of an Atlantic City hotel hallway. Everyone was glued to their phones, bracing for the inevitable alert of a promising season cut short.
While the team was in a state of anticipation, Quinnipiac sharpshooter Jacob Rigoni took a 'business as usual' approach. 
"We had practice at 1 p.m. and it was about 12 o'clock, so I got in the shower to freshen up," Rigoni said, reflecting on his experience during a 55 degree Australia morning in June. "I was thinking about the game, my role, what I have to do and getting ready to go."
But when the water turned off, so did the clock on his junior campaign.
"Once I stepped out [of the shower] and Tyrese [Williams] told me they just came around and said the tournament was cancelled, it was pretty surreal and I obviously had a lot of emotions," Rigoni said. 
Rigoni, who admitted in hindsight after learning about the impact of COVID-19 that cancelling the tournament was "the best decision", expressed disappointment his team would not have the chance to battle in the MAAC Tournament and beyond. Quinnipiac had dropped seven of eight contests in MAAC play before ripping off three straight wins, including two games on the road the Bobcats won by a single possession. 
Quinnipiac, a number four seed in the MAAC Tournament, were playing their best basketball of the season at the right time. At 9:30 p.m., they were scheduled to play Monmouth in the quarterfinals of the MAAC Tournament. 
But by 3:00 p.m. of that same day, they were on a bus out of Atlantic City.
"It took me a week or two to even let it sink in. About three or four days after just finding out, I was on a plane home back to Australia when it would normally be another two months," Rigoni said, pacing around a basketball court in his home country while talking. "I had two weeks in quarantine to wrap my head around everything, and it was tough because we didn't get any closure in our season."
Rigoni eventually had to make peace with Quinnipiac's season ending without a final loss. It came down to acknowledging what the Bobcats went through off the court to contextualize what this season meant in his basketball journey as a whole.
"The end of this season was a different feeling, and you are definitely a bit numb in a way," Rigoni said. "I think we had a lot of challenges during the year beyond our record. I think a lot of teams could crumble at that point and split apart, but we really came together… I think that's something we can take forward into next season and beyond basketball when times are tough."
While the team will be able to take lessons from this season into the next, Rigoni will be doing so as the only upperclassmen from this past season still on the roster. The three other upperclassmen on the Quinnipiac roster (Aaron Falzon, Rich Kelly, Kevin Marfo) either transferred or graduated. 
On top of that, the Australia native will need to find a way to give his Bobcats team an edge when every program will have the same motivation coming into a new season without closure from the previous one. 
But for now, Rigoni is solely focused on the growth of everyone wearing the blue and gold in Hamden. 
"For our team, we can't worry about what other teams are feeling," Rigoni said. "We're really excited with the people that have chosen to stay at Quinnipiac and the guys we brought in and really believe in that group."
The end of this season was not something Rigoni could have possibly predicted when he made the decision to come stateside to play college basketball. However, with lots of self-reflecting and constant support from his Quinnipiac basketball family, Rigoni has been able to see the growth he has made in the past few months off the court, an aspect of his life he prioritized to understand when in quarantine. 
 "Obviously it's not an ideal experience and something you wouldn't wish for, but this has probably been the greatest challenge this year of my life and my career," Rigoni said. "It's been awesome for my mental health and finding peace outside of basketball and being happy with my life, regardless of how basketball is going."
About the Writer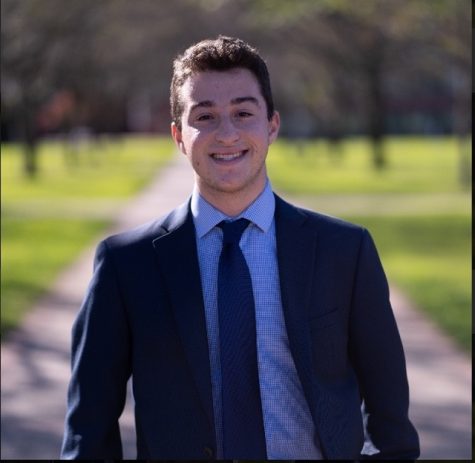 Jonathan Banks, Broadcast Manager
Jonathan Banks is a sports journalism graduate student at Quinnipiac from West Orange, NJ. He is in his second year as a Broadcast Manager for QBSN. Banks currently works as a Production Assistant for ESPN and has interned at NBC Sports Washington in the past. You can find Jonathan on Twitter at @jonathanbanks8_.