"We're not unique:" Baker Dunleavy explains what it's like practicing during a pandemic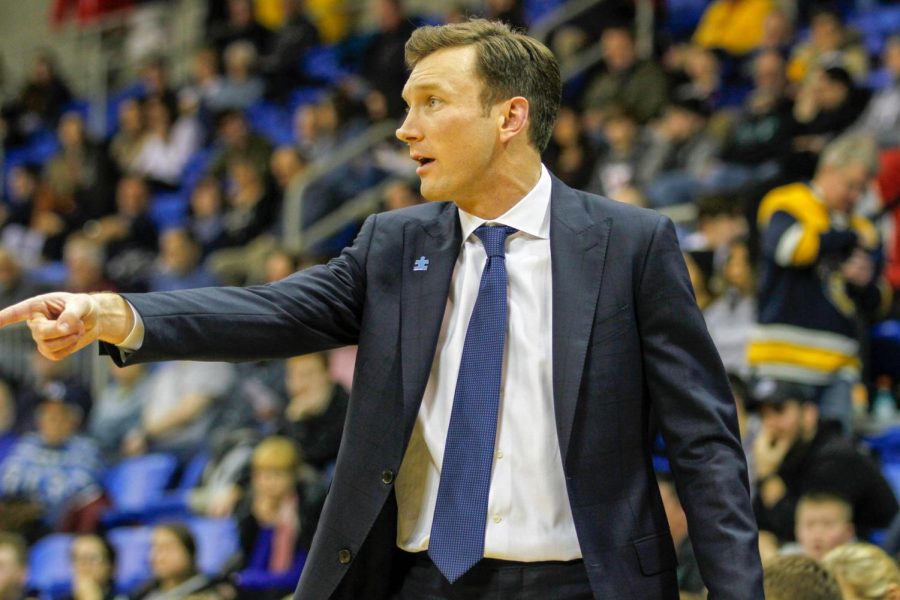 2020 has been a strange year to say the least. The whole world changed with the coronavirus outbreak, and it seriously impacted the U.S. in early March.
At this time, the country was put on lockdown and sports all over were suddenly canceled. This included the MAAC men's basketball tournament, as well as the NCAA men's tournament.
Before the pandemic, Quinnipiac was heading into the tournament with a .500 record both in the MAAC and overall (15-15, 10-10). The last game they played was on March 4, when they beat Iona 69-68. For the first time since 1981, there was no MAAC tournament.
Six months later, Bobcats head coach Baker Dunleavy returns for his fourth season, in a year that is unprecedented to say the least. All the normal routines he's used to year after year have been changed because of the pandemic. Because of this, Dunleavy has had to adapt the way he runs his practices, as well as the way training and player development is done. While he has to worry about the strength and conditioning of the players, Dunleavy's main concern during this time is his players' health.
"We're not unique," Dunleavy said. "There's a lot going on for us right now, in balancing a lot of different factors, number one being health, and making sure everybody's safe."
During this age of social distancing and preventing the spread of COVID-19, health is on everyone's mind. However, Dunleavy also has to worry about the amount of time his players have missed, as well as how practices are going to be different.
"Right now we've just been doing some shooting, some drill work, some skills and partners. But, nothing live yet. Nothing physical," Dunleavy said.
It's a completely different atmosphere for Dunleavy and his squad, as players have to remain six feet apart and wear masks, while undergoing regular coronavirus tests. The Bobcats have not run any full 5-on-5 scrimmages yet since resuming practice. While this has affected the basketball aspect for the team, Dunleavy is still glad to be back.
"I just missed being on the court," Dunleavy said. "Looking after our guys' development, building our relationship, our bond on the team. That's been the part that we really missed."
The 37-year-old coach is looking on the bright side, as he's focusing on what to look forward to instead of his restrictions. The time off, as well as the restrictions, may serve as a lesson for the team on how much they should appreciate everything about the game they play. Dunleavy's positive attitude in how he views the current situation might be exactly what this Bobcats squad needs to propel over the other teams in the MAAC this year.
"We're not taking it for granted," Dunleavy said. "We're excited to be back together right now, and I think we have a better appreciation for that than maybe we ever have."