Jen Fay still learning in new role as Bobcats' Assistant Coach
If the best teachers never stop learning, then it's not surprising that Jen Fay loves to learn.
The former Quinnipiac University women's basketball star graduated in May 2020 with her Master of Arts in Teaching in secondary education, but Fay's first teaching job isn't in a classroom. In fact, she didn't even have to move out of Hamden, Connecticut, or off the basketball court.
Fay is in her first year as a full-time assistant coach for the Quinnipiac women's basketball team after spending five years as a player and one as a volunteer graduate assistant. Given her teaching background, Fay is naturally more focused on learning as much as she can in order to become the best coach.
"I think the one thing I learned (as a graduate assistant) is that there's so much that I don't know," Fay said. "Obviously as a player, you're seeing things through a player's perspective, and it's totally different when you're on the sideline."
Even in a Zoom interview conducted through a computer screen, it is evident that Fay loves her job. She flashes a steady smile throughout her answers, maintains a bubbly tone, ends each answer on a positive thought, and fidgets with excitement as she discusses the new possibilities she has as a Division I basketball coach.
"My biggest thing has just been to ask questions," Fay said. "I think I've been literally bombarding (the other coaches) with so many questions. Even if you think it's a dumb question, but you're not really sure about the answer, I'm not afraid of being wrong. So, I'm totally open. I just want to ask as many questions as I possibly can, just so that I can hear different perspectives on how people do things because again, there's no one way to do everything."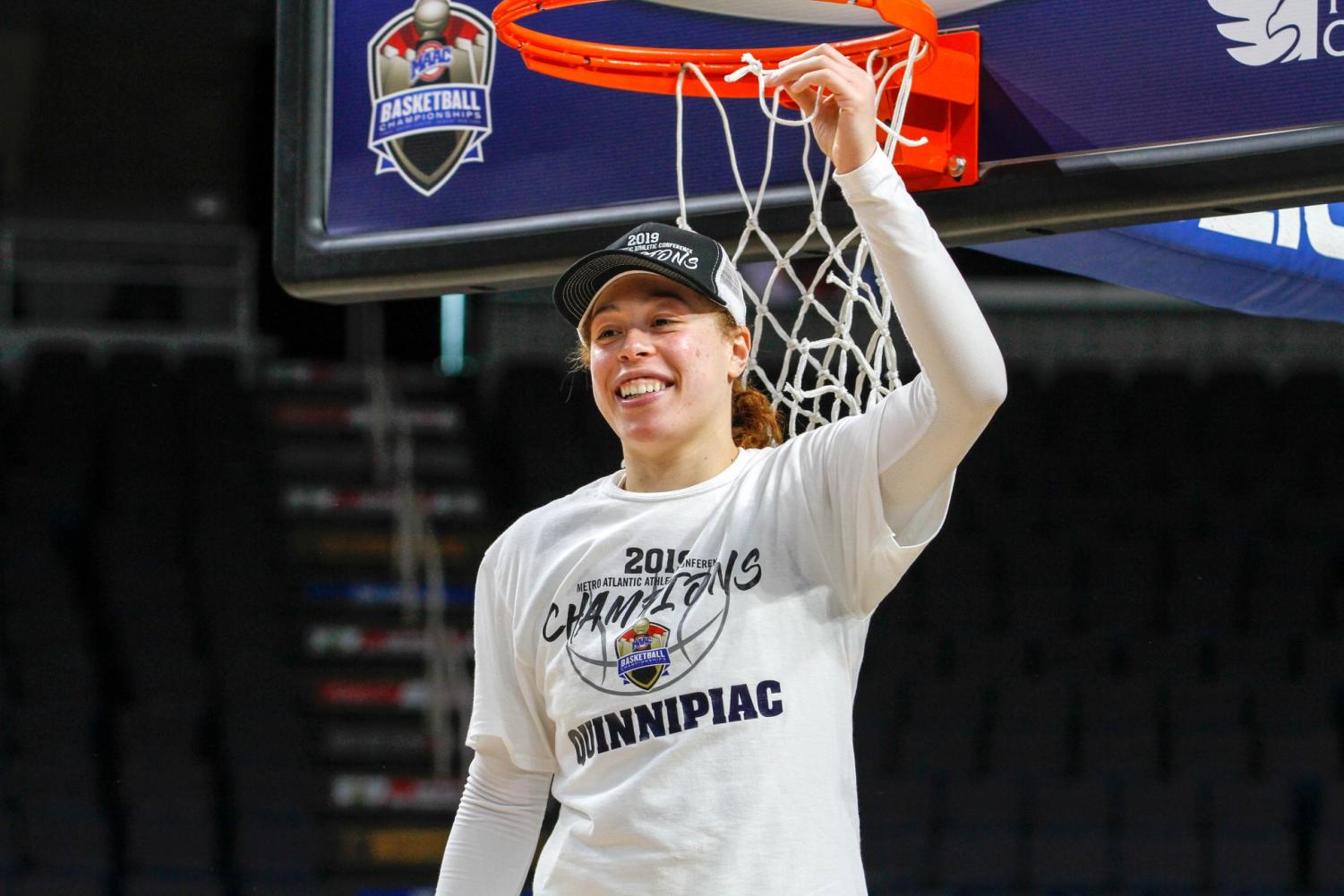 Fay's new office is sparse, but a flag commemorating her team's appearance in the Sweet Sixteen of the 2017 NCAA Tournament adorns the otherwise blank white wall behind her. There's also a whiteboard behind her with a basketball play scribbled on it in blue Expo marker, but the more interesting part of the board is what's written next to the play. It's a motto for Fay – "Have an amazing rest of your day!"
Fay brings these positive vibes onto the court, which has certainly made head coach Tricia Fabbri's job easier. Fabbri has gone through dozens of assistant coaches over her 26 years at the helm of the Bobcats, but few have had the effect on Fabbri that Fay has already had in her less than two months on the job.
Fabbri's face lights up at the mention of Fay's name.
"I think my husband should answer this, because he has seen a very happy Coach Fabbri walking through the doors with Jen Fay on staff," Fabbri quips. "When you have a new position on staff, a new young lady on staff, there's a huge learning curve. Here, she jumped right in. So, it's been a real seamless transition that is really benefiting our young ladies right now."
Fay's resume needed no introduction. She was a member of four MAAC champions and made four NCAA Tournament appearances. She's 16th in Quinnipiac history in points and eighth in three-pointers made. Only two Bobcats have played in more games than Fay, and her experience in the program's biggest moments, as evidenced by the Sweet Sixteen flag in her office, gives her credibility when talking to the players.
"That's what we look to get back to every year," Fay said. "It's pretty cool for me having that feeling, having that perspective, and being able to share it with some of the players who obviously haven't been there just yet. But to tell them about that experience and make them want for that… that's what I try and tell the players."
Most of the Bobcats' lineup is new to Fay, but six players on the active roster were former teammates. Senior Chiara Bacchini and redshirt senior Vanessa Udoji were not surprised that Fay has made a successful transition into coaching.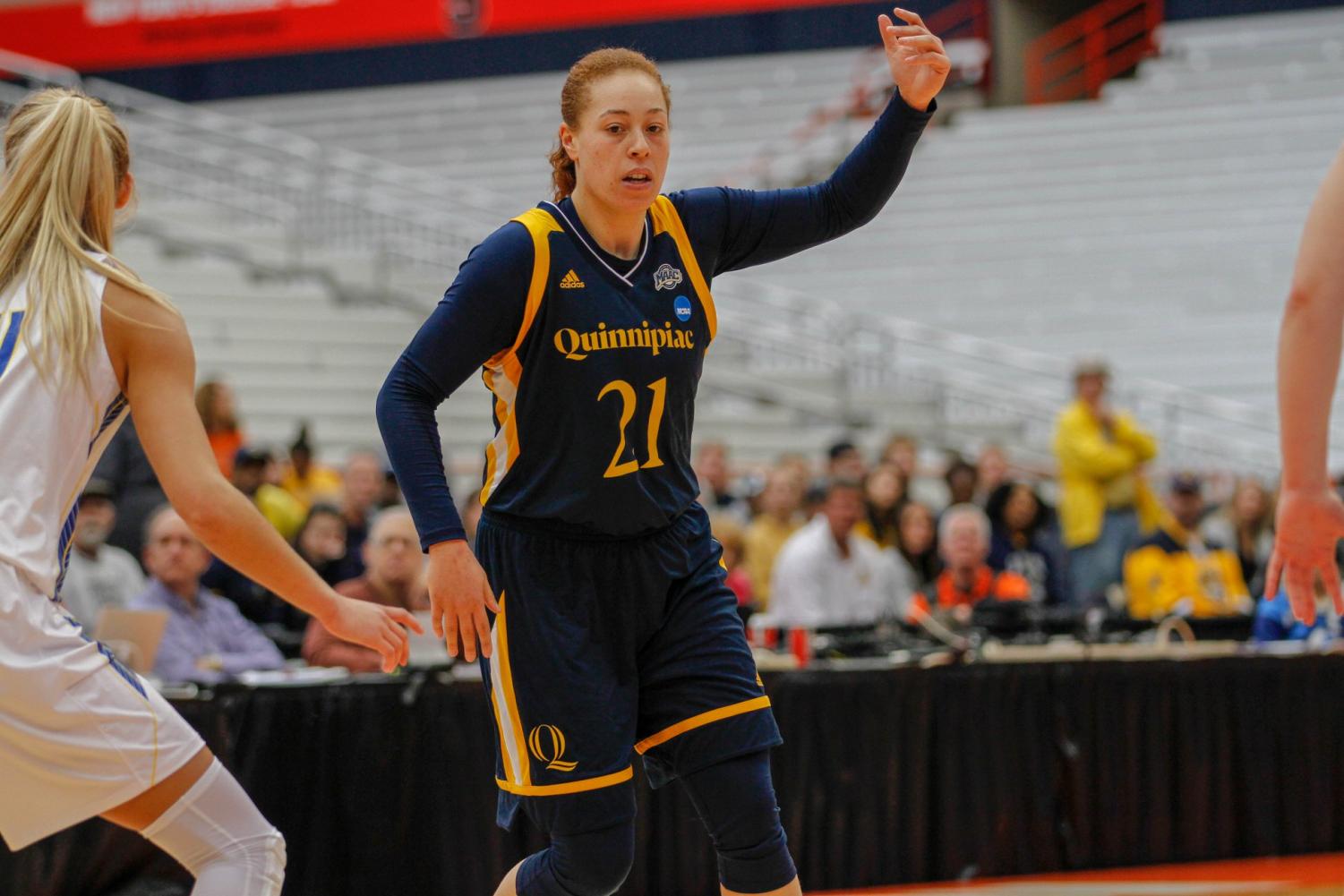 "She's a teammate and a person that, she always knows what she's talking about and what she's doing," Bacchini said. "And I think she gives you the confidence to do it, too."
"She was just a baller," Udoji said. "I feel like just being around her, she spreads that mentality of 'attack, attack.' I'm playing almost the same position that she played, so just being able to have her on the sidelines coaching me up, and being able to watch film with her, break down things, she's just a great asset to our coaching staff."
Adapting from a teammate relationship into a player-coach relationship could have been a challenge, but Fay has thrived by continuing to be herself.
"She's definitely kept it professional, but also relatable," Udoji said.
"She never changed through the years," Bacchini said. "She is very serious, and then off the court she is very fun."
"I try and stay true to my personality," Fay said. "I'm not a yeller and a screamer. I'm a pretty laid-back person."
That easygoing nature was documented on Fay's YouTube channel during her playing career. The project started as a video blog that chronicled the day in the life of a Division I basketball player, but has expanded over the years.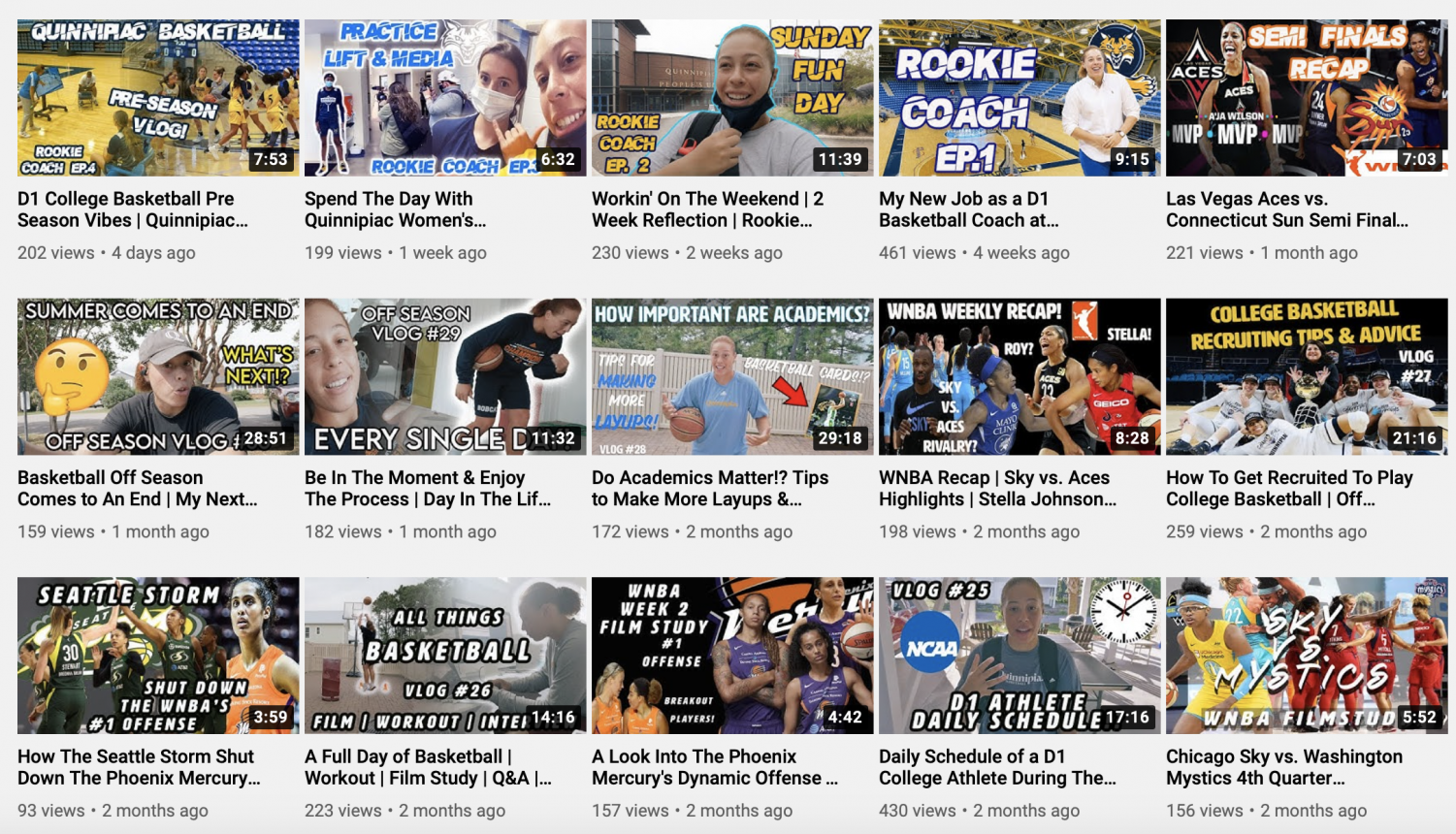 Fay's interest in her side hobby cycles back to a key word: learning.
"I just started to enjoy making videos, and the editing, and learning," Fay said. "I kind of turned it into more like an educational piece, just sharing all the things that I've learned. I just feel like when I was a younger player, I would have loved to have somebody that I could watch that could show me a move or give me a workout to do or just give me some advice. So, (I am) just trying to be that kind of person for a lot of the younger players."
Fay is never afraid to try new things. After her final basketball season, she suited up as a walk-on for the Quinnipiac softball team. Fay hadn't played softball since she was attending Nazareth Regional High School in Brooklyn, but that just meant she got the chance to learn all over again.
"I had a really good time learning again, everything from square one," Fay said. "It's a lot different than high school softball. I made a lot of new friends and (getting) to see another sport at QU was pretty cool."
As long as Fay continues to learn, she keeps her career possibilities open. Armed with a teaching degree, emerging as a contact creator and improving as a coach, there are several avenues that Fay could take next, but she plans to stay involved in basketball in the immediate future.
"There's nothing like being on the floor and just being around basketball," Fay said. "I think I'm going to try and stay involved in the game as long as I can. And obviously, everything worked out here where I was able to stay at Quinnipiac, I can kind of get my foot in the door there. So, I think right now the collegiate level is where I'm enjoying it."
About the Writer
Tom Krosnowski, Online Editor
Tom Krosnowski is a sports journalism graduate student from Allentown, NJ. He is in his second year as Online Editor for QBSN, and frequently works as a broadcaster. Tom has also interned at SportsNet New York (SNY) and News8 Connecticut (WTNH). You can follow Tom on Twitter @TKro42.