ShowTyme: Ty Smilanic on NHL draft day, a delayed season and the future of USA Hockey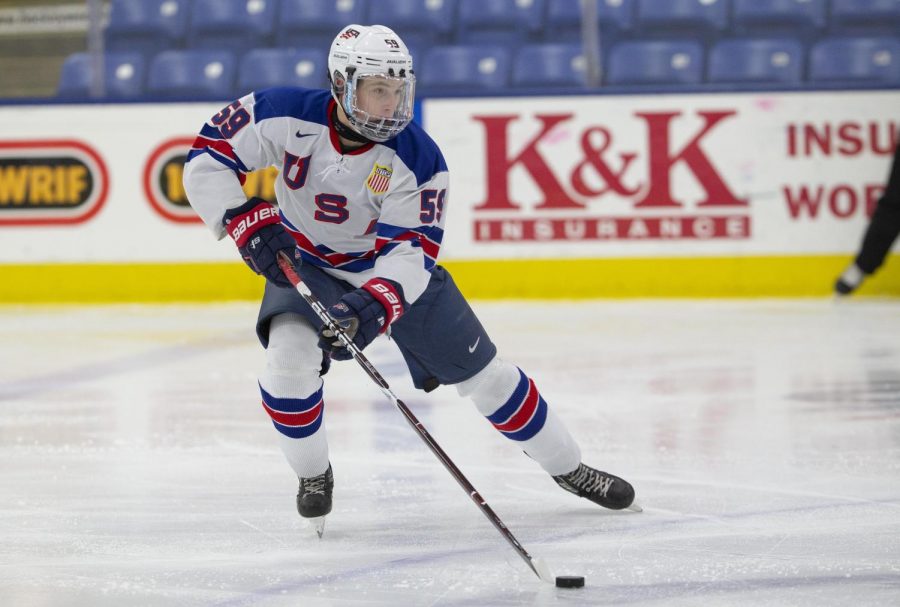 Ty Smilanic is a lot of things on the ice. He's a center on the Quinnipiac men's ice hockey team, a hotly-recruited NHL prospect, and a veteran of the prestigious United States National Team Development Program (USNTDP).
But off the ice, he's just a typical, 18-year-old, first-year college student.
The most important day of Smilanic's life, the 2020 NHL draft, is less than two weeks away. But, if not for a timely reminder from his mother, Smilanic might not have even realized it was so close.
"Honestly, I kind of let it slip a little bit," Smilanic said. "It didn't hit me until yesterday. My mom was like, 'What's your plans, do you want us to come out there, are you coming home?' and I was like, 'Oh, shoot. It's in less than two weeks now.' That's when it hit me.
"I'm not going to lie, because for the past 24 hours, [the draft] has been on my mind a lot, but I'm still just trying to make the best of the situation that it is right now and hopefully everything works out."
Aside from this lone instance, not much else about Smilanic says "unprepared." Speaking over a Zoom call in front of the unmistakable white cinder block wall of a college dorm room, it's clear that this isn't Smilanic's first rodeo. Dressed in a light blue T-shirt and donning a black cap and large gold cross necklace, Smilanic is comfortable on-camera. He is quick to smile, sits up straight, makes good eye contact and is respectfully conversational, all traits that surely served him well in the many Zoom interviews he conducted with NHL teams before draft day.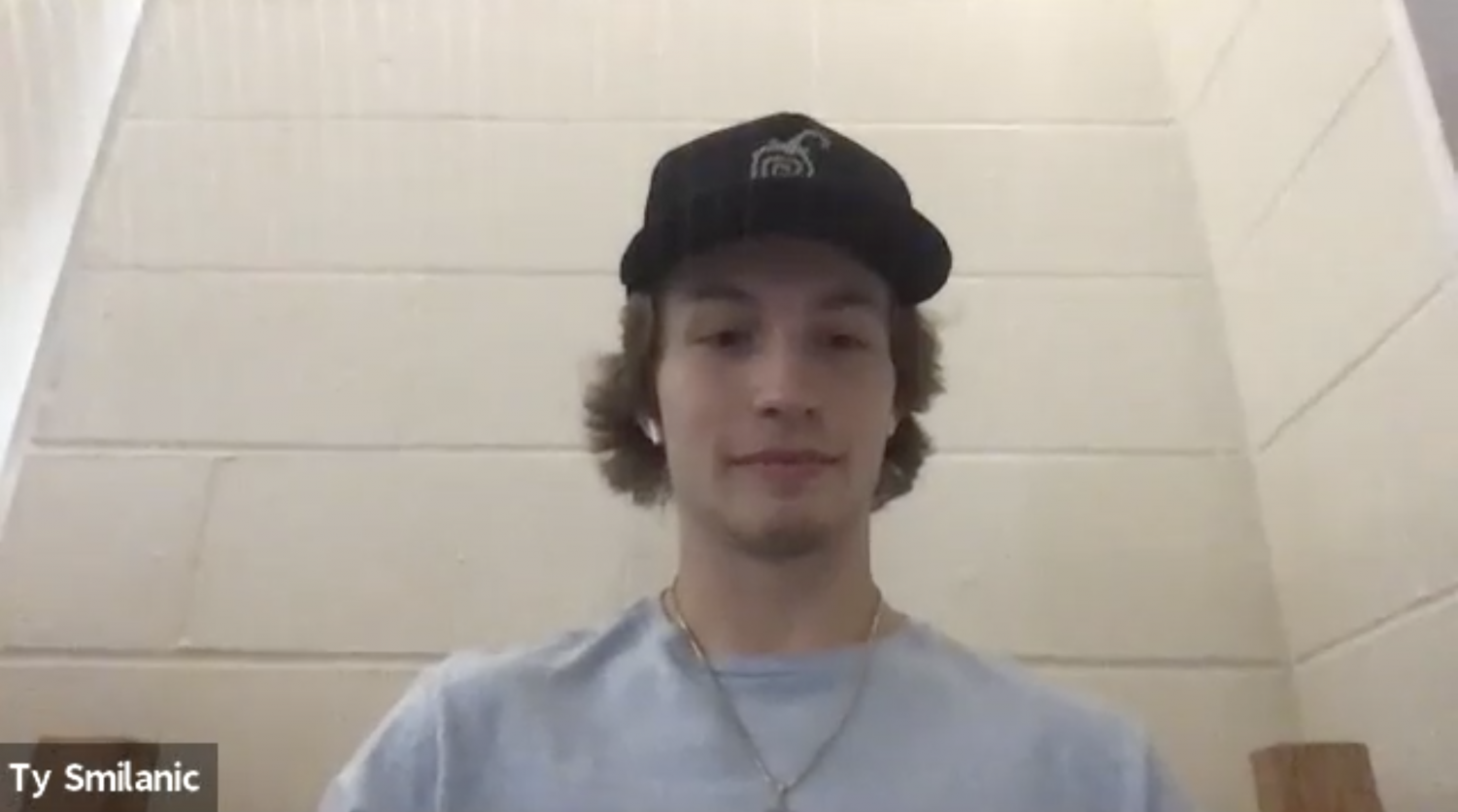 "[When] you're on the call, it's you with 10 people on the call, there are some high-up names," Smilanic said. "So, it was pretty scary at times for sure, but it's definitely different than anything before. I'm not meeting people in-person. I have to make a good impression over a video call. So, it was more of a challenge, but I think I accepted it pretty well."
Projected by NHL Central Scouting to be a first or second-round draft pick, Smilanic will likely become the highest-drafted player in Quinnipiac history. The program has seen six former players suit up in the NHL and dozens more have signed professional contracts, but none have had the pedigree that Smilanic does, and he hasn't even played a game yet in the navy and gold.
---
Draft day would have been June 26 or 27, depending on the round he was taken in. Smilanic would have been in attendance in Montreal, one of the hockey capitals of the world. He planned to celebrate with his family and close friends, all while wearing that factory-fresh jersey and cap of the team that now controlled his future.
Of course, the COVID-19 pandemic changed all that. Smilanic was slated to play in the U-18 World Championships, which were canceled. There were no in-person combines where teams could interview him and evaluate his strength and skill in hockey and conditioning drills. Instead, Smilanic had to pitch himself to teams over a webcam from his home in Denver, CO. He will experience draft day from Hamden, CT, some 1,800 miles from home, although his family will be coming to Connecticut to celebrate with him.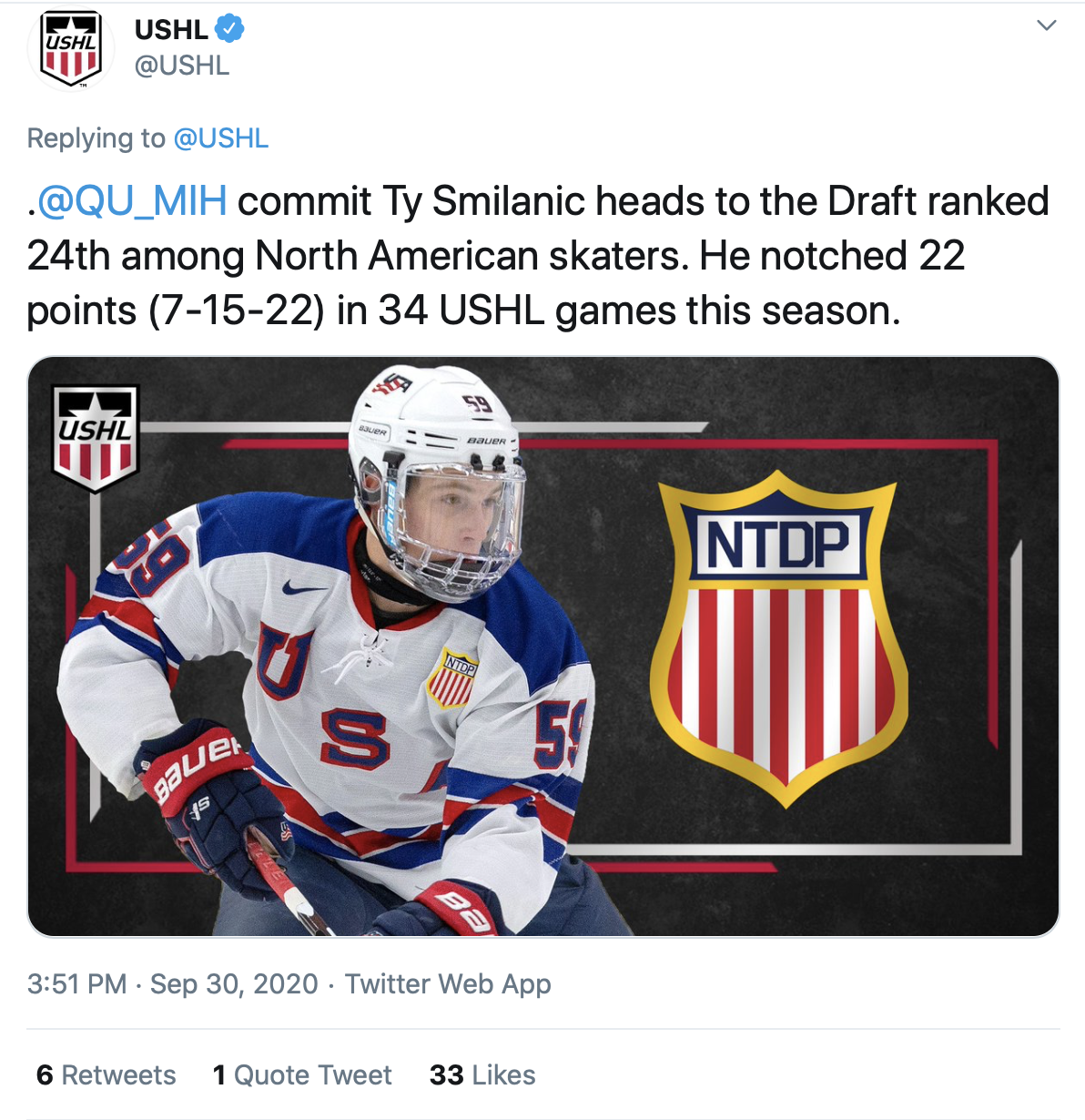 A normal summer for Smilanic would have involved time on campus to take classes, meet his teammates for the first time, and practice. Instead, his teammates bonded over Zoom calls. The Bobcats have only begun live practices within the last month, and still haven't had a full team session, instead splitting into three small groups. They couldn't even use their home arena, the People's United Center, at the start because the ice wasn't ready. It was just another COVID-related curveball in a year full of them. Stuck at home in Denver, Smilanic couldn't get on ice for three months, which is an eternity for any hockey player.
"That's by far the longest I've ever gone without skating," Smilanic said. "So, I definitely had to fill time and spend a lot of time with my family. Obviously with me going to college right after quarantine, it was good to be with them a lot."
Smilanic also spent time refining a new hobby over quarantine – his love of cars.
"I've always kind of been into cars," Smilanic said. "Some people around campus see my car and they can tell I just put a lot of work into it. I like to trick it out."
People can learn a lot about another person by looking at their car. Smilanic's custom Jeep Wrangler represents a lot about him as a hockey player – it's durable, dependable, and it's been improved after hours of hard work.
Just like people can pick Smilanic's Jeep out of a parking lot, it's easy to spot Smilanic on the ice. His speed is one of his greatest attributes, and if an opposing player is fortunate enough to make out the number on the back of the gold jersey blazing by, it's one they won't forget.
Number 96 is a "special number" for Smilanic. He wears it in honor of the year the Colorado Avalanche moved to Denver, which was also when they won their first Stanley Cup. He's worn 96 whenever possible, and even though there's only been one other player in Quinnipiac history with a jersey number over 40 (Spencer Heichman wore number 44 from 2008-2012), Smilanic didn't hesitate when given the chance to wear his favorite number. It doesn't just mean a lot to Avalanche fans – 96 signifies an important chapter of hockey's growth in the United States.
"The culture really started to pick up for hockey out west ever since [1996]," Smilanic said. "You're starting to see more and more players from Colorado get drafted or play college hockey. It's cool to be a part of that movement."
---
American junior and college hockey has long had to compete with Canadian hockey, which enjoyed a healthy head start. Still, for Smilanic, the decision to stay home and play hockey for his country while getting an education was an easy one.
"With how much time, effort and money my parents have put into my hockey, I think the least I can give them is education," Smilanic said. "Especially for my mom, that's big for her, so at the end of the day it's kind of a no-brainer. I get to go to college [and] get my degree because there's life after hockey."
A record 11 American players were drafted in the first round of the 2019 NHL draft. Two are in the NHL, eight of them went on to play for a U.S. college, six are still on an active college roster, and six of them came from the USNTDP, the same program Smilanic graduated from. As each class succeeds, the future of hockey in America grows brighter.
"I think the gap between Canada and [the U.S.] – as far as hockey – is closing," Smilanic said. "10 or 15 years ago, the gap was humongous. [USA Hockey is] doing a great job in developing NHL-ready players and hopefully that gap just keeps getting smaller."
When Smilanic's name gets called by an NHL general manager in one week, he will have done his part in closing the gap. With number 96 on his back, Smilanic will continue his journey to professional hockey, all while paving the way for a generation of future American hockey players to come.
The final newcomer we welcome to Quinnipiac is Ty Smilanic from the USNTDP!

🔷 Had 7 goals, 15 assists and 22 points on the U-18 Team in 2019-20
🔶 Played in the 2020 BioSteel All-American Game
🔷 Ranked 24th among North American Skaters by NHL Central Scouting#BobcatNation pic.twitter.com/pvpv6FVnwW

— Quinnipiac Men's Ice Hockey (@QU_MIH) September 5, 2020
About the Writer
Tom Krosnowski, Online Editor
Tom Krosnowski is a sports journalism graduate student from Allentown, NJ. He is in his second year as Online Editor for QBSN, and frequently works as a broadcaster. Tom has also interned at SportsNet New York (SNY) and News8 Connecticut (WTNH). You can follow Tom on Twitter @TKro42.