Welcome Back: Udoji ready to play for Bobcats after two injured seasons
After three seasons sidelined to injury, Quinnipiac women's basketball redshirt senior guard Vanessa Udoji is finally ready to play another game for the Bobcats.
"It's been a long time since I've worn my jersey," Udoji said. "I feel like Bobcat fans haven't seen enough of me, so I'm excited to see what the season holds."
Udoji will suit up for the Bobcats for the first time since December 1, 2017, after tearing her left ACL in a game against the Richmond Spiders. She was expected to play last season before tearing her other ACL in a practice on October 6, 2019, before the team played its first games.
The process was a long one for Udoji in her two rehab periods to get back to the court. She described the process as "boring," "repetitive" and "tedious." However, once she had the second injury, Udoji looked at the situation with a new outlook.
"Last year I attacked it with a more positive mindset," Udoji said. "Just being able to have that experience… knowing what I had to do to get on the court, and knowing what I had to do to stay on the court is definitely what has helped me mentally and physically."
Udoji did not let her injury excuse her from being a part of the team. While on the sidelines she was one of the main team members to hype up her fellow Bobcats before game time. At the center of the huddle, she would lead the team's signature "QU Bobcats" chant to inspire the team to go out on the court and give it their all.
Outside of just hyping her teammates up, Udoji also looked to inspire them in these huddles. She looked to say specific words in order to calm her team down and get them focused.
"Just telling them to cool their nerves, attacking each play one at a time, and bringing energy from the tip for 40 minutes," Udoji said.
She also did not waste her time while on the sidelines. Udoji was able to gain a coach's lens for the game of basketball sitting alongside head coach Tricia Fabbri and her assistants on the bench. This year, Udoji hopes to apply what she has learned about the details of the game on the court.
"Being able to sit on the sideline and see everything the coaches were seeing, and now being on the court, I can try to do my part and emulate that," Udoji said.
While the coaches appreciated her presence on the sideline, they are eager to see her back in the game. Fabbri wasn't shy when saying how much the Bobcats missed Udoji out on the floor the last two years.
"It really impacted our season," Fabbri said. "Not only did we lose a great player in terms of how you are going to win games physically, but with her capacity to lead and inspire on the team…when Vanessa sustained the injury, we were a different team."
Udoji will come back to a roster with 10 returning players, where five of these returners started at least one game last season. Udoji and senior teammates Shaq Edwards and Chiara Bacchini will look to fill the shoes of last year's seniors as leaders on the roster. Fabbri believes that Udoji will have an easy transition into that role as well.
"Her leadership has been fantastic throughout the summer," said Fabbri. "She is a natural-born leader and physically looks phenomenal out on the floor."
One of the seniors on last year's team, Taylor Herd, was someone who provided great support for Udoji through her recovery. Herd was with Udoji when she received the call that she tore her ACL for the second time. While several tears were shared after the announcement, Udoji remembered Herd, and the team as a whole, providing her nothing but their fullest support.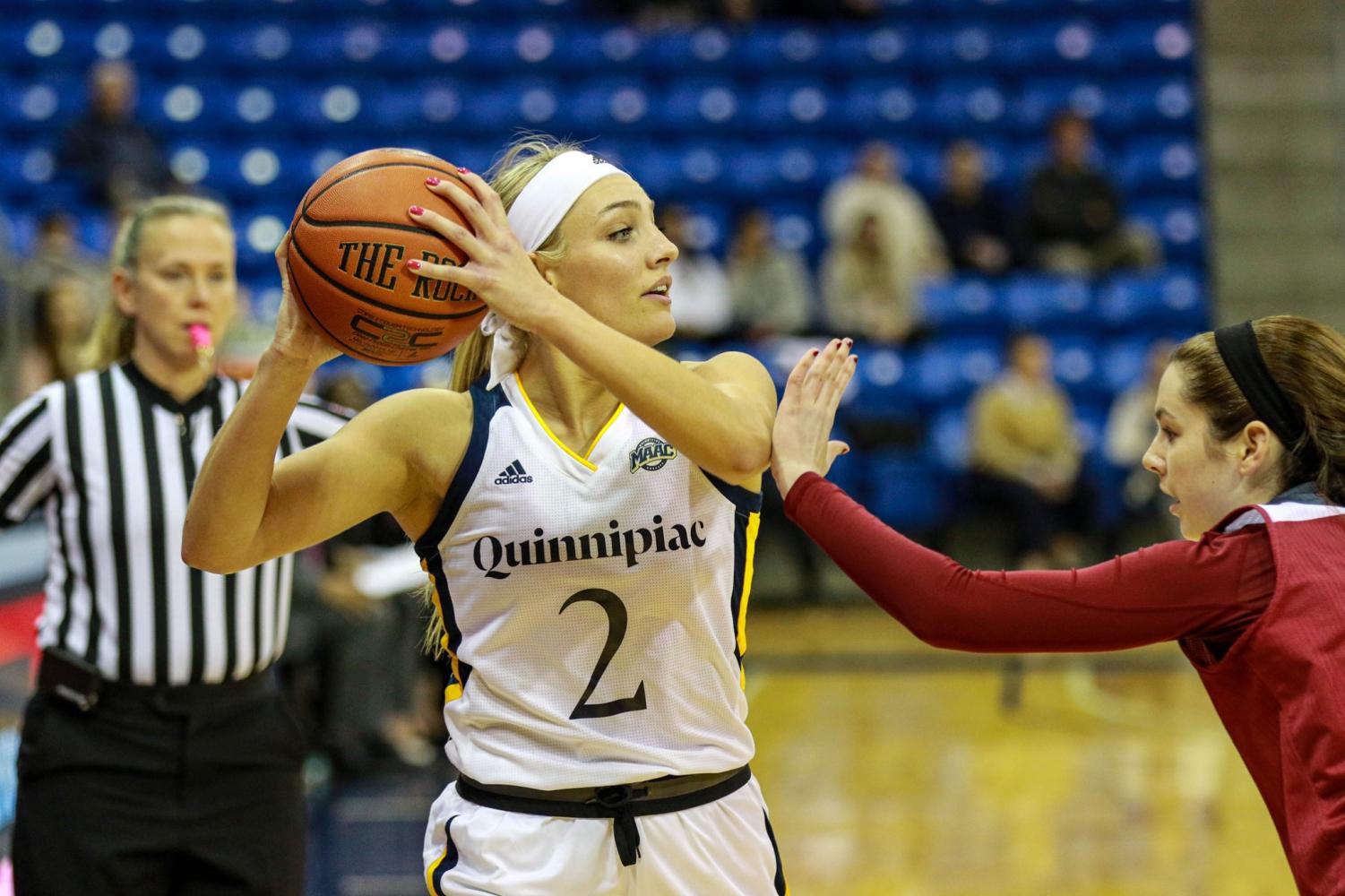 "Seeing (Herd's) strength and her faith was rubbing off on me," Udoji said. "Being able to be on a team where everyone is very supportive, looking out for your best interest just made (the recovery) easier."
Herd and Udoji have a lot more than just QU basketball in common. She too injured her ACL twice during her high school basketball career, but was able to recover and earn a starting spot on a NCAA basketball team. Herd is hopeful Udoji will have a similar story in her final season as a Bobcat.
"I just see that for Vanessa, and I want that for Vanessa," Herd said. "I've been there, so I just wanted to pass on what I learned, and hope that it helped her in any way possible."
Udoji's first game back will likely take place on the weekend of November 28, as Quinnipiac travels to Mohegan Sun Arena for the Basketball Hall of Fame Women's Challenge. One of her goals for this season is absorb every moment she gets on the court, and take nothing for granted.
"Each time, each practice, each game, I'm just going to leave it all on the floor," Udoji said. "Because you never know when it's going to be your last."
No matter when that last game comes, it's a testament to Udoji's perseverance that she's not done yet.