Analyzing the Bobcats' early schedule
The long-awaited start to Quinnipiac University athletics is just one week away.
The Bobcats men's ice hockey team is slated to open its season on Tuesday, Nov. 24, against American International College (AIC) after an offseason full of stops, starts, and uncertainty.
Eight of the 12 teams in ECAC Hockey have opted out of the 2020-21 season, leaving just Quinnipiac, Clarkson, Colgate and St. Lawrence. As a result, the Bobcats will playing several non-conference games, including contests against AIC, Long Island, Sacred Heart, Bowling Green and Holy Cross.
Our non-conference schedule through December is set! All eyes on the season opener vs AIC on Nov. 24 👀

📆➡️ https://t.co/i51ouz9Cxv pic.twitter.com/Dm6BSrnNka

— Quinnipiac Men's Ice Hockey (@QU_MIH) November 19, 2020
The season will finally begin on Tuesday against AIC at the People's United Center. The Yellow Jackets will be one of the tougher teams out of the Atlantic Hockey conference. This is a team that is up-and-coming in college hockey and finished in the top 20 of the USCHO poll last season. However, the Bobcats have historically dominated the series over the Yellow Jackets 24-4-1 and should not have a difficult time winning these games. Watch out for a possible upset in one of these two games since AIC has played several close games with Quinnipiac in recent years and had a surprising victory over No. 1 St. Cloud State in the 2019 NCAA Tournament.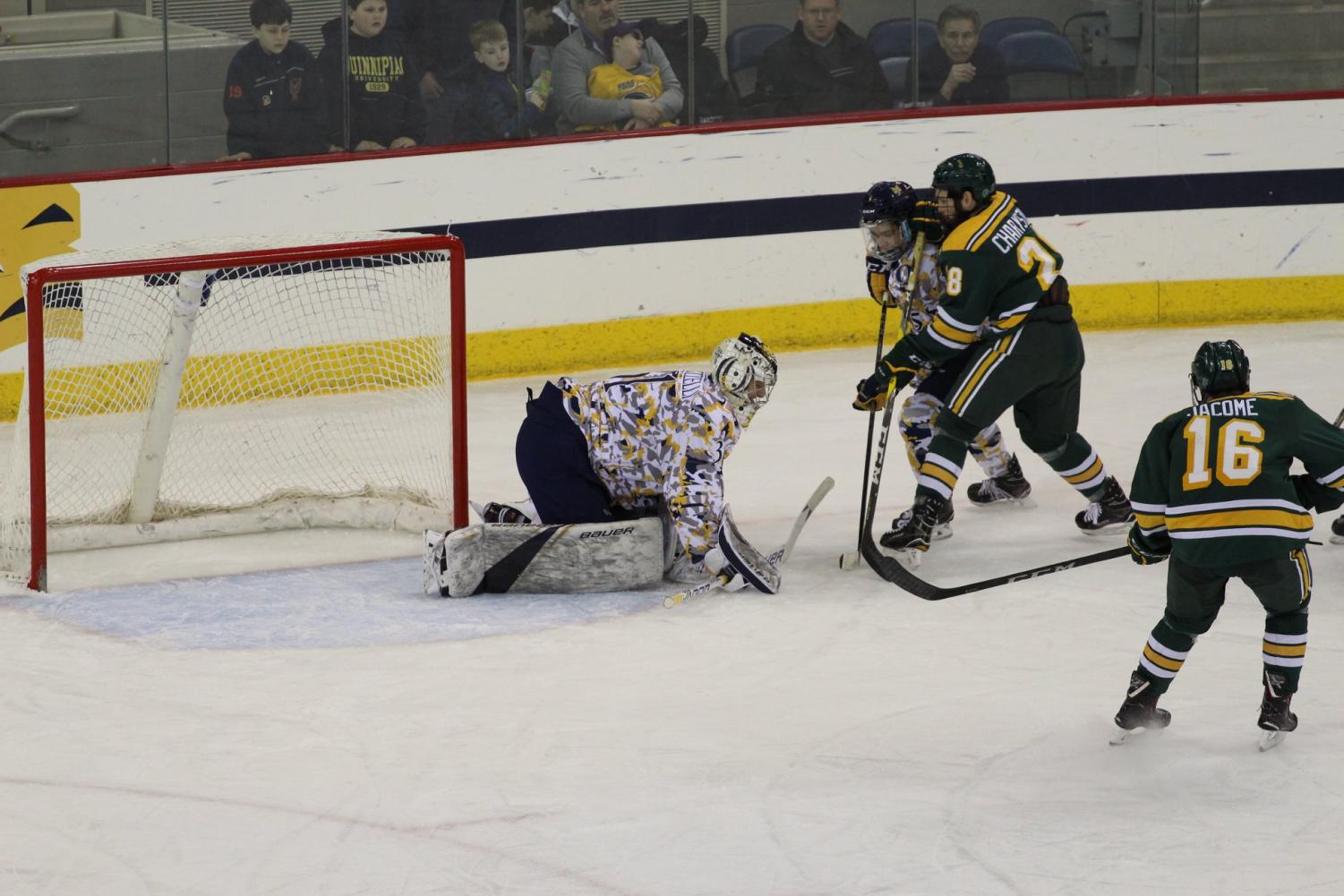 Next up for Quinnipiac is a team they've never seen before: Long Island University (LIU). This will be LIU's inaugural season on the ice as the Sharks take on the Bobcats on Friday, Nov. 27 in Hamden. An independent this season, look for a blowout from Quinnipiac as a lack of experience will come to bite LIU in this game against the 13th-ranked team in the country. However, the Sharks starting goalie, Garret Metcalf, was recognized by Sports Illustrated as one of the top 100 players to watch this season.
The Bobcats will close out their opening week with a non-conference tilt with the Clarkson Golden Knights on Sunday, Nov. 29. Clarkson is currently the eighth-ranked team in the country. In their last meeting, Clarkson won 3-2 and won their third straight contest against Quinnipiac. Quinnipiac leads the overall series 16-13-3. This will be a very highly-contested game and should be a lot of fun to watch two of the best teams in ECAC Hockey go at it early in the season.
Quinnipiac hasn't announced any games from November 29 through December 14, but has a loaded week right before Christmas. They'll host Sacred Heart on the 15th, Bowling Green on the 18th and 19th, Holy Cross on the 22nd and AIC on the 23rd.
The last time Quinnipiac played the Sacred Heart Pioneers was when they lost 4-1 in the 2020 Connecticut Ice finals. However, Quinnipiac has dominated the series 13-3-2 over their in-state rivals from the Atlantic Hockey conference. Prepare for this to be a physical game as the Bobcats are looking for revenge from what happened last season.
This will mark the first time Quinnipiac will play against Bowling Green, a team out of the WCHA conference. The 19th-ranked Falcons are already 1-0 after their first game against Adrian back on November 13. This is a game Quinnipiac can't overlook since Bowling Green has a rich history, including a national championship in 1984, and is nationally ranked this season. This will be the biggest dark horse that the Bobcats will have to face so far this season.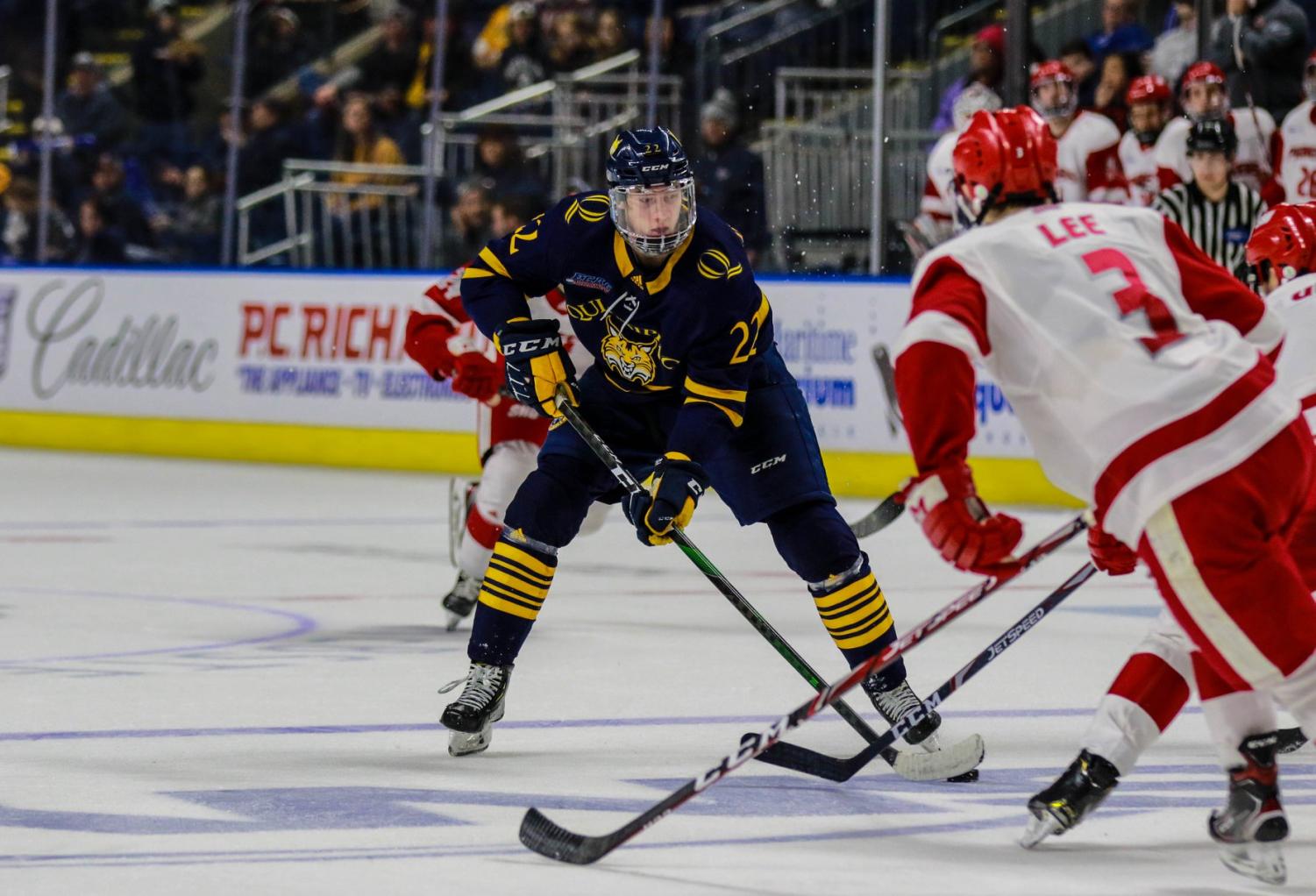 Quinnipiac's series with Holy Cross has been very lopsided in favor of the Bobcats – Quinnipiac has gone 19-3-4 against Holy Cross all-time. Quinnipiac is looking for their 20th win against the Crusaders out of the Atlantic Hockey conference. The Bobcats should be able to find a way to come away with the win in this one, as Holy Cross doesn't have enough caliber to compete with the veteran Quinnipiac Bobcats.
Next up, Quinnipiac will have a home-and-home with AIC on Dec. 23 and 27, and then travel to Worcester, Massachusetts to take on Holy Cross two days later. No games after that have been confirmed yet. Unfortunately for Bobcats fans, there will be no "Battle of Whitney Avenue" games this year, with Yale opting out of the season. The Bobcats will have to wait another year to play for the Heroes' Hat.
This season will be strange without any fans attending the games, however, the students at Quinnipiac will continue to show their support and the Teletubby spirit will continue to echo through the quiet Frank Perrotti Jr. Arena. Bobcats fans have waited a long time for this moment, but the puck finally drops in five days.