3 Takeaways as Bobcats tie St. Lawrence but win shootout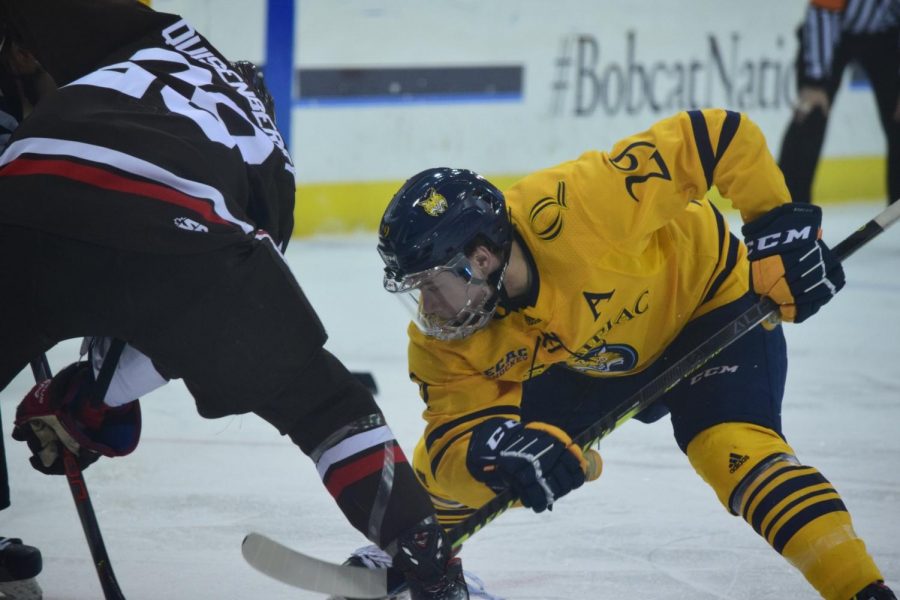 The Quinnipiac Bobcats' first ECAC Hockey game in 10 months was a return to the gritty, tight-checking conference battles of past seasons, even if it ended with a flashy new finish.
The Bobcats battled back late to tie the St. Lawrence Saints 2-2 during a game they never led. Ty Smilanic scored with less than three minutes left to tie the game, which led to the first official 3-on-3 overtime in ECAC Hockey history. After no team scored in the overtime period, Odeen Tufto won the shootout for Quinnipiac with a slick backhand shot, giving the Bobcats an extra point in the conference standings.
A few things stood out in the Bobcats' return to ECAC Hockey play:
1. Odeen Tufto is making a Hobey Baker run
Any winning team has to be able to rely on its captain when the chips are down, and the Bobcats can certainly count on Odeen Tufto during crunch time. Quite simply, Quinnipiac wouldn't have tied this game without the stellar performance from its senior captain.
The Bobcats were mostly lifeless on offense, firing plenty of shots but unable to crack junior goaltender Emil Zetterquist until Tufto's first tally:
Great finish by Tufto all alone in the circle of the feed from Leyh! #BobcatNation pic.twitter.com/TLnxf9swBb

— Quinnipiac Men's Ice Hockey (@QU_MIH) December 31, 2020
Then, after the Saints quickly regained the lead and with Keith Petruzzelli pulled for an extra attacker, the Bobcats wasted no time getting the puck into Tufto's hands. With a hoard of Bobcats crashing Zetterquist's crease and providing space for a pass, Tufto was able to find Smilanic for a cross-ice one-timer that no goalie could stop.
Extra attacker on the ice, Smilanic had an absolute 🚀 on the back door to tie it up! #BobcatNation pic.twitter.com/Yan7htNKm7

— Quinnipiac Men's Ice Hockey (@QU_MIH) December 31, 2020
Finally, in the shootout, Tufto was the only player on either team to score, observing an opening between Zetterquist's pads and skillfully flipping the puck into the net for the extra conference point. It was the perfect cap to a standout day for Tufto, who had a hand in every goal for Quinnipiac and put the team on his back when it needed him.
Tufto now has three goals and leads the nation with 14 assists and 17 points in nine games. Add in his domination in the faceoff dot (an incredible 66.8% on draws) and his ability to elevate his game when his team needs a spark, and Tufto is tailor-made for a Hobey Baker run.
Remember #ChaseTheHobey back in 2019? It might not be too early for #OdeenForHobey to start trending on Twitter.
2. Another Mixed Bag on Special Teams
The Bobcats' special teams have been a roller coaster this year. After an early 1-16 stretch on the power play, they followed that up with 10 power play goals in their next four games.
Tonight against the Saints though, the Bobcats went 0-5 on the man advantage. Although they dominated possession and produced several good looks, none of them actually found the net as Zetterquist was rock-steady and the Saints' defense blocked 13 shots, with several of those coming on the power play.
Playing without the injured Wyatt Bongiovanni is a big loss for Quinnipiac's power play, but the unit will have to find a way to generate scoring plays without their most potent sniper. They just weren't able to finish the job tonight, and St. Lawrence's penalty killers deserve credit.
On the other hand, head coach Rand Pecknold had noted several times in previous games that his team was taking too many penalties, and the Bobcats were much more disciplined tonight. After averaging five penalties per game and having already been assessed three major penalties in their first eight games, the Bobcats only took two trips to the sin bin vs. the Saints.
Both times Quinnipiac went shorthanded, the penalty killers made quick work of the St. Lawrence man advantage. Although the power play had a cold night, the Bobcats' discipline was key to keeping the game close.
3. Rand Pecknold needs more players in the Circle of Trust
Pecknold leaned heavily on the Bobcats' top players down the stretch, and while they delivered, it was also an indictment on the lack of depth in the lineup. At one point late in the game, the top unit of Tufto, Ethan de Jong and Ethan Leyh was on the ice almost every other shift, and while they drove possession, the Bobcats need more than one dependable line.
The absence of Bongiovanni amplifies the impact that Smilanic and Skyler Brind'Amour will have to make on offense. Late in each close game, Quinnipiac has mainly been rotating three lines, which might not be sustainable over time.
The same can be said on defense, where Peter DiLiberatore, Zach Metsa, CJ McGee and Jayden Lee have been heavily relied upon. Obviously, it makes sense to shorten the bench late in games, but there are times even in the second period where an entire group of five players have been stapled to the bench, unable to earn their coach's trust.
Quinnipiac is shorthanded, but they'll need to get more from their depth players so that the stars don't burn out with a larger workload. The Bobcats opened their season scoring their first 10 goals from 10 different players. As time has gone on, it's been hard for this team to score when Tufto, DiLiberatore or de Jong has been off the ice.
About the Writer
Tom Krosnowski, Online Editor
Tom Krosnowski is a sports journalism graduate student from Allentown, NJ. He is in his second year as Online Editor for QBSN, and frequently works as a broadcaster. Tom has also interned at SportsNet New York (SNY) and News8 Connecticut (WTNH). You can follow Tom on Twitter @TKro42.