Women's hockey returns to Hamden as Bobcats beat Pioneers 6-1
After 287 days of waiting, the Quinnipiac women's ice hockey team hit the ice for the first time in the 2020-21 season with a dominant 6-1 victory over the Sacred Heart University Pioneers.
The game was a return to dominant form for the Bobcats, who put up an impressive 68 shots on goal and 109 shot attempts over the course of Sunday's matinee.
FINAL FROM HAMDEN:

Katie Huntington scores her first two career goals and eight Bobcats tally points taking the first game of the season against @SHU_WIH.

Sacred Heart goalie Frankie Sanchez stops 63 shots in the effort.

Both teams will meet again in Hamden at 3 p.m. pic.twitter.com/V0TsCh9uNf

— Quinnipiac Bobcats Sports Network (@QBSN) December 13, 2020
It had been nine months since their last matchup against Princeton on March 1, but the Bobcats hit their stride again quickly. Quinnipiac did a great job stacking the deck against Sacred Heart in the first period, as the Bobcats opened with three goals from the sticks of Kate Reilly, Lexie Adzija and newcomer Nina Steigauf, who tallied two points in her debut game.
"Our goal and our standard for this game was to play fast, in how quickly we attacked when we won pucks," Quinnipiac head coach Cass Turner said. "When we lose the puck, we're so quick to pressure the puck and get it back. We wanted to have the puck as much as we could today and be hard to play against."
Entering the second period, Quinnipiac seemed to be comfortably in the driver's seat until an unfortunate turn of events changed the tone of the matchup. Senior defenseman and newly-christened team captain Olivia Konigson was helped off the ice after being sent careening into the boards in a scary scene.
However, on the ensuing five-minute major power play, junior Katie Huntington scored her first goal as a Bobcat after a 69-game drought, expanding QU's lead to 4-0.
"Relief!" Huntington described her goal. "I was just so excited. It's an exciting moment when you get back to the bench and all my teammates are excited for me. We're just happy to be back on the ice, it feels great."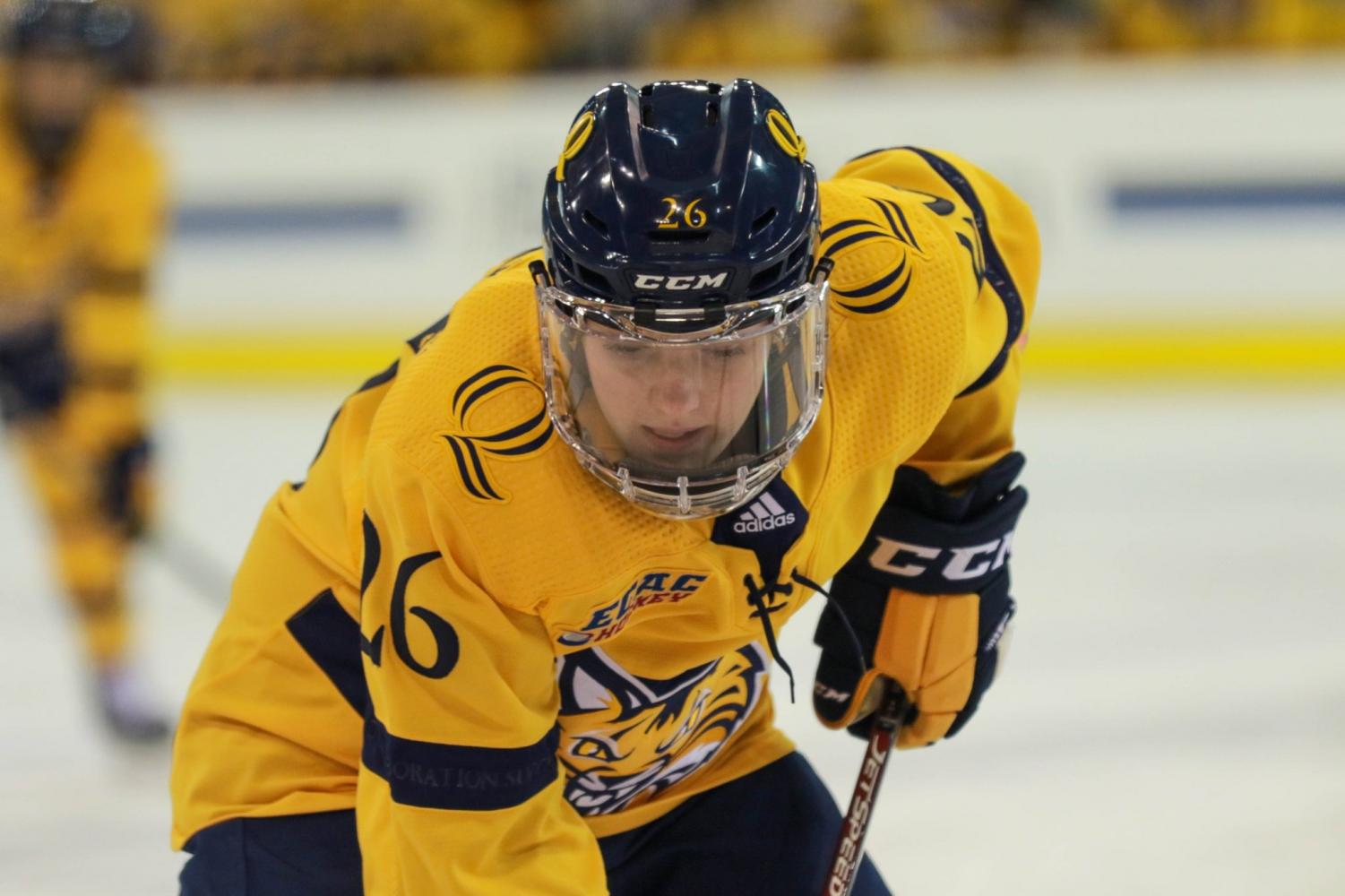 Coincidentally, she was not the only Huntington on the ice this Sunday, as her younger sister Charlotte played against Katie as a defender for Sacred Heart. Katie picked up an additional goal and assist, which also set the milestone of her first multi-point game with Quinnipiac.
The Bobcats continued piling on offense throughout the remainder of the second and third periods, closing the game with a beautiful wrist shot goal from alternate captain Grace Markey off a the rebound from Renee Saltness's shot. Impressively, Sacred Heart's junior netminder Frankie Sanchez turned away 62 of 68 shots in a losing effort.
The victory saw eight different Bobcats hit the scoresheet and marked the 100th career win for Turner at Quinnipiac, now in her sixth season as Bobcats' head coach and 12th with the program.
"As a coach, you want to win them all, right?" Turner said. "When it becomes 100, I keep thinking about the games we should have won that would have got us here a lot faster, and I guess that's what makes us competitive. It is special, and it's a fun moment we will certainly celebrate."
When reflecting on the return to play, Turner maintained that she is thankful, but energized for the upcoming season.
"I'm incredibly thankful for everything that Quinnipiac and the Quinnipiac community has done to create an opportunity for us to play hockey," Turner said. "Not just practice, but get the opportunity to compete. I know for everyone today, it was really special to get the chance to play hockey again and be able to show some of the things we've been working on, and how our team is continuing to grow." 
Quinnipiac women's ice hockey will battle with Sacred Heart again on Monday night at 7 p.m., as they look for their second win of the season.