Petruzzelli pitches shutout as Quinnipiac takes series over Clarkson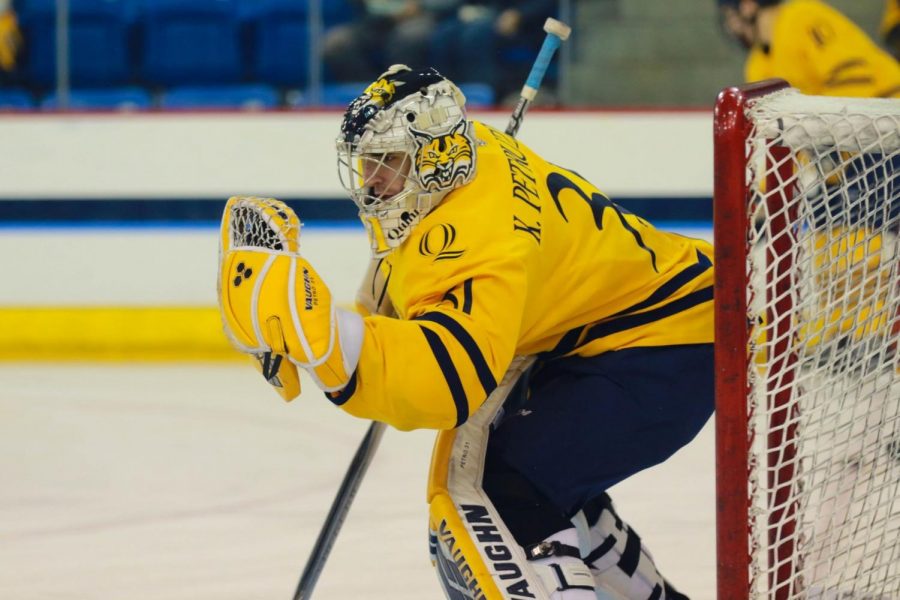 Ty Smilanic and Keith Petruzzelli helped lead Quinnipiac to the 1-0 victory over Clarkson Sunday night.
Clarkson and Quinnipiac played their third game of a weekend slate, with each school grabbing a victory in the previous two games this weekend.
In the third game, both Ethan Haider and Keith Petruzzelli were on their A-game in the crease for Clarkson and Quinnipiac respectively. Unfortunately, Haider made one more mistake than Petruzzelli and it led to a Bobcat victory.
In the first period, there was not really one team that was more dominant than the other and it led to a back-and-forth opening period.
Both teams were held scoreless until senior captain Odeen Tufto was crammed against the boards and saw first-year Ty Smilanic open in the center of the ice to score the first goal of the game with 3:33 left in the first period.
Once the final horn rang in the first, the Bobcats saw their first period lead over the Golden Knights this season.
The shots on goal in the first period were neck-and-neck between the two but it saw Clarkson with a nine-eight advantage.
In the second period, Clarkson seemed to come out hungry. They had a few golden opportunities, but Petruzzelli was acting like a brick wall between the pipes.
Petruzzelli was able to save 13 shots in the period, a huge factor considering the Bobcats were stymied on offense in the second, only putting six shots on net.
In the final period, Clarkson was playing urgently as they wanted to crack the goose egg in the goal column. Unfortunately for the Golden Knights, the Bobcats' defense held Clarkson to six shots on goal in this final frame.
Meanwhile, Quinnipiac's offense wasn't playing any better as they were only able to fire one shot on goal, but they were able to seal the deal by winning the game 1-0 over Clarkson.
The mentality of players is one of the key components you need to win a game and Quinnipiac was faced with this component as they played a three-game series against a top-ten ranked opponent in Clarkson.
"We were being smart," head coach Rand Pecknold said. "We were trying to be above the puck, and I thought mentally we were pretty locked in today."
Keith Petruzzelli had his second shutout of the season in the victory. When asked what contributed to his performance afterward, he said, "being a little extra focused today, it's three games in three days the body is a little tired, but we still got to bring it."
With the win, Quinnipiac rises to 8-4-1 on the season and 2-2-1 in ECAC play. The Bobcats will hit the ice again next weekend to play Colgate in a home-and-home series.