Three takeaways from Quinnipiac's double OT win over Manhattan
Quinnipiac played its first game against a MAAC opponent this season after a month-long break due to COVID-19 and it was not a disappointment. 
The Bobcats started out hot, leading 12-0 after five minutes of action, but Manhattan battled back and was only down by four after the first half. 
With six minutes remaining in the second half, the tables were turned and the Jaspers were up 60-49. After a back and forth rest of the game, Quinnipiac came out victorious after two overtime periods.
A few things stood out from the Bobcats' first MAAC game:
Seth Pinkey is the center of now and the future for the Bobcats
The sophomore Pinkey played a career-high 42 minutes tonight and was praised by coach Baker Dunleavy for how hard he has been working to get in shape. 
"Last spring no way he could play 20 minutes, let alone 42," Dunleavy said. "So it is a tribute to the hard work he is putting in."
Pinkney finished with 16 points, 9 rebounds, 4 blocks and a steal. 
You can always trust him getting blocks for the team but tonight was also a career-high in points and rebounds. 
The 7-foot-1 center is no doubt one of the best defenders in the MAAC. Last season he only played an average of 11 minutes per game and was still third in the conference in blocks.
The Bobcats have a great one in Seth Pinkey. If he continues to develop his offense more, MAAC opponents will be terrified to play against him.
Baker Dunleavy has to improve his late-game play-calling
Baker Dunleavy was amazing the whole game, but his late-game calls need to change. Against great teams like Iona, these plays could cost them a game. 
Toward the end of the second half, the game was tied up 64-64 with 13 seconds remaining and the Bobcats called a timeout. 
The play call was an isolation for guard Savion Lewis. Lewis lost the ball and it went out of bounds with 0.7 seconds remaining. 
Manhattan then threw the ball out of bounds, giving Quinnipiac another chance to win it. 
There isn't much to do with so little time, but Dunleavy's play was basically hoping Pinkey could jump higher than the Manhattan center and catch an alley-oop. 
The play did not work at all as it went off the rim to end the second half.
With eight seconds remaining in the first overtime period, with Quinnipiac having the ball and the game tied up, Dunleavy drew up another play. 
Senior Jacob Rigoni picked it up at the top of the key, drove the lane and lost the ball while he was driving, squandering another opportunity for the Bobcats.
Overall, Dunleavy coached well today and will continue to lead the team to more victories this season. It's just the little things that need improvement.
Jacob Rigoni's early-season woes from three are not concerning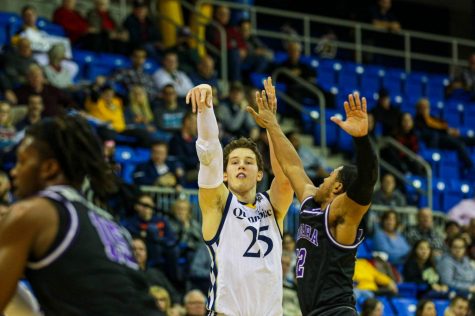 Jacob Rigoni did not have an amazing day from three, shooting only 1-5. Despite this, his lone made three turned out to be the dagger for the Bobcats.
Overall this season the Australian has not been shooting well from three. Through 5 games he has only hit 7 of his 32 attempts. In his career he has been an over 40% shooter from beyond the arc. 
"I've missed a lot of shots in my career," Rigoni said. "Just [have to] keep trusting the process and it will come."
The shot is currently not there but he will continue stroking from three in his last season as a Bobcat. This should not be a concern because we have seen him be reliable for Quinnipiac multiple times throughout his career.