Bobcats drop a close one to St. Peter's in regular season finale
The Quinnipiac men's basketball team lost the last game of its regular season against the Saint Peter's Peacocks on Friday, 66-64.
The Bobcats beat the Peacocks on Thursday night on Senior Day, and Saint Peter's responded by tying the series in a tightly contested affair.
Three players on Quinnipiac scored in double digits. Luis Kortright had 18, Seth Pinkney had 13, and Brendan McGuire had 13 as well.
The standout player for Saint Peter's was KC Ndefo, who had 15 points, 7 rebounds and 3 blocks. He only played 25 minutes, yet still shot 6-10 from the field and helped lead the Peacocks to victory.
Coming into the game, both teams were ranked in the top 10 nationally in team defense, measured by opposing field goal percentage.
The great defense was certainly there Friday for both teams, as there were 37 combined turnovers in the contest. Saint Peter's recorded 12 steals, and Quinnipiac had 10.
Both teams shot roughly 40% from the field, and the Peacocks shot 8-23 from three while the Bobcats shot 8-22.
The game came down to the wire, and then there were some mishaps by Quinnipiac.
While inbounding the ball with 30 seconds left down by two, the Bobcats couldn't find anyone open and had to use a timeout.
McGuire then received a technical foul, which helped Saint Peter's extend its lead to four.
While down three with under 20 seconds left, Quinnipiac forced up some tough three pointers, even though they had plenty of time left.
There was sloppy play by both teams, but it ended up being Saint Peter's that capitalized and took advantage of Quinnipiac's mistakes.
Bobcats head coach Baker Dunleavy says that the execution has to be better towards the end of games and knows the formula to make that happen.
"You gotta have great habits, concentrate, come together and keep things simple," Dunleavy said.
From here, Quinnipiac will head to Atlantic City for the MAAC Tournament. The Peacocks clinched the 3 seed in the MAAC with the win, and the Bobcats will be anywhere from the 6 seed to the 8 seed, depending on how other games play out. Tournament games will be played at Jim Whelan Boardwalk Hall, and they will start on March 8.
Despite the loss on Friday, Baker Dunleavy feels confident about his team heading into the tournament.
"We know we can beat teams," Dunleavy said. "I think we gotta draw upon the best version of ourself to go out there and do it."
Since the 2020 MAAC Tournament was canceled because of the pandemic, only three players on the roster (Jacob Rigoni, Tyrese Williams and Tyree Pickron) have ever played in a MAAC Tournament game.
Dunleavy surely believes that his experienced players, as well as his inexperienced, could do some damage in Atlantic City.
About the Writer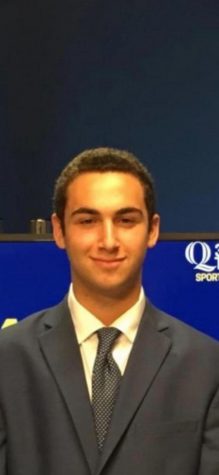 Noah Epstein, Online Editor
Noah Epstein is a junior sports journalism major from Melville, NY. He loves to watch baseball, basketball, and football, and loves talking about and debating sports. Noah has a huge passion for sports broadcasting, as he loves explaining sports to an audience. He's called games for volleyball, women's and men's basketball, softball, and baseball for QBSN, and has written for them as well. His passion for editing and getting sports stories out will surely help him as an Online Editor for the sports network. You can follow Noah's contributions to QBSN on his twitter @nepstein24.