Quinnipiac's season comes to an end with semifinal loss to Colgate
The #10 Quinnipiac Bobcats (10-6-0, 4-5-0 ECAC Hockey) entered the ECAC playoffs looking to follow up on its 5-3 regular season win over the #6 Colgate Raiders (14-6-1, 8-4-0 ECAC Hockey) from February 27, but ultimately fell to Colgate on the road by a score of 2-1.
Quinnipiac was looking to write a happy ending for the seven senior Bobcats that would be departing after this season, but the 2021 ECAC Hockey Regular Season Champions proved to be too much to handle, as Friday's loss resulted in the Bobcats' elimination from this year's ECAC postseason.
Here are three takeaways following Quinnipiac's season-ending loss to Colgate:
Too little, too late for Quinnipiac's offense
It was hard for the Bobcats to get going on offense Friday night, as they were met with a strong and focused Colgate defense that held Quinnipiac to only 17 shots on goal.
Late in the first period, the Raiders were the first to score after sophomore forward Kaitlyn O'Donohue was able to put a rebound into the back of the net, giving Colgate a 1-0 lead on home ice after the first period.
Once Colgate had control of the game, it wasn't letting go. There seemed to be no way to get pucks past Colgate netminder Kayle Osborne, who made 13 saves throughout the contest.
Even with two power play opportunities late in the second period, Quinnipiac could not seem to get on the board, as Sammy Smigliani was able to score for Colgate on a quick breakaway after exiting the penalty box to put the Raiders up 2-0.
Taylor House would end up being the lone goal scorer for the Bobcats with 45 seconds remaining on the clock in the third period after Quinnipiac pulled goalie Logan Angers for an extra attacker.
Ultimately, this late tally would not be enough to get past the Colgate Raiders, who now advance to the ECAC Hoekcy Conference finals on Sunday against St. Lawrence.
Logan Angers continues to impress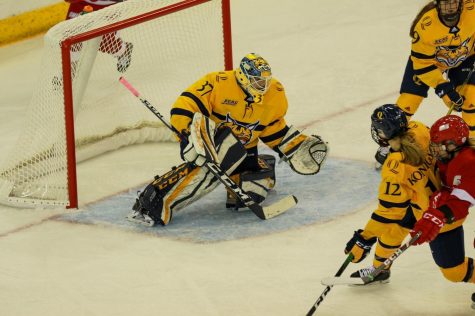 Despite the lack of Quinnipiac offense and overall elimination from this year's ECAC Hockey Postseason, head coach Cass Turner and the entirety of Bobcat Nation can rest assured that redshirt-sophomore goalie Logan Angers is the real deal.
For all 60 minutes Friday night Angers was the strongest player on the ice for the Bobcats, keeping the game within a close 2-1 deficit by making 24 saves out of 26 Colgate shots on net.
Angers closes out her season with a 2.44 goals against average, a .908 save percentage, and a selection to the Women's Hockey Goalie of the Year Award Watch List.
You can expect Logan Angers to continue being Quinnipiac's backbone in the net next season. She's not done yet.
Saying goodbye to seven senior Bobcats
At the end of every season, a group of players say goodbye to collegiate hockey, and move on from the ice at the People's United Center into the next step of their playing career and lives.
Last year, we saw the departures of Kati Tabin, Kenzie Prater, Abbie Ives, Sarah-Eve Coutu-Godbout and Allison Roethke. 
On Friday, Taylor Girard, Taylor House, Renee Saltness, alternate captains Brooke Bonsteel, Grace Markey, Laura Lundblad and captain Olivia Koningson all played their final game as a Quinnipiac Bobcat.
This signals the end of an era for a Bobcats team that has relied on upperclassman leadership and scoring to rally their squad to victory, but also the beginning of a new direction for Cass Turner's squad, who must rely on the underclassmen to step up into bigger roles next season.
While many familiar faces may not be returning next year to the Quinnipiac women's ice hockey team, we can expect the 2021-2022 ECAC Hockey season to be a year of growth and change for the Bobcats as they develop a new identity.