Six Bobcats earn All-MAAC honors as MAAC tournaments begin
Opening night of the MAAC tournament started with a bang for Quinnipiac as six Bobcats earned All-MAAC honors.
Mikala Morris and Mackenzie DeWees made Bobcats history on Monday, becoming the fourth and fifth players in program history to earn first-team honors in the MAAC. The duo joins Jen Fay and Aryn McClure as the only Bobcats to earn the honor in the same season.
DeWees dominated the field, finishing top eight in the MAAC in points (6th), rebounds (6th), field goal percentage (1st), steals (4th), and assist/turnover ratio (7th).
Morris followed up her 2020 Rookie of the Year campaign by leading the MAAC in rebounding and finishing second in blocks. Her rebounding and block totals also landed her 32nd and 27th nationally, respectively.
Junior guard Rose Caverly made her first season as a Bobcat a big one as well, earning third-team honors. The University of Vermont transfer finished fifth in the MAAC in assists and ranked in the top 65 in the nation in total assists.
For the men, senior Jacob Rigoni was selected to the men's second team, while freshman guard tandem Tymu Chenery and Luis Kortright were selected to the men's rookie team.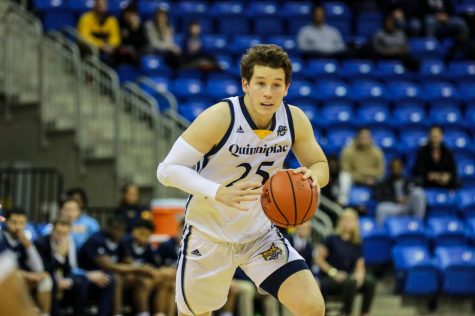 Rigoni led the Bobcats in rebounding and scoring from deep. His three-point shooting percentage also ranked second in the MAAC.
Kortright and Chenery had strong rookie campaigns, finishing second and third on the team in scoring and powering the Bobcats to multiple key wins down the stretch.
The men's team begins their quest for the program's first MAAC title on Tuesday against the Iona Gaels at 5:00 p.m., while the women will play the winner of Rider and Monmouth on Wednesday at 2:30 p.m.