Why the Bobcats are clicking at just the right time
The 2019-20 season was a bittersweet one for the Quinnipiac men's basketball team. A season that started with promise – five non-conference wins, a 4-0 start to MAAC play, and the No. 5 seed in the MAAC tournament – quickly turned sour, thanks to the cancelation of the postseason tournament and the departure of three massively important players.
It's difficult to overstate the impact that Kevin Marfo, Rich Kelly and Aaron Falzon had on last year's team. When a team loses the nation's leading rebounder, its floor general, or one of its best distance shooters, it leaves a mark. When a team loses all three in the same offseason, it creates a hole that's near impossible to fill. So if you thought Baker Dunleavy's squad was going to take a step back in 2020-21, nobody would have blamed you.
And in the beginning of the season, that's exactly what happened. A new look Bobcats team, now led by senior Jacob Rigoni and littered with first-years, stumbled out of the gate in MAAC play. The Bobcats won their conference opener in double overtime against Manhattan, but there wasn't much to write home about after that. In the nine games that followed, only twice did Dunleavy's squad win – once against Niagara, and once against a Fairfield team that hadn't played in three weeks due to a COVID shutdown.
At the halfway point of conference play, Quinnipiac was dead last and staring up at ten teams in the standings. There were some shining moments –Rigoni reached the 1,000-point milestone and Tymu Chenery was developing into a real gem – but in terms of making a run in March, any legitimate showing was nothing more than a pipe dream.
Since then, though, the story has been flipped on its head.
After starting conference play 3-7, Quinnipiac won three straight, including a four-point win against a perennially-difficult Iona team. A series sweep against Rider last weekend brought the Bobcats to 6-7 in the MAAC, restored its confidence and cemented its place in the hunt for a first-round bye.
Men's basketball senior Jacob Rigoni breaks Quinnipiac's 3-point record with 254. Congratulations, @JacobRigoni! pic.twitter.com/Vnwd3tpADI

— Quinnipiac Bobcats Sports Network (@QBSN) March 1, 2021
While this past weekend saw Quinnipiac get swept by fourth-place Marist, that doesn't change the fact that this Quinnipiac team is pulling off the best thing that a rebuilding team can do – it's gotten better as the season has progressed. The results are there to prove it.
Yes, they've picked up the same number of wins in their last five conference games as they had in their previous twelve, but it goes deeper than that. Players are figuring out their roles. Dunleavy is learning more about his squad. And that massive hole that Marfo, Kelly and Falzon left after their departures last season? It's getting smaller and smaller with each passing game.
There are plenty of players on Baker Dunleavy's team that deserve credit for the improved form, but perhaps the biggest contributor has been first-year Luis Kortright. The Manhattan-born guard has started only once this year, but his bench role has grown significantly as the season has progressed.
In the Bobcats' last five games, Kortright has averaged a tick under 16 points per game – a massive improvement on his season mark of 10.2 – and he's shot the ball much more efficiently (47.1 percent in his last five games, 36.6 percent on the season). He's been getting recognized for his improved play, too – Kortright was named MAAC Rookie of the Week for the third time in four weeks on March 1.
Luis Kortright is on another planet.

The first year guard already has his season high in points (23), rebounds (5) and is matching his best shooting performance since 2/7/21 vs Fairfield. pic.twitter.com/MXUc4wYXEb

— Quinnipiac Bobcats Sports Network (@QBSN) February 21, 2021
Playing an even bigger role than Kortright this season has been first year Tymu Chenery, one of the Bobcats' most intriguing incomers entering the 2020-21 season. An efficient scorer with a lanky frame, Chenery has emerged into one of Baker Dunleavy's biggest weapons. He's second on the team in points (10.3), fourth on the team in shooting percentage (41.8 percent, min. 50 FGA), and fourth on the team in rebounds. He's started all but three games this season – the first three on the schedule – making him the first freshman to be a regular starter for Baker Dunleavy since Rich Kelly in 2017-18.
And there are others, too. Savion Lewis, in his first year as Quinnipiac's starting point guard, has largely impressed. Seth Pinkney has transformed from a raw prospect to one of the nation's most efficient shooters. JJ Riggins and Bol Akot have both carved out important roles off the bench.
My main point is this: the Quinnipiac team that you see take the court in the first round of the MAAC tournament next week will not be the same team that started conference play 3-7. The personnel may be the same, but the talent, cohesiveness, and confidence will all be drastically different. And in a conference season that has been riddled with highs, lows, postponements and uncertainty, Baker Dunleavy's Bobcats might be clicking at just the right time.
About the Writer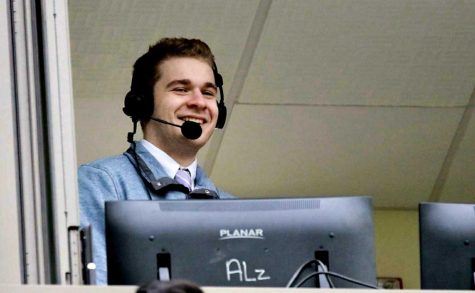 Will Fowler, Chairman
Will Fowler is a senior journalism major from Sparta, New Jersey and the chairman of the Quinnipiac Bobcats Sports Network. In his time with QBSN, Will has served as play-by-play announcer, color commentator, writer and multimedia producer for a number of Quinnipiac teams. Through QBSN, Will has had the chance to cover games at the Carrier Dome, the Times Union Center and the Nassau Coliseum, and he was at Boardwalk Hall in Atlantic City when the MAAC basketball tournaments were canceled due to COVID-19. Will can be found on Twitter at @WillFowler5.