Bobcats offense coming to life as QU splits doubleheader against Siena
Game One:
Quinnipiac baseball team snapped its seven-game losing streak against Siena on Friday but lost to them in the first game of a Saturday doubleheader, 8-6.
The game started disastrously for Quinnipiac. All of Siena's runs were scored in the first inning off Bobcats starter Jimmy Hagan. After a huge error to start the game off, the Saints scored eight runs in the half-inning, all with two outs.
The biggest blows were Nick Melillo's three-run triple to make it 5-0 and Devan Kruzinski's two-run home run to make it 8-0.
Saints pitcher Ben Seiler was cruising through four innings without allowing a run, and then the Bobcats bats exploded in the fifth inning.
Evan Vulgamore knocked in two runs with a double and Sebastian Mueller's single allowed two runs to score, and all of the sudden it was 8-6.
However, that score would hold up for the remainder of the game.
Arlo Marynczak came in to relieve Seiler, and he pitched lights out. He closed out the game, pitching 2.1 innings without allowing a hit or walk.
Colin Donnelly was also good in relief for the Bobcats, as he pitched two innings without allowing a hit.
These pitching efforts on both sides kept the score the same, and the Saints held on for an 8-6 win.
---
Game Two:
It took until the latter half of the game, but the Quinnipiac Bobcats (4-14) continued their sudden offensive outburst in Saturday's 9-5 win against the Siena Saints (5-11) to split the four-game weekend series.
Trailing 4-2 entering the bottom of the sixth, Andre Marrero, the team's catalyst offensively, picked up a single and a stolen base to wake the dormant Bobcats offense to life. Two batters later, Evan Vulgamore hit an RBI single to drive in Marrero and cut the deficit to one run.
Following Vulgamore's single, Colton Bender hit his third home run of the season to knock in Vulgamore and Ian Ostberg and put the Bobcats up for good.
For the Bobcats to consistently win games this season, it should come as no surprise that the experienced bats of Marrero, Vulgamore and Bender need to be the ones to get things going.
For Bender, who hit what ended up being the game-winning three-run home run today, it is less about focusing on those three and more about focusing on the team as a whole.
Bender thinks that the Bobcats need to build on this win and take it one at-bat and one play at a time moving forward.
"I feel like we are now finally clicking," Bender said. "Guys are starting to trust one another, and we are producing like we should. We are a very good team, with very good hitting and pitching, so I think we can finally start rolling from here on out."
Of the nine runs that the Bobcats scored against the Saints in the second game of their doubleheader, eight of them involved hits from the previously mentioned trio, with the exception being an RBI single for Kyle Maves as part of the three-run seventh inning for the Bobcats.
Despite the hot-hitting from the heart of the order, coach John Delaney wants to see more confidence and consistency from the offense that the Bobcats saw this weekend.
"Up until this point this season, we have not been playing our baseball," Delaney said. "If the offense continues to get going, and we get some clutch pitching like we did this weekend, the upcoming series against Fairfield can be ours to win also."
On the pitching side of things, Colin Donnelly continued his recent stretch of quality relief appearances.
After an up-and-down start by Derek Goldrick in which Goldrick surrendered four runs on three hits with five walks in five innings, Donnelly came in and gave the wayward Bobcats pitching staff a solidified option to look towards during the stretch run of the season.
Donnelly came on in the top of sixth and took charge on the mound, throwing four innings while giving up just one run on two hits, while also conceding just two walks and tallying four strikeouts along the way.
"I think a lot of our struggles so far have honestly just been mental," Donnelly said. "It's about staying positive, and for me, just keeping the ball down in the zone."
The Bobcats will have a few days off before they take the 31-mile trek down I-95 for a doubleheader on Wednesday against the Fairfield Stags.
About the Writers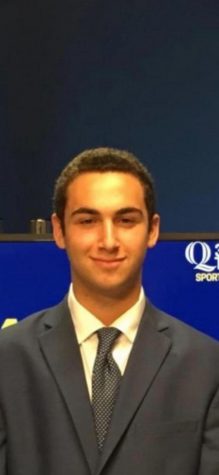 Noah Epstein, Online Editor
Noah Epstein is a junior sports journalism major from Melville, NY. He loves to watch baseball, basketball, and football, and loves talking about and debating sports. Noah has a huge passion for sports broadcasting, as he loves explaining sports to an audience. He's called games for volleyball, women's and men's basketball, softball, and baseball for QBSN, and has written for them as well. His passion for editing and getting sports stories out will surely help him as an Online Editor for the sports network. You can follow Noah's contributions to QBSN on his twitter @nepstein24.