Bobcats Fall to Eight Straight Losses After Blowout by Siena
Game One: 
The Bobcats dropped their seventh game in a row in game one of a four-game series against Siena on Saturday, with the final score being 10-4. 
Julia Woeste started on the mound for the Bobcats, and Nicole Patille started for the Saints.
Siena started off the scoring early, with Yamila Evans' RBI single in the first inning bringing in Antonia Alba. Quinnipiac, however, bounced right back in the bottom half of the inning. Kayla Thomas knocked in both Brighid Douglas and Kayla Jensen with a single, and the Bobcats took a 2-1 lead.
The second inning contained a lot of competitive softball as well. Isabella Pardo scored on Alba's RBI single, which knotted the game at 2. Quinnipiac answered back once again to take a 3-2 lead after two innings.
The Saints took back the lead in the third inning on an Emma McLaughlin RBI single. The game blew open in the fourth when Isabelle Dechiaro hit a bases-clearing double to make it 7-3.
Although the Bobcats kept the game close for the first few innings, the Saints outplayed them in almost every fashion. Siena had 15 hits in the game, while the Bobcats had seven. They had longer at-bats and rallied with two outs unlike Quinnipiac. The Bobcats were also very sloppy in the field, recording four errors. 
Patille had a bit of a rough outing for Siena, going only 1.2 innings and allowing five hits, three walks, and two earned runs. However, both Allison Speshyock and Taylor Rhinehart did better as relievers for the Saints. Speshyock pitched three innings and allowed two hits and one run. Rhinehart pitched the last 2.1 innings of the game and didn't allow a single hit. She struck out three batters and the only baserunner she allowed was due to an error.
Both Woeste and reliever Tori McGraw had rough outings for the Bobcats. Woeste went three innings and gave up eight hits and four runs, while McGraw went four innings and gave up seven hits and five earned runs. 
This 10-4 final makes it seven losses in a row for Quinnipiac, falling to 7-24 on the season. The Bobcats will play another doubleheader against Siena on Sunday. 
Game Two: 
After rebounding from an early deficit, the Quinnipiac Bobcats found themselves unable to hold onto their lead, falling 5-3 in the second game of Saturday's doubleheader against the Siena Saints.
Down 2-0 entering the bottom of the third, the Bobcats cashed in on an RBI double by Kayla Thomas and a two-RBI double immediately afterwards courtesy of Gianna Palmisano to push Quinnipiac ahead. 
It has been a long season for the young Bobcats who entered the second game on Saturday staring in the face of a rough seven-game losing streak, and any wins that they can claw out would be a huge boost of confidence for the group heading into next season. 
In addition, with the news that Kayla Jensen will be returning next season, the Bobcats have a solid shot to improve significantly in the win column.
Freshman Julia Woeste got the start for Quinnipiac, and the Hollister, Calif. native showed off her best stuff on the mound since April 17th's win at St. Peters. 
Woeste went the full seven innings while surrendering five runs [four earned] on eight hits, with five walks and two strikeouts. 
The Bobcats entered the fifth inning clinging to that one-run lead, but the Saints, led by 2nd-baseman Yamile Evans, tied things up on an RBI single at 3-3. 
Two batters later, Emma McLaughlin notched two runs on an RBI single of her own to put the Saints on top permanently at 5-3.
The regular season comes to an end tomorrow for the Bobcats on senior day as they play another doubleheader against the Saints at 10 a.m. and 12 p.m.
About the Writers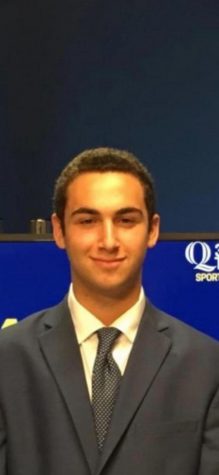 Noah Epstein, Online Editor
Noah Epstein is a junior sports journalism major from Melville, NY. He loves to watch baseball, basketball, and football, and loves talking about and debating sports. Noah has a huge passion for sports broadcasting, as he loves explaining sports to an audience. He's called games for volleyball, women's and men's basketball, softball, and baseball for QBSN, and has written for them as well. His passion for editing and getting sports stories out will surely help him as an Online Editor for the sports network. You can follow Noah's contributions to QBSN on his twitter @nepstein24.