Bedlam in Bridgeport: The Fellowship of the Sherbrooke Boys
On Sunday, two Sherbrooke, Quebec natives helped the Bobcats advance to the Frozen Four, the track to Mordor, a national championship. One ring to rule them all. 
Christophe Tellier and Christophe Fillion's Sedin Twin-like energy has deep roots. 
Coming into the match, both players seemed to have the marathon of a schedule catch-up to them. To be frank, both would have gotten an A+ in Library Science.  
On Sunday, the tandem finished with a goal and an assist each to send the Hamden Heavyweights to the program's first Frozen Four berth since 2016.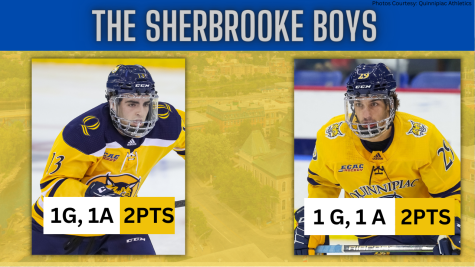 Desi Burgart has battled through injuries all season long. Prior to the ECAC Tournament, the last full game he played was on January, 26th in the Connecticut Ice Tournament. Since then, they've had an exponentially strong play. 
Rand Pecknold saw the task at hand and made a move. "I really like having the Christophes playing together, they have a unique chemistry from growing up together. I love the two of them together, and we didn't have them together for a little while because Desi was hurt. I felt like Desi isn't one hundred percent but he's close, so it was inevitable that we were going to make the move at some point. "
Burgart slotted onto "one of two" first lines in Pecknold's deck that features the 2022 and 2023 ECAC Defensive Forward of the Year. 
The other found Victor Czerneckianair centering "The Sherbrooke Boys."  
There are the Mario brothers, the already mentioned Sedin Twins, Cheech and Chong and then there's the Sherbrooke Boys. 
On the biggest stage, with the biggest odds, the most at stake, against a historic school, two sophomores stunned the hockey world. 
Fillion got the 4,557 fans on their feet by tying a game that from the start looked like it could have gotten ugly quickly based on the shelling Ohio State gave Harvard. 
Burgart assisted the go-ahead Skyler Brind'Armour's goal as both lines benefited from the move.
The third goal. Tellier with the "self aleoop" play
The last time Quinnipiac was in the Frozen Four was seven years ago. The two players were 15 years old, both buddies playing for the Iowa Wild 16UAAA. 
Tellier spoke about his friendship with Fillion and what it meant for both to step up in the biggest game of their careers. "It's surreal, to be honest. We've been together for a long time, and coach Pecknold brought us together to Quinnipiac and we've been great since we've been here."
On the Sherbrooke Boys' trek to the Mordor of college hockey, the Sherbrooke shire awaits their return. Maybe with the national championship ring of power on hand.