A look at the 2023-2024 Quinnipiac men's ice hockey roster
The Quinnipiac Bobcats finally won a championship in 2023. This championship is one for the history books. As the program approaches a new frontier, what could the team look like in 2024? 
The championship will certainly help the Bobcats recruit and draw interest from talent that has a higher ceiling than the players that have skated for them in years past. 
Although it has only been three weeks since the National Championship, the sports world moves quickly. Here is what the team may look like next year.
The offense drives the play north and this team won a championship by not only locking things down on defense but going toe to toe against premium athletes. A scrum in front, the pucks in the net, a skillful breakaway. Buried. Six-on-four play? Tie game. 
The failures in 2021 and 2022 were because the team's offense simply didn't answer the bell. Close but not close enough. 
Six forwards departed, and six remain, leaving six holes in the Bobcat's forward lineup. The "York Hill Boys" and "Sherbrooke Boys" will return. Unless another combination works better, these two lines should remain the same. 
So, who else could be driving play? Victor Czerneckianair will make a major jump next season. His stalwart signature gives reason to believe he can support the "Sherbrooke Boys" in the jump they will take next season. He will be essential to the team's center depth and hardworking brand. 
Travis Treloar is a senior transfer from Ohio State. and his play is like that of William Fallstrom, who played for the Bobcats in 2019-2020. Speed in transition, and a touch of scoring, and he projects as the only senior on offense next season. 
The Buckeye recorded 21 points in 35 games last season. As a center, he adds a speedy productive asset to the middle lane that the Bobcats need with Skylar Brind'Armour and T.J Friedmann making the jump to pro hockey. Treloar also played at the bumper on their power play in Columbus and will likely see time on the man advantage with the former power play middleman Ethan de Jong's departure. 
 For the Bobcats that were on the roster but did not see consistent ice, it will be a competitive camp. Typically, players that stick with the team and work to assimilate into the system are rewarded. Look at players like Jayden Lee and C.J. McGee.
Anthony Cipollone, brother of Joey, played well in the team's two exhibition matches, playing with tenacity and edge despite his 5'6 stature. 
Alex Power's AJIHL coach has stated, "Alex Power plays the game with pace and with the puck, he possesses outstanding deception and brings an unmatched committed work ethic to the rink each and every single day," in an interview by the league website in December 2021. Sounds like Rand Pecknold's prototypical player. 
Timothy Heinke played in 10 games for the Bobcats and recorded two assists at right wing. His heavy-hitting style and grit can be refined to shift regularly in his second season. 
Recruits nip at the heels of the aforementioned. Andon Cerbone & Mason Marcellus are bonafide gamers. If there are two recruits that can make an instant impact it will be these skaters. 
Cerbone is a 2004 birth year that laced up his skates for the USHL Chicago Steel in 2021-2022 (won the Clark Cup with Sam Lipkin that season) and split between the Omaha Lancers and Youngstown Phantoms in 2022-2023. In 125 USHL contests, he recorded 101 points. He was originally a Michigan commit, but he changed his commitment in December. 
Marcellus rerecorded a monster season as captain of the USHL Lincoln Stars. He found the net on 19 shots and accrued 68 points in 58 tilts. The 2002 left-shot center has a high chance of cracking the lineup as Brind'Armour and Friedmann freed up two slots. There are only two centers returning in Jacob Quillan and Czerneckianair. 
The other recruits, Matthew McGroarty, Luke Buss, and Seamus Campbell have a shot at a forward slot and may make the team playing a handful of games as practice squad players to learn and grow. 
Defense:
The departure of Zach Metsa leaves a massive hole in the team's fabric. Another top-three defenseman Jake Johnson has also graduated. 
The news of Lee and McGee returning has gone under the radar. Lee anchors the defense as a team leader in blocked shots and productive and mobile blueliner.
Senior CJ McGee returns as a player that has worked all four years to become a mainstay, dressing for 41 games last season. The returning skater is physical and can chip in on offense with 11 points last season. 
Junior Iivari Raasanen also is returning. The flying Finish natives play during the post-season displayed maturity while scoring a goal and blocking five shots en route to a National Championship. His growth helped bring reliable play in place of Metsa and Johnson.
First-year Charles Alexis Legault is the No. 179 North American projected skater and could be called to the stage at the National Hockey League Entry Draft in June. He dressed for all 41 games, and his growth was visible, logging minutes in the National Championship game and finishing with nine points. Couple that with a 6'3 frame, the Laval native's future is gleaming. 
The promising Matthew Campbell has transferred, but the Bobcats had two defensemen arrive through the portal. 
Davis Pennington can walk the line and make plays as a puck-carrying rearguard and slots as a top-four defender. He played with the "Sherbrooke Boys" for the Muskegon Lumberjacks. 
 Cooper Moore transferred from North Dakota and could bring the desirable quality and responsibility of a power play quarterback. Drafted by the Detroit Red Wings in 2019 128th overall, he will be the highest-drafted player on the Bobcats next season. 
The recruiting class will have to fight for the final spot-on defense. Five players look to claim the opening. 
 Jake Martin appears to be the standout. He was rostered for 11 games at Wisconsin in 2021-2022 and last season played in the USHL for the Green Bay Gamblers recording 16 points in 57 games. His forte isn't point totals, it's a bold, underlined, italicized defense. 
According to the EPRinkside.com scouting report, "Shines in the defensive end of the ice, and is particularly adept at keeping play from the zone entirely." He has tight gap control, stops opponents from gaining early zone entries, and keeps forwards outside of the dots.
 This is a rare style of play that Bobcats would not just suffice but improve their d-core. They lacked a defensive defenseman of this nature last season. 
Chase Ramsay, son of New York Rangers long-time athletic trainer Jim Ramsay, played for the Des Moines Buccaneers of the USHL the last two seasons. He recorded 13 points in 113 competitions and he makes great reads under pressure, is a good two-way skater, and possesses a hard shot. 
Jonah Copre played in the NCDC for the New Jersey Rockets and recorded 40 points in 41 games. The jump from NCDC to NCAA Division 1 does hold its risks, Matt Brown of Boston University is an example of a player that championed that leap. 
Nicky Wallace has blazing speed that helps him jump into a four-man attack, part of the new era of offensive schemes in hockey. He will compete for the position out of the USHL Madison Capitals. 
Goaltenders:
Who's starting in the crease? No one can fill the shoes of Yaniv Perets, but goalie coach Justin Eddy sure can come close to leading another keeper to the summit.
Eddy was a Bobcat goaltender in the early 2000s, winning a MAAC Championship in 2002 and set program records in his prime. 
 His guidance was pivotal in shaping the last two seasons of Keith Petruzzelli's college career, followed by his counseling of the Bobcat's all-time goaltender in Perets. 
Most would desire to see Noah Altman start for the Bobcats, regarded as the "people's champion" among the faithful fans. Altman enters his third year in Hamden. 
Vinny Duplessis transferred from Boston University to Quinnipiac. The junior goalkeeper is a 6'1 left glove keeper that has played in 25 career NCAA games. He averaged a .919 save percentage and 2.07 goals against average recording four shutouts with a 15-6 record. 
Matej Marinov could lay the query to rest. The Slovakian keeper committed to Quinnipiac on Feb. 1 and is currently leading the USHL Fargo Force to the Western Conference Championship of Tier 1 JuniorIice Hockey League.
His numbers have rapidly improved from 2021-2022 to 2022-2023. A save percentage that has increased by .032, a goals-against average that has decreased by 1.11, and his post-season totals boasting a 1.97 goals-against average and a .931 save percentage.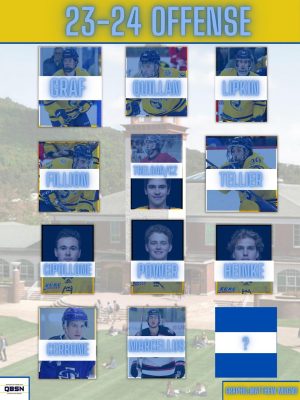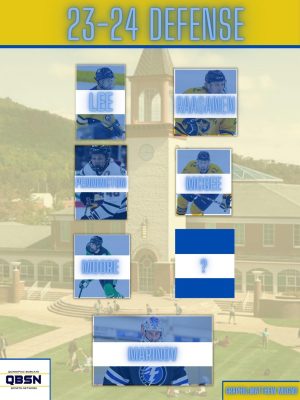 The Bobcat's wild musical chairs shuffle following their national title has given way to roster spots up for grabs, the youth taking the reins, and question marks with clear answers and opaque outlooks. 
No matter what has been penned here, surprises and changes will occur as the roster takes shape next fall. This is an exciting time, as the Bobcats look to defend their national title.