Women's cross-country looks to continue winning ways
By Nick Dench, QBSN Staff Writer
When one thinks of successful Quinnipiac athletic programs, the first thought is probably men's ice hockey or women's basketball — but think again. The women's cross-country team left the Northeast Conference (NEC) winning the conference eight consecutive years.
This winning streak has become the mindset of the runners, and they know it will be a little more difficult running in the Metro Atlantic Athletic Conference (MAAC).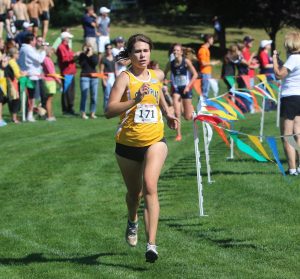 "The MAAC, distance-wise, is a little bit more competitive than the NEC," said head coach Carolyn Martin. She says the two toughest programs to compete with in the MAAC are Iona and Marist.
"Marist is a similar program to us. They typically have a lot of depth and runners," she said. "We lose a lot of kids to them recruiting, and Iona recruits internationally quite a bit, so they're always a tough team."
Senior Brianna Faust (Macungie, Pa.) recalls running against MAAC powerhouse Iona College.
"Last year at regionals, we were 20th and they were 19th, and we didn't have a very good day," Faust said.
Martin and Faust know the team needs to stick to a game plan of pack running in order to have the best chance of beating Iona.
"You run faster if you're with your teammates than if you're just by yourself in a sea of runners," Faust said.
Building this team camaraderie could take the course of a whole season. Sophomore Tracy Campbell (Wall Township, N.J.) finds having some teammates on the Mount Carmel campus helpful in building team chemistry. Campbell, along with the other six sophomores, did not have teammates living on the same campus as them last year, so she is using this opportunity to build up team chemistry.
Martin knows that cross country is reliant on more than how just one runner does. In cross-country, the lowest score wins based on the team's top seven runners.
"We're going to count on the whole team to carry us, not just one person," Martin said. "If [Iona takes] the one and two spots, but if we can go three, four, five, six on them before they can get in some other runners then that's what our strength will be."
The Bobcats proved that strategy will work on Aug. 31 at the Stony Brook Invitational, where they finished all seven of its top runners in the top 15, while Stony Brook finished the first two runners of the race.  Executing this strategy against Iona will be key, especially with Iona having a winning streak in the MAAC matching Quinnipiac's NEC winning streak of eight straight conference titles.
"Since we won the eight years in a row, you come in and it's a tradition," Campbell said. "It's not, 'Are we going to win?' It's, 'We are going to win.'"