Hard work and family lead women's cross-country to MAAC Championship
The 2015 Quinnipiac University women's cross-country team earned the program's first conference championship since joining the Metro Atlantic Athletic Conference in 2013.
In the MAAC Championship on Oct. 31, Niamh Ashe (2nd), Tracy Campbell (4th), Emily Wolff (5th), Kaleigh Roberts (8th), and Cameron Chaplen (20th) all finished in the top twenty leading the way for the Bobcats.
Head coach Carolyn Martin was proud of the way the girls stuck together and ran as a team throughout the meet.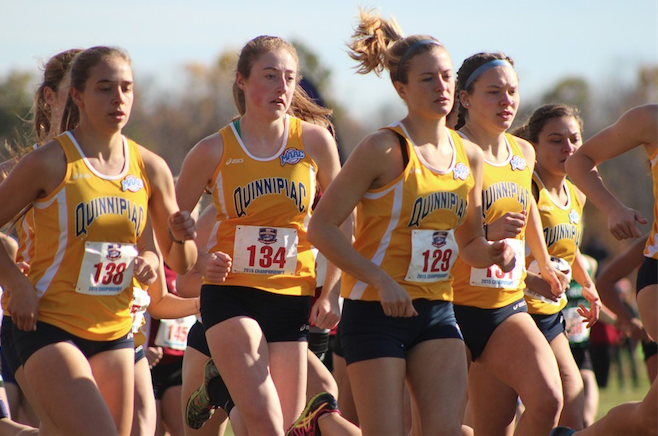 "My top four were all together for most of the race and my fifth and sixth girls weren't too far off, so they did a really great job running together." Martin said, "I was really proud of the way they ran confidently."
Sophomore Emily Wolff recalled what it was like crossing the finish line together with the feeling they had won.
"[After crossing the finish line] the first thing we did was look at each other and ask our coaches, 'did we do it, did we do it?'" Wolff recalled. "During the race all we were thinking about was getting that next girl and staying together and in front so [crossing the finish line] was full of a lot of anticipation and excitement."
For Campbell, who was a part of the teams eighth and final conference championship in the Northeast Conference her freshman year, there was no better way for her to end her career.
"To come and work our butts off for three years in the MAAC and win our senior year is unbelievable." Campbell said. "We have worked so hard the past three years and were so motivated this year to win so it's really cool, I wouldn't have wanted to go out any other way."
For Campbell and the other seniors, their season has not ended yet. Winning the MAAC championship qualified the Bobcats for the NCAA Northeast Regional that will take place on Nov. 13.
The team has a goal to finish in the top ten, something the Bobcats have never been able to accomplish. Campbell says all of the energy from winning the MAAC is going to go into preparation for regionals.
"We are taking all of the drive and energy from winning the MAAC Championship and putting it towards [regionals] Campbell said, "We are training really hard this week, doing all of the little things right which is important because its getting towards the end of the season and we're exhausted."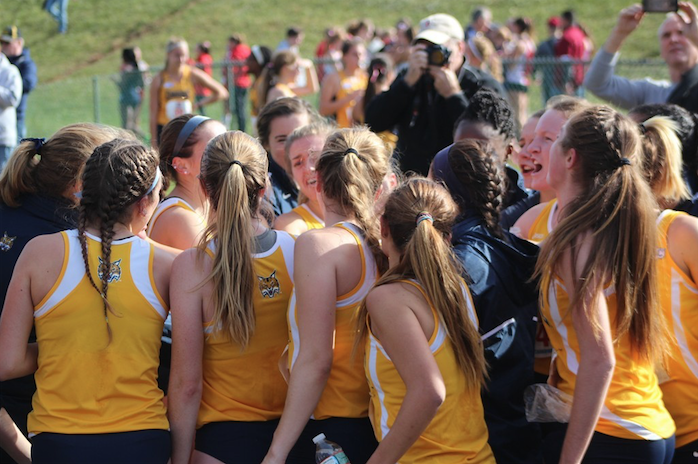 Considering how late in the season it is, and how tired the girls are, Martin will approach practices going forward the same way she did for the conference championship—with rest. Instead of the physical aspect to running, she will put more focus on the mental side to keep the team's mileage down and legs fresh.
"I firmly believe that a team can be physically equal but the team that's more mentally tough and more mentally prepared is the team that's going to win every time." Martin said.
Keeping a positive mindset shouldn't be a challenge for this team. Both Campbell and Wolff acknowledged how they are a very close knit group, which they know will continue to help them.
"[The team] kind of just lives, breaths, eats and runs together and being that close we can call each other out when we see people not doing what their supposed to or slacking off," Wolff said.
This sense of family goes far beyond the players—it is an environment the coaches instill from the very beginning of every season.
I think just having them be a part that kind of community really makes them feel a part of something big." Martin said. "I'm their mother away from home and my assistants are their dads, so they come to us with anything and know we really care about them as people."
Before changing conferences, this family attitude and winning tradition was already in place. The women's cross-country team had won eight straight NEC Titles. For this reason, Martin says this title, the program's first in the MAAC, was a little more fun since for once they were considered underdogs.
"It almost made it that much more fun and that much sweeter when we were able to overcome such a great program like Iona." Martin said. "It definitely meant a little more than some of the ones in the past."