Tough runners: Women's cross country welcomes new conference, rivals
A commonplace expression in American vernacular is "ending on a high note." On Oct. 27, 2012, the Quinnipiac University women's cross-country team did just that, finishing first in its final meet in the Northeast Conference, winning its eighth straight NEC championship.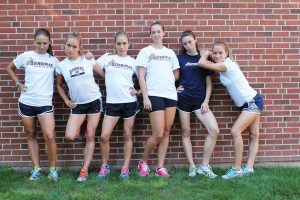 This year, however, is a season of change. The team moved, along with the most other teams at the university, to the Metro Atlantic Athletic Conference. Teams like Sacred Heart University, Bryant University and Central Connecticut State University are but a distant memory. Now, powerhouses such as Iona College and Marist College have taken their place in the sights of the Bobcats.
Winning has become something expected for the Bobcats. It has become branded on the collective mind of the team.
"Our coach always says that tradition never graduates," senior Brianna Faust said. "It's kind of been a tradition for us to win an NEC title. It may be a new conference, but we're going after the same goal. [Winning is not a goal], but it's a tradition for us."
They are determined to make that tradition live on.
"One of my personal goals for the team is to win the MAAC because we've won the NEC every year that I've been on the team," Jill Humphreys said. "[The MAAC Championship] is what we're going for."
Standing in the way of the tradition are the Gaels of Iona and the Red Foxes of Marist. Iona is particularly daunting, as the reigning MAAC champion. This is on the minds of Quinnipiac's runners.
"Iona and Marist will probably be our biggest competition this year, but we were really comparable at regionals last year," Faust said. "I think we were 20th and Iona was 19th and Marist was right around there, as well. We have a lot of the same girls that we had last year, and we have a lot a depth that a lot of teams don't have, so it's going to help us to have that depth."
Head coach Carolyn Martin is focusing on keeping the team healthy to compete with the top dogs.
At the Sept. 21 meet at Iona, Quinnipiac finished 22 points behind the second place Iona, while Marist finished 139 points behind Quinnipiac. At the very least, this is an indication that this team can compete with the best of the MAAC. It is time for the Bobcats to start in the MAAC how they ended in the NEC: on a high note.