Women's rugby falls 36-12 to American International College
By Tom Cunningham
The Quinnipiac women's rugby team hosted American International College (AIC) in the first home match of the season on Saturday. The Bobcats (3-1) fell to the Yellow Jackets (1-1) by a final score of 36-12.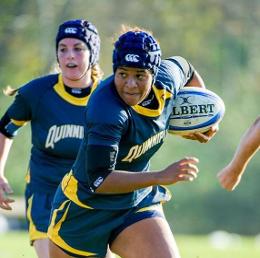 The first half started off slow but physical. The two teams went back and forth, each having possession in the other team's zone with a chance to score.
Both defenses were very strong to start the game, not letting anyone get through.
Sophomore Natalie Kosko (Sebastian, Fla.) broke through the Yellow Jackets defense with the first try of the game. After a conversion kick by freshman Maggie Myles (Emmitsburg, Md.) the Bobcats took the lead 7-0.
The teams continued their hard-nosed physical play for much of the first half, in what looked like it would be a low scoring match.
AIC scored their first try with 11 minutes remaining in the first half on a score in the corner of the try zone by Rosalind Pena. Just moments later the dynamic duo of Natalie Kosko and Maggie Myles went back to work as Myles passed to Kosko along the sideline leading to Kosko's second try of the day. The Bobcats took a 12-5 lead.
But this proved to be the Bobcats' last score of the day, as the Yellow Jackets tied it up on a Megan Pinson try.
The second half was all about the Yellow Jackets, especially Jessica Davis. She was all over the field in the second half and she proved to be too much for the Bobcats to handle as her two tries in the second half, along with a try from Muneera Patton and Cassidy Meyers, put this game out of reach for the Bobcats.
Throughout the second half Quinnipiac could not get anything going on the offensive end. Head coach Becky Carlson said the did not have an answer for the AIC offensive attack.
"AIC played very well," Carlson said. "They dominated the middle of the field, we weren't able to get it out to our backs and put some points on the board and that's not the QU that everybody's used to watching."
The team will be back at it with a non-conference match against the University of Virginia on Saturday, Sept. 28.