Quinnipiac women's rugby defeats UMass 94-5
The women's rugby team took on the UMass Amherst Minutewomen from the University of Massachusetts on Saturday and defeated them by a final score of 94-5, the most points the Bobcats have scored all season by a wide margin.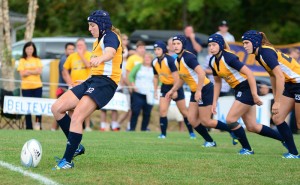 This was the third win in a row for the Bobcats, who improved their record to a 6-2 mark, and also improved their record in the Northeast Conference to 2-2. UMass on the other hand fell to 1-3 on the season, with a 0-2 conference record.
The scoring started early for the Bobcats as the first try came from sophomore Natalie Kosko (Sebastian, Fla.) off a pass from senior Nancy Dunn (Moscow, Pa.).
UMass did have one bright spot on the day, when Emily Stone scored the first try of the game for the Minutewomen. This would ultimately be the only try of the game for the Minutewomen, as the match was tied at five with about 20 minutes remaining in the first half.
The Bobcats would score 89 unanswered points after the Minutewomen got their only points of the day. Quinnipiac scored four more tries in the first half. Junior Shannon Durkin (Oakland, Calif.) scored her first two tries, and one each by sophomore Devon Viera (Kent, Wash.), and senior Elena Orlando (Winters, Calif.) would round out the scoring for the Bobcats in the first half. Senior Allison Gnys (Cumberland, R.I.) added two conversion kicks to make the score 29-5 at the half.
The Bobcats came out rolling in the second half as well, picking up right where they left off. Freshman Christie Albers (Castle Rock, Colo.) started the scoring with a 70-yard run just minutes in the second half.  Junior Elissa Cuellar (Palm Bay, Fla.), freshmen Hailey Wyatt (Breckenridge, Colo.) and Jennifer Salomon also added to the score.
Kosko and Durkin led the team with four tries each on the day.
"Shannon Durkin has one speed and she goes 100% all the time," head coach Becky Carlson said. "She certainly shined in both the rucks, taking wide punches and creating opportunities for the rest of her teammates, and then of course she scored four tries so we are incredibly proud of her."
The Bobcats were relentless on the field against the Minutewomen and together played a strong all-around game, according to Carlson.
"They played together," Carlson said. "Every single person that was out on the field really seemed to be working together. If you notice the points are spread out over multiple players, not just a few."
The Bobcats will look to keep up the momentum when they travel to the University of Connecticut next week to take on the Huskies.