Rugby players unite with schools of medicine, engineering to help teen with cystic fibrosis play the game he loves
By Kevin Noonan, QBSN Chairman
Imagine a childhood in which you desperately want to play the sport you love but are restricted by a medical condition that was discovered very early in your life. This is exactly the fate that 14-year-old Austin Hill has been dealt. He was diagnosed with cystic fibrosis at just 3 months old.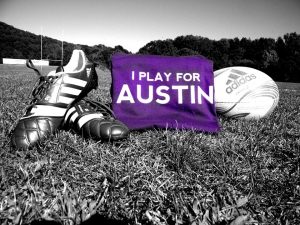 Cystic fibrosis is a life-threatening, genetic disorder that seriously affects lung function by producing a sticky mucus in the lungs that can also travel to other areas of the body, according to the National Library of Medicine. Hill has to have a portacath embedded in his skin, which allows medications to be easily supplied — but this port is located just three inches away from his heart which causes safety concerns, especially in a contact sport such as rugby.
But the Quinnipiac women's rugby team has decided to create "The Austin Hill Project." They plan to help get Hill back out with his team, the Colorado Springs Tigers Rugby Club, by getting him a protective device so he can play safely. It all started with a conversation Quinnipiac head coach Becky Carlson had with Hill's coach during the summer.
"She just started crying and was like, 'If you ever met this kid, he wants to play rugby and he's been left out of sports, and I'm watching my own healthy son watch him grow up and this kid's just being slowly left behind,'" Carlson said.
Carlson was extremely moved by the conversation and countered with the idea of putting together a project to help get Hill back on the pitch.
As Carlson formulated a plan to get such an extensive project set up, she questioned how to present it to her team. She did not just want to spring it on her team — but after hearing Hill's story, they were completely sold.
"Our word last year was 'believe,' and we were trying to incorporate 'believe' into those T-shirts," Carlson said. "They were very touched and were like, 'Yeah, we're in.'"
With the seal of approval from her team, Carlson knew she would need to get other people involved to make the project a success and return Hill to the game he loves. Carlson recruited faculty from both the Frank H. Netter MD School of Medicine and the School of Engineering who were interested in helping.
"I thought it was a wonderful thing they were trying to do, so I'm glad we were able to help them at least identify faculty within the School of Medicine who would be interested in working on the project," said Dr. Bruce Koeppen, Dean of Frank H. Netter MD School of Medicine.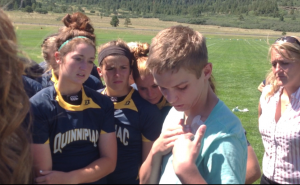 Faculty members in School of Medicine have started to put together a team of advisers to monitor how a protective device could help Hill and others who have portacaths as well.
But it's not just the School of Medicine that can do it all. The School of Engineering has jumped on board to help produce the protective device.
"Our whole engineering program is excited for this type of an opportunity for collaboration," said Mary Phillips, assistant professor for mechanical engineering. "Not only are we able to collaborate with the med school and with the rugby team and the athletic department, but it's such a great project and has such good goals."
The School of Engineering is responsible for developing the device itself, and whether it is some sort of vest or brace, the ultimate goal is that it is not harmful and does not hinder Hill's athletic ability.
"It's very typical of the QU family to jump right in and lend a hand, and that's what I think is so moving about so much of this," Carlson said. "I've never met those people. Our players have probably never met some of those people that are over at the med school and the engineering school, but now they will. It's pretty exciting."
As the school year got underway, the women's rugby team continued its efforts in getting the project started. At the first home game on Sept. 21, the team started selling "I Play for Austin" T-shirts to raise money. Referees jumped on board as well and started sporting "I Ref for Austin" jerseys. Local design company, Screen Tek, donated the first batch of shirts for the cause.
When the team traveled Colorado to play Air Force on Sept. 7, the players got to meet Hill. Though Carlson initially thought Hill would only join the team for dinner the night before the game, he was able to make it out for game day. After the Bobcats defeated Air Force, they got to know Hill a little more.
"I got a little bit choked up when I was trying to introduce him to the team,'" Carlson said. "Everyone was very emotional standing around, listening to him talk about how [cystic fibrosis] affects his everyday life and showing the portacath … it was very moving."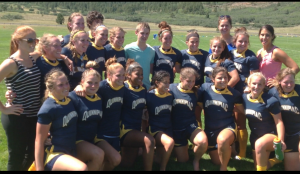 This meeting with Hill has given the women's rugby team much more drive to make the project a success and get Hill back out to play the sport he loves. The team's passion has motivated those involved, including helping hands from the school of engineering.
"It could be a really meaningful impact for a lot of people," Phillips said. "There's a lot of people who have the same problem as Austin. I mean, who wouldn't want to be able to get into sports but they're hindered by the portacath they have in their chest? I think it could mean a lot for certain people."
The women plan to have a rugby tournament at Quinnipiac in the spring to continue spreading the word about the cause, Carlson said. In the meantime, after each game, they give one T-shirt to the teams they face to tell them about Hill and get them involved.
One simple phone call from a friend over the summer has brought on a project completely new to not only the women's rugby team but to Quinnipiac University. Not only will Hill benefit from the new initiative, but the Bobcats will benefit from the experience.
"It brings them away from the Mount Carmel Campus, from athletics, for just a little bit and puts them in a place where they're comfortable being," Carlson said. "It's going to be completely different because we're not reading to kids for a day. We're not going to pick up trash. This is something that everyone can get involved in; it's not just us."