Women's rugby's comeback falls short against Norwich
Conor Roche
September 27, 2014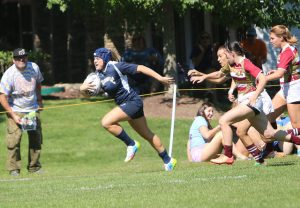 On Saturday afternoon, the Quinnipiac Bobcats women's rugby team (2-1) lost to the defending national champions, Norwich Cadets (4-1) by a final score of 45-38. The Bobcats were looking to extend their winning streak to three games against the reigning national champions. This was the Bobcats first match in three weeks after their match against Dartmouth was cancelled.
The Cadets opened up the scoring just five minutes into the game to make the game 5-0, but were unable to make the conversion kick. But the Bobcats responded pretty quickly just four minutes later with their own score from junior Natalie Kosko with an assist from senior Elena Orlando. After completing the conversion, this would be the only time Quinnipiac would hold the lead for the rest of the day.
Outside of Quinnipiac's only score in the first half, Norwich controlled possession and was always on the other side of the field on the brink of scoring for the entire half. Norwich went on to score again with fifteen minutes left in the half, and never looked back from there scoring 21 unanswered points.
Midway through the second half the Cadets built up a 38-12 lead. When everyone thought the game was out of reach, the Bobcats began their comeback. Kosko went on to score two more times in the second half with both scores being assisted by Orlando again and helped rally a comeback attempt for the Bobcats. Kosko also helped assist two other scores for the Bobcats in the second half. Graduate student Aine McKeever also went four for six on conversion attempts for eight points.
"By far and large we owned the second half, I mean if you look at the score never once did the Bobcats give up…I'm very, very excited about the prospect of our gritty play," head coach Becky Carlson said. "The only time they were going to see them is at the National Championship because that's where we're going."
Kosko now leads the team with eight tries on the season. Carlson was very pleased with the way her team battled amidst the adversity of being down by so much. The team was led by Kosko and senior Shannon Durkin in the second half. Kosko tallied two tries and two assists in the second half alone.
"[Kosko] helped shine the offense today," Carlson said.
The comeback fell just a bit short as time expired as the Bobcats scored their final try. After being down 38-12 the Bobcats would end the game on an impressive 26-7 run against the Cadets.
The Bobcats have a few weeks off before they head to Provo, Utah to face the BYU Cougars on Oct. 11. The Bobcats look to get back to their winning ways against the Cougars. The next home match for Quinnipiac is on Oct. 18 when they play host to Eastern Illinois.