Around the conference: Projected bottom five men's soccer teams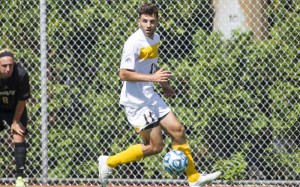 The bottom half of the men's soccer teams in the MAAC definitely have some work to do to catch the top teams. These teams are going to have to string together some impressive victories to catch some of the teams projected to finish ahead of them. None of the teams are completely out of contention to make the MAAC postseason, but these five teams all have a lot more to prove than the first six teams.
Canisius Golden Griffins (5-3-1, 0-1-0 MAAC) – Picked to finish seventh in the Preseason Coaches' Poll.
The Canisius Golden Griffins started off their season slowly as they dropped their first two games of the season against Butler, 2-0 and UC Davis, 2-1. However, since the two losses Canisius has gone 5-1-1 including three straight home victories. The game that the Golden Griffins have played thus far that stands out from the rest is the game against the Hawks of Monmouth. The Hawks were picked to finish first in the MAAC Preseason Coaches' Poll this year and the Golden Griffins played them close as shots were practically even at 12 to eight in favor of the Hawks.
Rider Broncs (3-2-2, 0-0-0 MAAC) – Picked to finish eight in the Preseason Coaches' Poll.
The Broncs were inconsistent during non-conference play. Rider blew out teams, such as LIU Brooklyn, 5-2 and St. Bonaventure 5-0. However, Rider was also blown out by other teams, such as the 3-0 loss to Robert Morris. Rider will look to get back on track and find some consistency as they open up MAAC play Wednesday against Fairfield.
Marist Red Foxes (4-2-2, 0-0-0 MAAC) – Picked to finish ninth in the Preseason Coaches' Poll.
The Red Foxes started off their 2014 season strong going 4-1 in their first five games. However, they have gone 0-1-2 in their last three games and were outscored seven goals to three in those three contests. Marist will have tough matchups against Manhattan, Fairfield, Iona and Quinnipiac in their first four MAAC games, as all of these teams are in the top half of the Preseason Coaches' Poll.
Niagara Purple Eagles (3-5-1, 0-1-0 MAAC) – Picked to finish tenth in the Preseason Coaches' Poll.
For a team that was picked to finish second to last in the Preseason Coaches' Poll, the Purple Eagles had a very impressive non-conference schedule. The Purple Eagles lost to Syracuse (4 in RPI) 3-0, West Virginia (57 in RPI) 2-0 and Detroit (86 in RPI) 1-0. Niagara has already dropped their first MAAC game against Quinnipiac and they have not won a game in a little over two weeks. They will look to get back on track Saturday, Oct. 4 against Monmouth.
Saint Peters Peacocks (2-6-0, 0-0-0 MAAC) – Picked to finish eleventh in the Preseason Coaches' Poll.
Not much has gone right for the Peacocks during the early part of their season. Over the span of 13 days, the Peacocks lost four straight games, but they were able to break that losing streak with a 4-0 win against George Washington in their last game. The Peacocks kick-off conference play Saturday, Oct. 4 when they take on the Siena Saints.
These teams have a lot of work to do in order to make some noise and worry the teams at the top of the conference. They still look to spoil the seasons of the top six teams by playing tough in conference games.  This season will definitely be an interesting one in the MAAC that is sure to feature some very good soccer and a lot of highly competitive match ups.