Q&A with Becky Carlson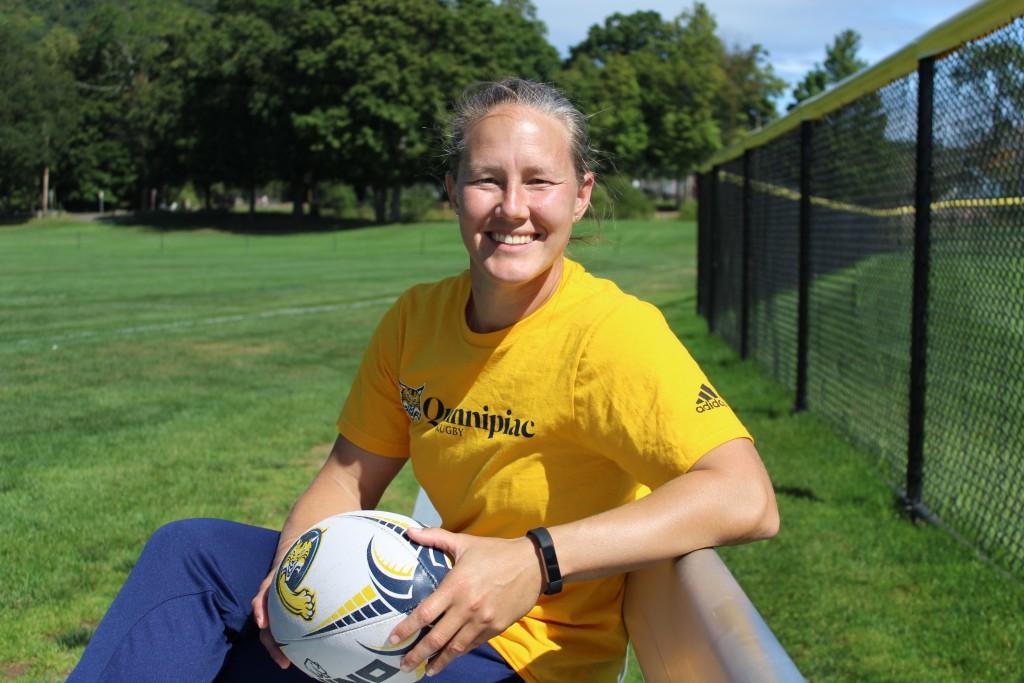 Quinnipiac women's rugby coach Becky Carlson is currently in her sixth season with the Bobcats. When she started in Hamden, Quinnipiac was a first year varsity program. Today, her Bobcats hold the title of back-to-back national champions and are pursuing a "three-peat" this season. We got a chance to catch up with Carlson and talk about her time at Quinnipiac.
What is fun about your job?
What's fun about my job is that every sport at this institution and many institutions isn't in its infancy anymore. That's the most exciting part of my job: recruiting athletes, bringing them in here, teaching them the game, and expressing to them how much of a rare opportunity this is. Our mainstream sports that everybody knows and everybody just assumes is at these institutions, they all had their moment and this is our moment right now.
How would you describe yourself/your coaching style?
Civic-minded, adaptable, tough, and fearless. I would say I'm more civic-minded than most. I do a lot of work with my athletes on their behavioral profiles. We know that behavior is changeable and personality is not. If you deal with a player that says, "I can't change", I'm not asking you to change your personality. I'm asking you to change your behavior to get the results that you want. I also think I'm pretty adaptable or ever-changing. When I believe in something, I'm not so committed to that old style of thinking that if something else can help the team, I can come out of my old ways. I would also say I'm pretty tough. I don't know what the athletes would say, but I think I'm pretty tough.
You're an active person on social media. How do you feel that plays into your coaching philosophy?
My fearless coach handle really has nothing to do with Quinnipiac because we have to keep that completely separate. It is just the empowerment part of it. I have a coaching philosophy of standing up for yourself and being present on issues that are important that move us as women in sports and just as people in sports. I don't necessarily know because I don't tweet about anything that has to do with Quinnipiac; I just tweet about issues in general. Although that's not something I ever talk to my athletes about. I don't talk about my social media presence or anything like that because they're pretty much aware of that second-layer coach that I am.
You got your Bachelor's Degree in Journalism and then your Master's Degree in Physical Education/Sports Administration. Did you always know that sports was what you wanted to do?
I was actually one of the few people that went into college and said, "No this is what I'm doing." All my friends were undeclared for about two years and I'm like, "No, I know I want to write and this is what I want to do." After I took my first copy editing class, I realized, "Ok, I suck at this. I like to write, but maybe I want to do something else." When I was in graduate school, my coach told me, "We don't have anybody that does any type of game film stuff so could you make us highlight film?" I wandered into the technology office and I said, "I don't have any more money to take classes, but can I just sit in your class and watch you guys learn Final Cut?" That's what I did. The professor just let me sit there all semester and watch them learn. Afterwards, I finally got my hands on one and I was able to do it. I was helping out our team to do all the game film and all this other stuff. I knew I wanted to stay and do coaching, but what opportunities were there when I was an athlete? There wasn't really anything and I said, "I'm going to have to use my journalism degree at some point." Everyone's like, "Coach do you even use your degree?" I laugh because I use my degree all the time. I write quite a bit.
Do you have any traditions, superstitions or rituals?
When I was at Eastern Illinois, they were the first NCAA team ever. We made a clean cut of a lot of the typical traditional rugby stuff. I didn't really know anything about the traditional side of things because I was just a varsity athlete. We made a point that we were going to use the language that we are an NCAA team, and that we were going to differentiate ourselves between the club programs. So traditions, not really. But I remember when we were the only varsity rugby team in the nation, we went to play Miami (Ohio) and one of my teammates got punched in the face in the scrum. Someone came and punched her right in the face and after she came out, she got punched in the face again. After, the referee said, "Oh, you're a varsity team. You can't handle that?" When we left that game and several other games, we would have people throw trash at our bus and we would have parents harass us because this was so far away from what anybody ever wanted for rugby. I can't tell you enough, I've been in rooms with hundreds and thousands of people and done a presentation on NCAA rugby. People have laughed me out of the room. I went to go to a forum in Worcester, this was when people were not in favor of NCAA rugby, and I stuck these pictures up on the wall and said, "Hey, you want to talk about holding the sport back? If we are not interested in expanding at the intercollegiate level, let this marinate for you. Here are the sports that are outworking us." I put bowling up there. I put water polo up there. I put rowing up there. People were calling me once we were legitimized and on the emerging sports list and they asked how we did it. They were copying rugby in a lot of senses. Ballroom dancing, boxing, indoor field hockey, even indoor skydiving called us. It was insane. In a lot of ways, we didn't really have time to establish our own traditions because we were trying to do everything like every other varsity sport had done. We had to stand out in order to fit in.
"I have a coaching philosophy of standing up for yourself and being present on issues that are important that move us as women in sports and just as people in sports." – Becky Carlson
Can you put into words your past six years here at Quinnipiac going from a new division I program to two-time national champion?
We're the only team in this country that has ever started without a base club program. Since we didn't have any ability at the time to have anyone have their classes scheduled at a certain time, we had practice at 5:30 in the morning when we first started tryouts. Every day. That's something that athletes are like, "Ugh I have to get up and lift weights two times a week", but it was every day. We got permission to stretch over in a piece of parking lot. So the difference from that lot to this field is just night and day and we still, as a sport, have grown really well.
How do you and Quinnipiac Rugby best deal with adversity?
Every year, we have had a chip. There has been some existing chip on our shoulders. When we first came onto campus, it was like, "Who is this new sport?" and it felt like it was thrust upon the University and other athletes didn't have any idea what rugby was. I knew that the students were getting a little bit of a "you don't deserve to be here" type of feeling. I told them, "Listen, we aren't going to be good the first year, I understand that. Anybody can win with Aces and Kings. You are my sixes and threes and we are going to bluff our way through this and get some wins under our belts if it kills us." So this year after the Dartmouth game, I was like, "Where's your chip? You have a new field, you have a press box, you have a new scoreboard. You have fans. You have nine people waiting for you after the game to cover you. You have people that cook food for you after the game. You have a locker room and you have showers. Where is your chip?" I told them they better find that chip pretty quickly because it isn't coming from me. I'm not going to point something out where you are underserved, because that wasn't me anyway. They would point it out and I supported them. That is our relationship with adversity. It is consistently trying to light a fire when there really isn't a fire and that's a really hard thing for any coach to do, not just rugby.