BREAKING: Quinnipiac's Kevin Marfo transfers to Texas A&M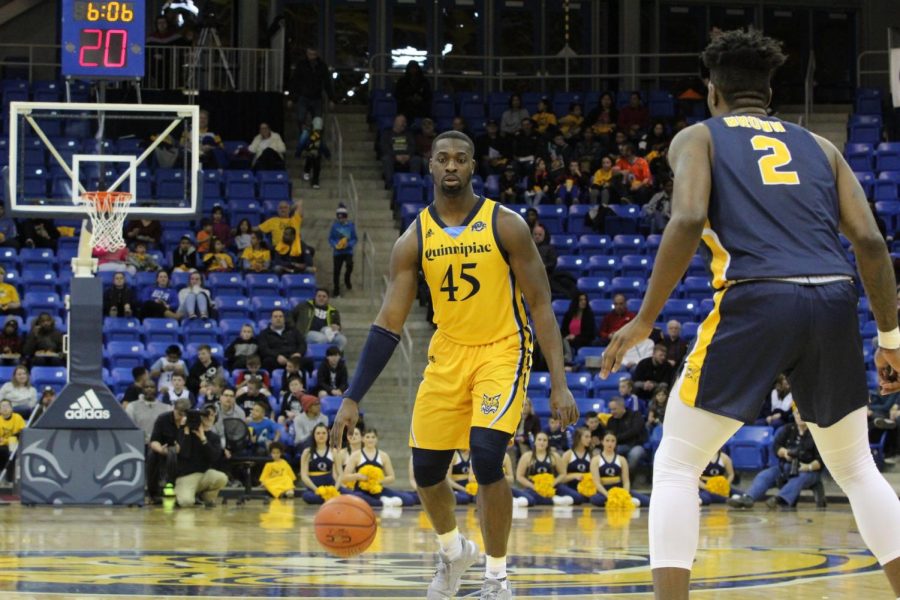 UPDATE: 3/28/20:
If "everything is bigger in Texas," then former Bobcats star Kevin Marfo will fit right in.
The 6'8″, 245-pound forward/center has officially announced his transfer to Texas A&M. Marfo announced his decision in a video with Aaron and Andrew Robinson of AllFacts Media.
𝐁𝐑𝐄𝐀𝐊𝐈𝐍𝐆: Per @AllFactsMedia, Former Quinnipiac F Kevin Marfo (@KevinMarfo) will transfer to Texas A&M. #MAACHoops pic.twitter.com/goT7Xz8kex

— Quinnipiac Bobcats Sports Network (@QBSN) March 28, 2020
Marfo led the entire NCAA with an average of 13.3 rebounds per game last season for Quinnipiac. He'll bring that tenacity on the boards to an A&M squad that went 16-14 last year playing in the SEC.
"I think it will be a great opportunity for me to develop as a young man and develop as a basketball player," Marfo said. "The excitement is real."
HERE… WE… GO… The moment you have all been waiting for! @KevinMarfo has commited to… pic.twitter.com/hp017iPOcc

— All Facts (@AllFactsMedia) March 28, 2020
Marfo, who has one year of eligibility remaining as a graduate student, will be immediately eligible to play for Buzz Williams's squad. His new coach didn't hold back his excitement on Twitter:
🙌🏽🎉🗣🏀#gotBETTER🏀🗣🎉🙌🏽
👀🌛🚀👏🏿👍🏻#WHOOP👍🏻👏🏿🌛🚀

— Buzz Williams (@TeamCoachBuzz) March 28, 2020
Barring any new additions, rising sophomore Seth Pinkney will likely be expected to replace some of Marfo's production for Quinnipiac.
*This is a developing story. It will be updated as necessary.*
★ ★ ★
ORIGINAL STORY: 3/14/20
Less than a week after the cancelation of the NCAA basketball tournament and the end of Quinnipiac's season, one of the program's most talented players has announced that his time with the Bobcats has ended.
Redshirt junior Kevin Marfo has elected to enter the transfer portal as a graduate transfer student. He will use up his remaining year of NCAA eligibility at another school.
Marfo confirmed the news on Twitter:
— Kevy kev (@KevinMarfo) March 14, 2020
Marfo originally came to Quinnipiac as a transfer from George Washington University, an A-10 school. He blossomed under Baker Dunleavy, earning a role as the team's big man and rounding out his game. Marfo led the entire NCAA in per-game rebounding in 2019-20, averaging 13.3 boards per contest. He added 10.2 points per game, averaging a double-double for the season. He even hit the first three-pointer of his career in one of his final games, hinting at another growing element of his game.
Quinnipiac is still set at the center position with rising sophomore Seth Pinkney, whose role will only grow with Marfo leaving the team. Quinnipiac already lost graduate student Aaron Falzon, the program's lone departure before Marfo. It remains to be seen if the Bobcats will lose any other players to the transfer portal.
*This is a developing story. It will be updated as necessary.*
About the Writer
Tom Krosnowski, Online Editor
Tom Krosnowski is a sports journalism graduate student from Allentown, NJ. He is in his second year as Online Editor for QBSN, and frequently works as a broadcaster. Tom has also interned at SportsNet New York (SNY) and News8 Connecticut (WTNH). You can follow Tom on Twitter @TKro42.