Why QU Men's Ice Hockey is due for success in 2021
0.0001 points.
That was the margin that would have kept Quinnipiac out of the NCAA Tournament (barring any surprises in the ECAC Hockey playoffs). Had the tournament not been canceled, No. 26 AIC would have been rewarded the 16th seed as the winners of the Atlantic Hockey conference, and No. 15 Maine held the edge over Quinnipiac for the final seed by one ten-thousandth of a point.
It would have been a cruel, but fitting, ending to the 2019-20 season for the Quinnipiac men's ice hockey team. The Bobcats were the picture of frustrating inconsistency all season long, alternating upset wins with disappointing losses. They team started off just 6-7-1, including a 4-2 loss to then-unranked Maine in the season's third game, one of the defeats that the team can look back on as the one that would have kept them out of the big dance.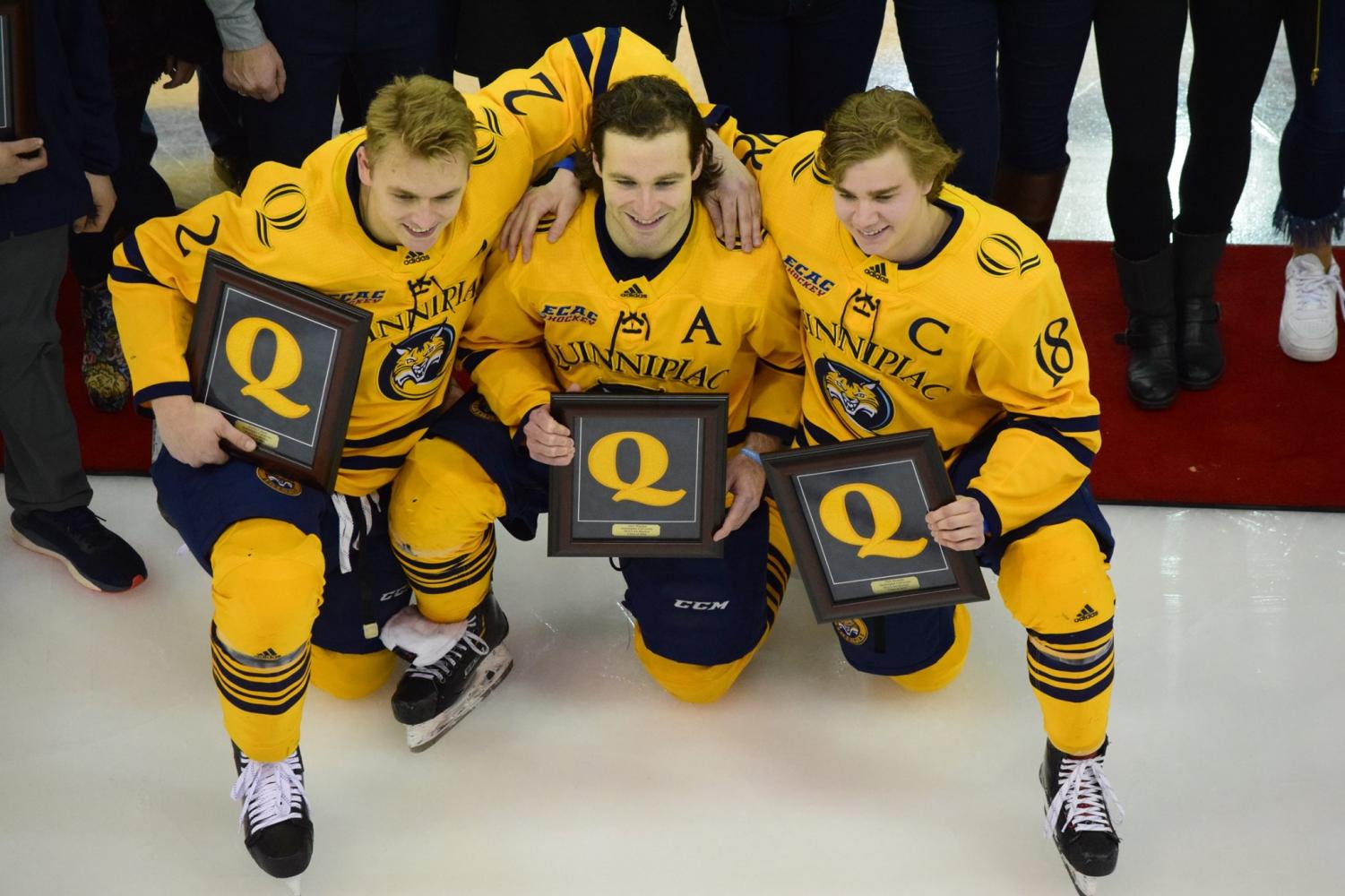 Of course, there ultimately were no playoffs due to the unprecedented spread of the COVID-19 coronavirus. Who knows how things would have turned out for the Bobcats in the ECAC Hockey tournament, but the program's first trip back to Lake Placid since 2017 appeared likely.
Alas, it's a moot point now. The season ended prematurely, and programs nationwide have to deal with the earlier-than-expected losses of their seniors, a problem that hits Quinnipiac hard. The team will lose captain Nick Jermain and alternate captains Karlis Cukste and Alex Whelan to graduation, a trio that combined for over 30 percent of the team's 2019-20 goals while also providing some of the team's finest defensive hockey. Their veteran presence in a remarkably young locker room will be missed.
However, the future still looks quite bright for the Bobcats. In fact, things may begin looking up as soon as this next season.
Some of the best remaining players on the Bobcats will be back in 2020-21, according to Chip Malafronte of Hearst Connecticut Media:
Peter DiLiberatore turned down an NHL contract from Vegas and plans to return to Quinnipiac. Juniors Keith Petruzzelli and Odeen Tufto also informed QU coaching staff they'll be back in the fall.

— Chip Malafronte (@ChipMalafronte) March 19, 2020
DiLiberatore, Petruzzelli and Tufto all turned down potential NHL chances for one last ride with Quinnipiac. Had they left early, the Bobcats would be facing a serious loss of talent for the second time in two years. Instead, the Bobcats' best remaining forward, defenseman and goaltender will be back, giving the team a Big Three that rivals the best in ECAC Hockey.
Aside from them, the rest of the Bobcats' roster is in good shape to continue growing. The Bobcats' massive 2018 class, which includes Wyatt Bongiovanni, Ethan de Jong, William Fallstrom and Zach Metsa among others, will be incoming juniors next season, which becomes make-it-or-break-it time. These players have all shown flashes of brilliance, but will need to perform more consistently and continue their growth as leaders in the dressing room for this program to hit its full potential in 2021.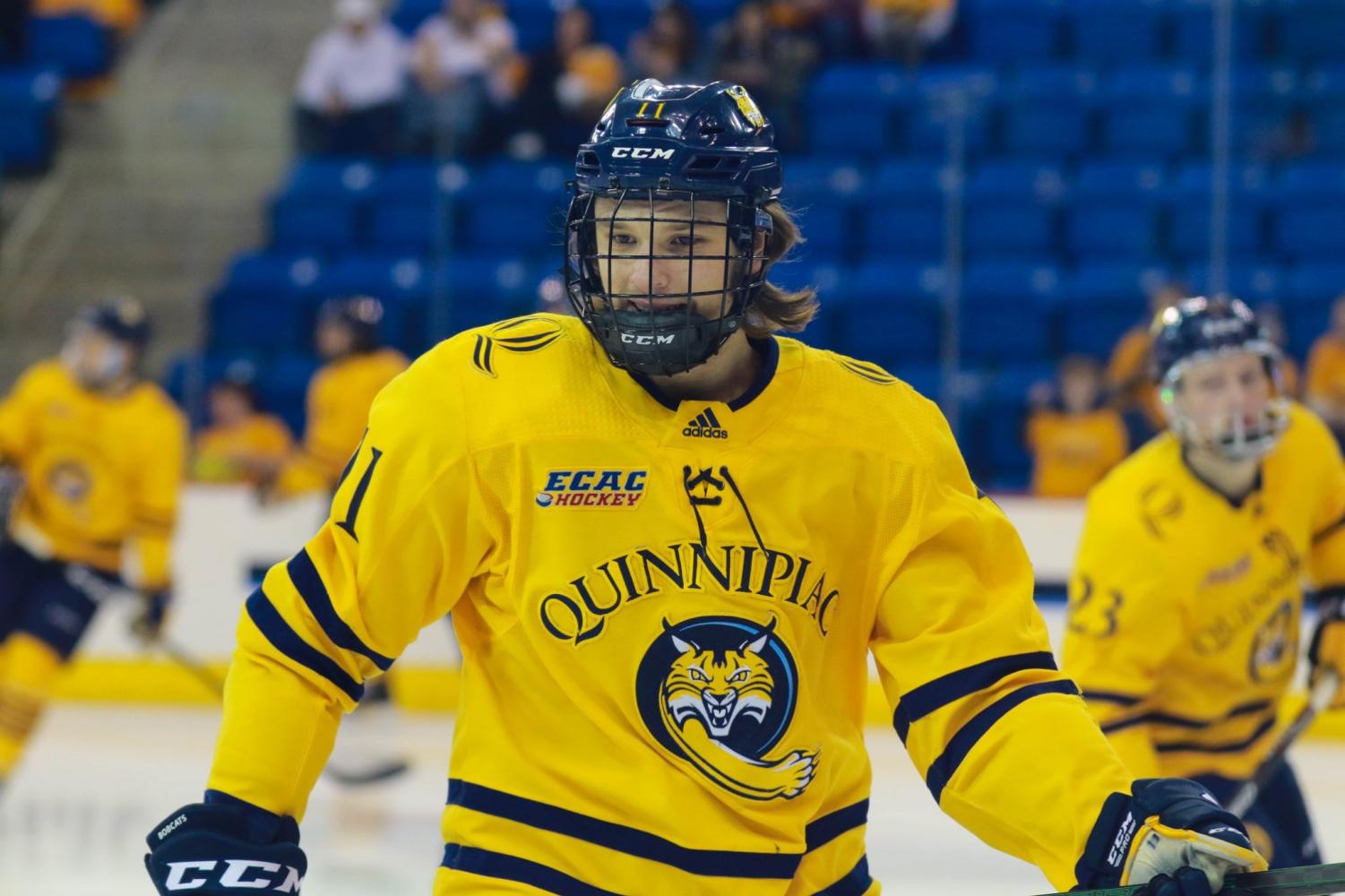 Although the Bobcats' heavy reliance on first-years was one of the things that held them back this past season, 2019-20 could prove to be a valuable learning experience for these baby Bobcats. Skyler Brind'Amour and Ethan Leyh look like keepers on offense, CJ McGee was one of the most pleasant surprises on defense, and there are larger roles to be had for defensemen Jayden Lee and Logan Britt with the departure of Cukste. Evan Fear needs to become a reliable backup goaltender to give Petruzzelli a rest, as well as stake his claim to the crease in 2022 and beyond.
Head coach Rand Pecknold called out the collective "immaturity" of his team at times in 2019-20, but that's to be expected when a third of the team's lineup is first-year students. Now that these players will have become used to the grind of ECAC Hockey and will have a full summer under their belts to train, expectations should be high for the Bobcats' rising sophomore class.
Finally, the incoming class of first-years also looks strong. Forward Ty Smilanic was one of the most sought-after recruits this season, and chose Quinnipiac for his college hockey years. Smilanic has been projected as high as a first-round NHL draft pick, and comes to Hamden from the highly-touted U.S. National Development Team. The Bobcats also recruited forward Corey Clifton, the younger brother of QU alumni Connor and Tim Clifton, and former BCHL goaltender Yaniv Perets, in addition to several others. It looks like the making of another strong class of first-year recruits for the Bobcats.
The last four years, while still successful, have been a step back for a Quinnipiac program that made two National Championships and four straight NCAA appearances from 2013-2016. Since then, the Bobcats have made the NCAA tournament only once, and have gone just 7-7 in overall playoff games. This is a consistently good team that is due for a lengthy playoff run, and with a strong returning group of core upperclassmen, an exceptional group of sophomores and juniors, and a recruiting class that inspires hope, 2020-21 might be the Bobcats' best chance at a return to Lake Placid, and maybe even a trip to the Frozen Four.
About the Writer
Tom Krosnowski, Online Editor
Tom Krosnowski is a sports journalism graduate student from Allentown, NJ. He is in his second year as Online Editor for QBSN, and frequently works as a broadcaster. Tom has also interned at SportsNet New York (SNY) and News8 Connecticut (WTNH). You can follow Tom on Twitter @TKro42.