Big Shoes to Fill: Seth Pinkney ready for super sophomore season
Preparing for his sophomore campaign, Seth Pinkney is ready for the next step.
The 7 foot 1 inch forward is expected to increase his minutes per game significantly with the departure of big man, Kevin Marfo who transferred to Texas A&M following the 2019-2020 season.
"I'm ready to face more challenges," Pinkney said. "This is a big challenge for everybody. I want to see the next best thing, to be honest with you. I want to see the next big challenge. I want to see if I can overcome it. I'm ready for it."
Seth Pinkney doing Seth Pinkney things 💪😲 pic.twitter.com/bgVYUpW2ct

— Quinnipiac Men's Basketball (@QU_MBB) August 29, 2020
On top of the departure of Marfo, Quinnipiac saw Rich Kelly transfer to Boston College and Aaron Falzon graduated. It's the loss of Marfo, though, that most impacts Pinkney. The since-transferred center took Pinkney under his wing last year, and left some big shoes to fill. Marfo led all Divison-I players with 400 rebounds and averaged a double-double for the season.
"[Marfo] is older than me, but he gives me a reflection of what I was in high school," Pinkney said. "I fought, I had to get to a certain spot, and he fought and he's at the spot he's at now. He's a big inspiration for me."
Head coach Baker Dunleavy knows it's not expected for Pinkney or any one player on the team to step in to fill these gaps since they carry such different skills.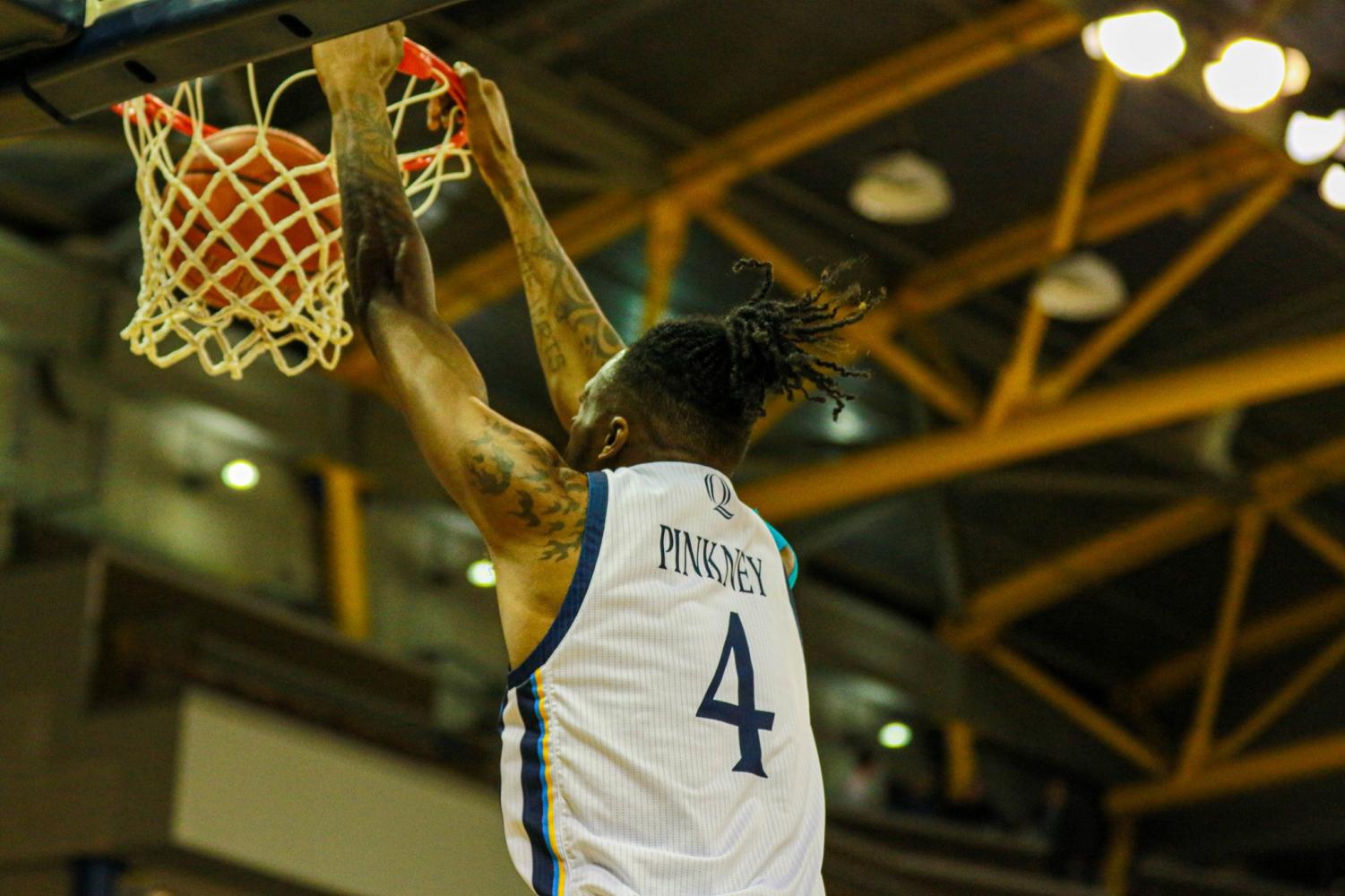 "When you have a player with a special skill like Kevin [Marfo] had for rebounding, most of the time you're going to replace that with a team effort," Dunleavy said.  "Seth is a very different forward than we've had but I think he can be one of the best I've ever coached, and I really believe that in terms of what he brings to the table talent-wise and how he plays the game so selflessly."
Dunleavy praises Pinkney for his defensive abilities with blocked shots and being a big body on the court at a high level.
"He really surprised me last year with his ability to pick things up mentally, quickly, and his dedication to what the team needs," Dunleavy said. "He doesn't have an agenda, he just wants to what it takes to win."
Dunleavy added that all of Pinkney's positive qualities will depend on his ability to take care of his body and to stay in shape, as he's expected to be on the court more often than last season, when he only averaged 11.2 minutes per game.
Due to the cancelation of the MAAC Tournament amidst the COVID-19 pandemic, Pinkney used his extended offseason to improve upon his offensive skills. It was basketball every day over quarantine. Even if he couldn't get on a court, he would run and condition to stay in shape.
"I had a good offensive game last year," Pinkney said. "I'm looking forward to having a great offensive game this year."
Jokingly, he added that he wanted to shoot more three pointers – he shot none a year ago. He knows that the team is counting on him, and is confident he'll deliver.
"This role is a big step for me, and they're wanting to see if I'm ready to take that role or not," Pinkey said.
Is he ready for it, though?
"I am, I do think I'm ready," Pinkney said.
The Bobcats brought in four new recruits, who will help the team effort in filling the gaps this season. The younger guys seem to be buying into Dunleavy's game plan more so than a year ago.
"Rather than taking Coach's ideas, they would rather put in their own ideas," Pinkney said. "I feel like this year, everyone's new, so we have to implement the same mindset into them that Coach has with us.
"I feel like this is going to be a fresh start…we can start something bigger than we did last year."